January 22, 2018. Jonah Roll checked in as the owner of Loki, and he is planning to sell her. Stand by for his ad and contact info. His email is below (minor edit)
Hi

I am the current owner of Loki. I have had her for about 4 years and I sail her regularly here in San Francisco Bay. Luv the Loki however I'm putting her up for sale. How do I make a listing on your website?
Thanks

Jonah Roll

Stay Tuned
June 14, 2019. Just in over the transom from LOKI's first owner, Randy Renner. We never heard back from Jonah Roll. Staff will try and contact him....(minor edits)
FYI

Out of curiosity I got on this website to see if LOKI still existed – I was the original owner. She was launched in Oceanside in Spring of 1976. The Sunday after launching we rode out a storm into the harbor chased by a water spout.

The name came after several episodes - when the clevis pin kept opening and dropping the main, usually at the most inopportune moment – this was on San Francisco Bay(Webmaster Note: https://en.wikipedia.org/wiki/Loki) Originally, she was kept on the trailer in Redwood city, then later in basin 2 in Sausalito marina. She originally had a wheel, rather than a tiller, but It really limited the space in the cockpit.

Myself and C.R. Munns of Newport Beach had a financial interest in Pacific Dolphin, when it was in Oceanside, but withdrew our support when the factory moved.

Randy Renner, Kennewick, WA

Postscript June 15, 2019 (minor edits)

Ron,

I have just moved to the tri-cities, WA https://en.wikipedia.org/wiki/Tri-Cities,_Washington so pix from years gone by are still in boxes – I know there is no pix of the wheel when it was installed and not so sure I took very many pix, spent most time sailing – LOKI could be a very wet boat on the Bay, especially withthe wind coming in and the tide going out so didn't take a camera along very often. Didn't take long to realize a good rain suit was an essential piece of gear on the bay.

Sold LOKI in late summer of '78 after taking delivery of a W'estsail 32, interesting enough it was just as wet until I added a dodger. My first choice before the W'sail was the new 28, but it became evident that Pacific Dolphin Corp, Romain and Tony, were not going to make it financially, and "CR" (CR MUNNS) and I we not going to put anymore into it – basically we were financing the boats during construction. The removal of the wheel came about because "CR" wanted a 24, but since he was wheelchair bound and there wasn't enough room in the cockpit – I had two dealers in the Bay area that wanted a boat to show and I wanted one to sail. Didn't like wheels, So we took the wheel out and they built another one for Chuck. Lots of old memories returning – would love to sail her again, but turning 80 this year so will stick with a river boat for fishing.

Sure great to see the boat though, same colors and all – surprised the decal with her name has survived all these years – my choice for the name was because Loki's reputation As the "Norse Goddess/God of Mischief"– after putting the decals on, cracking a bottle of Heineken (sp) over the bow plate the mainsail never dropped again – hmmmmmm.

Thanks for the website,

Randy

Webmaster Note: we don't much info on Pacific Dolphin. Click here to go to that page. Pacific Dolphin hung on to build at 23 more boats http://dolphin24.org/roster_hull_number.html with #300, Grand Finale the last one - http://dolphin24.org/grandFinale.html (or maybe Monika, #301, the last one. http://dolphin24.org/monika.html

Stay Tuned
June 15, 2019 Based on Randy's email we followed up with jonah Roll and got the following reply (minor edit)
Hi ,

Yes, the LOKI was sold.. I no longer have the info on the new owner. I think she is back in Oyster Cove in S.F.

Best, Jonah
Webmaster Note: We have alerted SF Bay area DFI's to be on the lookout for LOKI
Stay tuned
*******************************
*****************************************************
**********************************
This is the history we had on Loki up to this point.
Rick and Brenda Warren acquired Loki as part of an insurance settlement in 2003. She had been involved in a major T-bone collision. Rick has been restoring her. Here she is at Point Cove Marina on the south end of San Francisco Bay back when she was owned by Ray Story.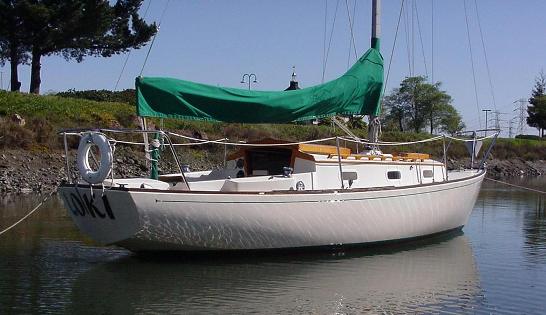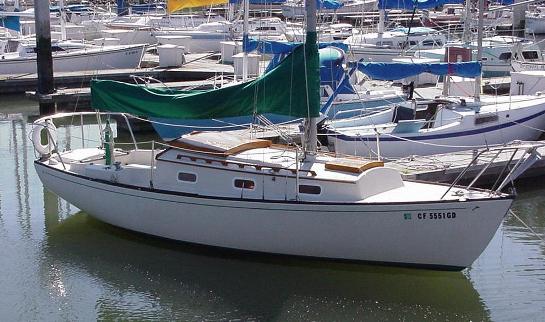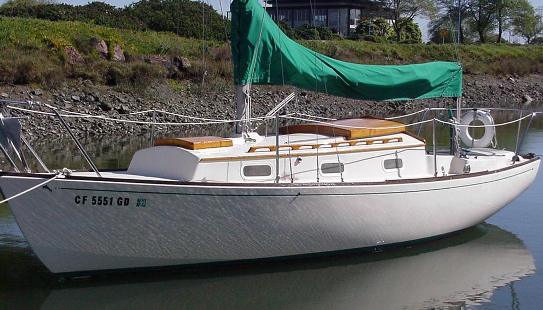 I 'found" an email of Ray's, and his contact info, in a 1999 web archive remnent of Jim Huxford's old Dolphin 24 site. (Like Dolphins, emails never die) Ray had a very interesting story he recounts in that email titled "The Last Dolphin" - it is below:
The Last Dolphin

My name is Ray Story. I have owned "LOKI" Pacific Dolphin #277 since December 1990.

I met the, or one of the, owners of the Pacific Dolphin Company July 4th 1991. We were getting ready to watch fireworks when a fellow hailed "Hello Loki". I answered and asked him if he knew the boat. He said he used to own the company!

It seemed that Loki was used for display at the boat shows. Fitted with teak hatches and slats on cockpit sole, green and white sail cover, she must have been quite the crowd pleaser. Anyway, the sales manager took Loki on the boat show tour, took a few down payments, and left the boat in the parking lot of the last boat show. And that, said the fellow I just met, was the end of the Pacific Dolphin Company.

Evidently these guys were suppliers to Yankee Yachts, and when Yankee went bust they ended up with the molds for the 24 and the 30. They never made a 30 as the molds had been modified so many times they were in pretty bad shape.

There are quite a few Dolphins on the Bay, two in our harbor.

A couple of years ago a Dolphin won (on corrected time) the cruising class of the Pacific Cup, S.F. to Hawaii. Finished last, corrected to first. Bless that 264 rating.

I guess that's it for now.


Ray
Webmaster Note: This is a fascinating story about The Last Dolphin. Up until a few months ago we thought Suzanne , Pacific Dolphin #299, was the last Dolphin - Loki is #277. Mike Zint contacted us and advised he found and bought #300 Grand Finale. It could be that Loki was Pacific Dolphin's show boat for some period of time while Pacific Dolphin was building other boats and when they finally closed up shop they sold her? Then we found out about Rod Kulbach's Monika, #301.....
************************
On December 21, 2008 one of our 'field investigators' advised that he had seen an ad on Craigs List for a Pacific Dolphin for sale in San Raphael, California . We posted that ad on our For Sale page and contacted Rick and Brenda. The ad did not give a hull number of name. That ad, and an edited reply, follow. Your webmaster did not connect, until reading Brenda's reply, that the boat listed in their ad was Loki. There were clues but....
*************************
Craigs List Ad
Reply to: sale-962276741@craigslist.org [?]
Date: 2008-12-17, 8:40PM PST

BEAUTIFUL BOAT W/ NEW SAILS, RETRACTABLE KEEL, [trailerable] HAULED-OUT AND PAINTED [HULL ONLY] SEP.08 PAINTED INSIDE NOV.08 2 BEAUTIFUL TEAK HATCHES. ALL BRIGHT WORK DONE. WITH EXCEPTION OF A FEW PIECES. NEW CUSHIONS AND MORE. THE BOAT IS 90% DONE SOME WORK REMAINS TO BE COMPLETED. IF YOU WANT TO COMPLETE WORK YOURSELF. WE CAN NEGOTIATE A PRICE. WE ARE ALSO INTERESTED IN TRADING FOR A LARGER BOAT. PLEASE CALL 415-306-2126-or-415-728-7338 OR EMAIL. I MAY BE OFF INTERNET FOR A FEW DAYS.

"THANK YOU"

BRENDA AND RICK email: shebythebay@gmail.com
*******************
December 22, 2008 Brenda sent in the following email (edited)
Hi Ron,

Thank you for the email and info. I had no idea, and was so pleasantly surprised to find out (on the website) a bit more about our boat "LOKI" hull # 277. I will send photos and more info later on her. But for now I will report this:

We got "LOKI" back in 2003 as a pay-off for some boat work we had done. "LOKI" was involved in a collision just outside the Golden Gate Bridge (I do believe) and was considered totaled by the insurance company. The boat was T-BONED on port side aft just forward of bulkhead. My husband and I spent much time and pride repairing the damage. ("He is a Genious at Fiberglass repairs") The blue book at the time was:$7,300 and this is what I based our price on. "THANK GOD SHE DIDN'T GET CRUSHED"!!!!!!! She is as good as ever.

I'm going to continue to"BEAUTIFY HER". We love and appreciate the craftsmanship of this vessel. We just cannot afford 2 slip fees and need a larger boat for live aboard. We are willing to trade for a live aboard size boat. Anyone interested can email or call me personally. Well, "This has been fun" and "Thank You"

Brenda & Rick

************************
August 19, 2009 Brenda checked in with a status report on Loki's restoration. She is for sale. Here is her email responding to our follow up on Loki's For Sale status (edited)
Thank you for checking back with me. YES, she is for sale and she is just about ready!!!! New paint in progress - top side and non-skid, new sails, 4 new ports, working head, many coats of varnish, 2 more coats will be applied next week. Please call 415-306-2126 or e-mail @ shebythebay@gmail.com. 99.9% should be done and ready to show by 9/1/2009.

"please only serious buyers should inquire"

"THANKS" Brenda
********************