April 2, 2010 Busy day. DFI (Dolphin Field Investigator) Jonnie Walker, Yankee #227, brought this to our attention on April 1. She is on Craigs List, Tampa and, not knowing at that time her name, we dutifully posted the ad up on the website as the "Dunedin Dolphin". Later the same day another DFI, Eric Varty, Canopache, emailed us that he had responded to the ad, had talked to the owner, a man named Harold, and was going to go see it. (DFIs at work - for more on this teamwork, see below)
Harold sent in the following email last night.
Hi Ron

I spoke with Eric Varty earlier. The boat was originally named Mary Anne, current name is Solace. I purchased locally in 2000, I believe I am the third owner. The hull number is PDN242800777. Two head sails - 90% & 120%. The mast is rigged for easy take down by one person. The sliding galley has been removed, but a stove has been installed in the port settee. The electrical has all been re-wired. No trailer. I have purchased another boat and need to sell this boat quickly. Would like to see the boat in the hands of someone who appreciates this classic.

Harold Schomaker
727.424.9411
hsailndlif@yahoo.com
**************************.
CraigsList Ad
1976 Pacific Dolphin sailboat, S&S design, classic sailboat, O/B, 2 burner Force 10 propane stove, self contained head - new never used, 2 anchors, lots of other stuff. Needs some cosmetic work. Asking $4000. Need to sell, will consider all offers. Boat located in Dunedin Marina, Dunedin, Florida.

Here is the link - http://tampa.craigslist.org/pnl/boa/1661618719.html
Picture provided by Eric Varty

These are pictures from the ad.

************************
This is the tidbit of information we had about this boat. Sometime in 2007 we came across Harold's post regarding outboard motors on the Sailnet Dolphin Forum archives from 2006. Someday, we hoped to get to Harold directly and find out more about Sailing Solace.
Here is what Harold had to say then about his 9.9hp Johnson:
Hi all
I have a Pacific Dolphin, hull # 280. Like Ken, I have a large outboard in the motor well, Johnson 9.9 two stroke with a long shaft. I find it very easy to enter/exit the slip without turning the motor. I run the motor with the cover open and push the outboard control arm down to close the cover. Noisy, but this works well. Yes, 9.9 is a lot of power for the Dolphin, but I do not 'power boat'. Understanding how the boat maneuvers will allow for easy handling at slow speeds. Working on trying to sail back into the slip with out the motor, not quite there yet.

Harold Shomaker
***************
Continuing the DFI part of this story: 1) Google Earth told us Dunedin is the next town over from Palm Harbor 2) Eric told us that Harold told him the name on the boat was Solace and that it had a 9.9hp outboard 3) our website-dedicated Google search engine told us that we had boat named Sailing Solace. Bingo - our analysts connected the dots! We discovered we already had this boat in our Roster! And another interesting insight on how Google is in our lives....
******************
April 9, 2010. Eric Varty visited with Harold and Solace and filed the following report with pictures (edited)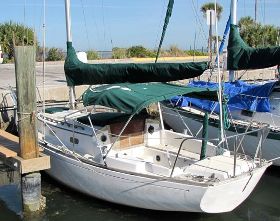 Hi Ron
I spent an hour and a half with Harold aboard Solace on Easter Sunday. After 10 years of sailing Solace he has purchased a Cal 29 and is not allowed to have two boats in the marina and must find a home for Solace. Harold really wants to sell her but, if not sold, will donate her to an appropriate organization by the end of the month.

I was interested in buying the vessel and very nearly did so. In the end I chose not for a number of reasons both personal and related to the boat itself- not the least of which would be the expense of hauling and fitting the boat to Canopache's trailer, which is still set up for a CD25. I even considered fitting it myself at the local boat ramp but saw that as a risky endeavor. As I think about the boat I still would love to have her. But....

The ID nameplate was missing, and I did not actually see the HIn # on the transom but Harold indicated last #s were "0777". Harold has owned the boat for 10 years. It was in the same marina (Dunedin Municipal) 12 years ago when he first saw her. He hesitated back then and she was sold to a fellow who lightly used her for a while. That guy had limited use of one of his arms so he rigged a jib downhaul with fair leads back to the cockpit. Harold bought her from him 10 years ago. She was hauled and got her bottom painted with ablative paint as a condition of sale. This is the last time her bottom was done and she is still in the water. She has not been sailed for a year but remains a relatively clean boat. Here are some pics.

| | |
| --- | --- |
| bow anchor w/hawse pipe | stern anchor w/hawse pipe to seat locker |

| | |
| --- | --- |
| | |

| | |
| --- | --- |
| main sheet block | battery compartment |
very interesting port side seat galley, and the cooler as a step

Solace has been rigged with an ingenious system for stepping and lowering the mast. The second previous owner kept Solace on a trailer and rigged the mast to be easily raised and lowered by one person. I looked at my pictures and I didn't get great pics of the system but this one gives an idea. I will describe it here and send you a sketch. I should have measured very carefully as this really is the most well thought out system I have ever seen.
I think that in order to facilitate better understanding before I attempt to describe the system for lowering of the mast I should describe the method. Raising is the reverse as described (duh). To lower the mast one clips two lines to loops at either side of the end of the boom. The other end of each is clipped to large pad eyes located both port and starboard on the deck aft of the shrouds thus securing the boom from lateral movement. The main halyard is attached to the end of the boom and tightened up. The operator then tightens the main sheet enough to put slack in the backstay and releases a push button pin form the tang at the bottom of the stay. The aft shrouds are released leaving the one shroud (each side) that is directly opposite the pivot point on the tabernacle attached. The rig is now under the control of the mainsheet and is lowered to the bow pulpit using it. When the rig is at rest the operator simply moves forward and brings the mast onboard and secures It.! One man and 10 minutes!!!!

| | |
| --- | --- |
| | The mast has a substantial tabernacle and the mast itself has a wooden plug inserted into its base that strengthens the bottom at the point where a 1/2" pivot bolt passes through. The front half of the mast bottom has been rounded to allow it to pivot forward and the back half of the bottom of the Mast is flat and in contact with the bottom plate of the tabernacle when the mast is upright. |


The next part of this ingenious system is to be found in the shrouds located at 90 degrees to port and starboard. A section of these two shrouds has been cut and fitted with terminal ends so that it is essentially an extension of the chain plate up to precisely the same level as the bolt in the tabernacle to which the turnbuckle is attached using a ball(?) fitting. This is the pivot point of the shroud when the mast is in motion. These are anchored through the top of the chainplate and have allowed for attachment (by shackle)of a diagonal stay lead from the top of this lower section of shroud aft to a substantial pad eye on the deck behind the aft-most chain plate. This diagonal is swaged through the pad eye. This arrangement creates a roughly equilateral triangle that resists forward pull as the mast is pivoted forward. It is these three points (with the shrouds fully tight) that are the pivot for lowering and raising the mast.

All that remains is the third part of the system. This is to provide lateral support for the mast as it arcs through its motion. This is provided by two lines with snaps at each ends that are attached to strap eyes on either side at the end of the boom with the other end secured (by stretching tight) to the after pad eye (that anchors the shroud "stay")on the deck behind the chain plates. The length and location of the pad eye allow the line to describe a perfect arc with the end of the boom

The halyard is used to support the boom to the top of the mast and the Main Sheet is used to first hold the tension of the rig while the backstay is released (there is a push pin at backstay chain plate) then as the main sheet is played out the whole rig arcs forward and down, allowing the rig to come to rest on the bow pulpit. It is then detached and carried aft for storage on board.

Fun visit, but I am really sad not to have bought her.

Fair winds

Eric
Webmaster Note: The part of Eric's report that deals with the mast raising/lowering system will also appear in the Technical Section/Spars/Raising/lowering masts
******************