June 23, 2018. Your webmaster put on his DFI hat (Dolphin Field Investigator) and combined a June 22 visit to the Wooden Boat Show now going on in Mystic, Connecticut with an investigatory trip to the neighboring village of Noank.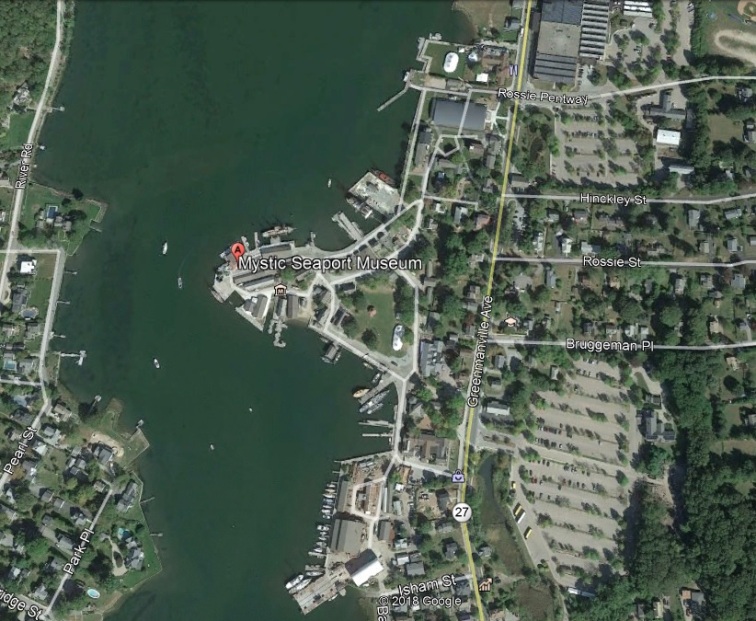 This is a Google Earth view of the Mystic Seaport Museum on the upper Mystic River. Parking lots were full but I found a spot on Isham street (bottom center) and walked in thru the unattended gate (I am a member!). Seaport grounds are basically the entire eastern waterfront in this photo. The 'Library', where the Dolphin24 book copy #1 resides, is located in the buildings at the top right.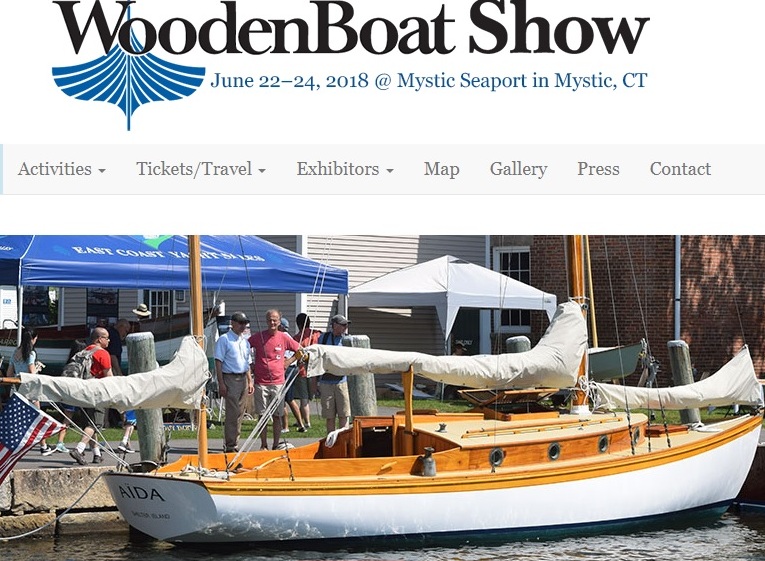 Above is AIDA whose deck and cabin top colors inspired your webmaster in his restoration of Marionette nearly 25 years ago.... She was in the Mystic Seaport Museum collection for several years and was sold in late 2017 - proceeds were used to support Mystic Seaport operations.

Aida was owned for more than 40 years by former Museum staff member and trustee Maynard Bray and his wife Anne. Maynard oversaw the restoration project and published a book chronicling the boat, her owners, and the restoration. "Aida: N.G. Herrehoff's Finest Shallow-Draft Yawl" (book cover right).

Maynard, who was at the show, is the Technical Editor of Wooden Boat Magazine. He keeps his current boats up at the Brooklin Boat Yard off Eggemoggin Reach in Maine, and he 'inspected' Marionette there on her 2016 cruise. Check out the link below and scroll down to August 19 and you'll see one of Maynard's boats, Costanza, on a mooring near Marionette - worth a look!
Near Aida's berth was an interesting exhibit - "The Dolphin Alliance Project". Its president, Dr. Richard Connor, expained what this project was all about. Click this link to check it out http://www.sharkbaydolphins.org/dolphin-alliance-project/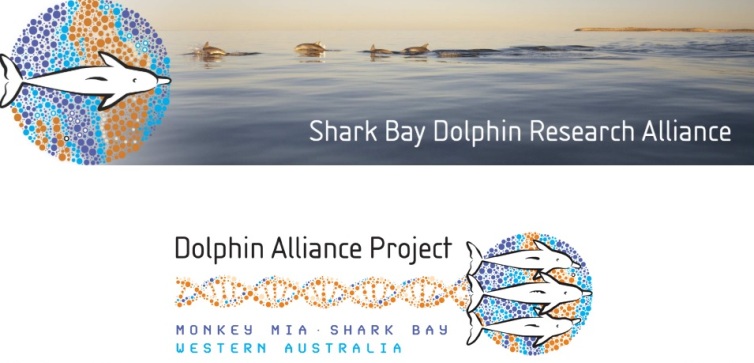 After a complete walking tour of the Seaport and the Boat Show exhibits (including the "I Built It Myself" exhibit - Memory Lane http://dolphin24.org/teer_wooden_boat_show.html) - a long walk - and a complimentary glass of lemonade at the Member Center, it was time to move on. Down Rt #27, right turn, across the Mystic River Bridge, thru the town of Mystic and then along the shoreline to Noank. Fishers Island Sound is to the south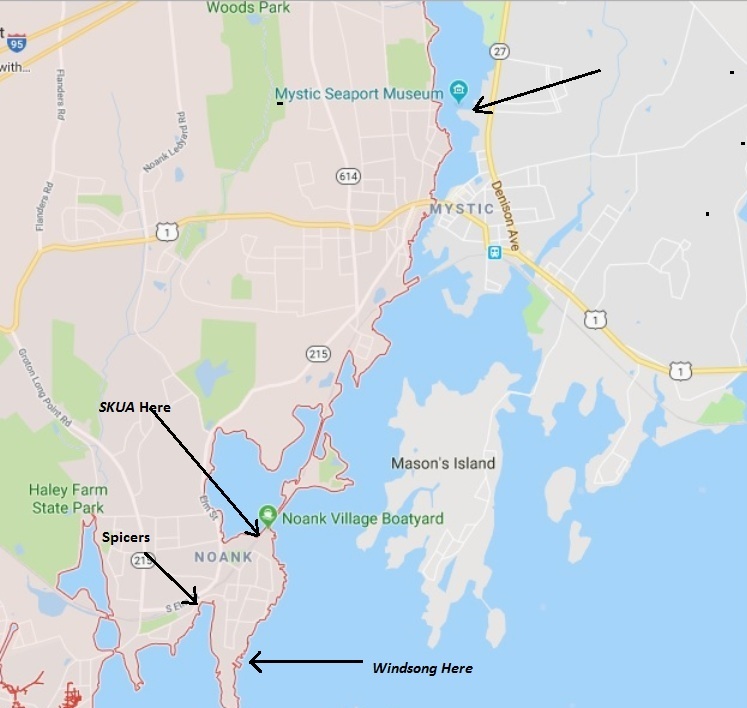 First stop - check out SKUA, Yankee #157 (http://dolphin24.org/skua.html).

Spoke with Bruce Avery at the Noank Marine Services Boatyard. SKUA is FOR SALE. He is working on an ad which he'll send in soon.

Can't wait? Here's Bruce's contact info:

Noank Marine Service

55 Spicer Ave, Noank, CT 06340

(860) 536-0221
Next stop - check on Gordon Kyle's Windsong, O'Day #66

http://dolphin24.org/windsong_noank.html.

Windsong winters at Maxwell's Boatyard in Noank and has a mooring right on the river next to the boatyard - and - the boatyard is right next to Abbott's Lobster, a jump across the fence, or a short row in from her mooring!!

Click here for a larger image
Next stop - Seahorse Restaurent at Spicers Marina for a late lunch at the bar - grilled mussels and cheese, super bread rolls for dipping, Maine blueberry pie!! with ice cream, draft beer and boat talk.....
*****************************************