July 12, 2021. Carl's Yankee Girl Ester moves fast! Here's his report
Ron-

Thanks for the help advertising Esther. I sold her last weekend to some nice folks in Oregon. Hopefully they will get in contact with their updates. Now I'm waiting for the local foundry to cast a prop strut for my new-to-me S2 9.1.

Best to you and all Dolphin owners. Fair winds, following seas, and may all your tides be rising.

-Carl

FAIR WINDS TO YOU CARL!!!

*******************************************
July 2, 2021. We got the following email from Carl
Ron-

Well, it looks like it is time for me to try and let go of Esther, Yankee Dolphin #89. After 20+ years, I've acquired a "bigger boat", an S2 9.1. I'm already missing the pedigree of Sparkman & Stephens in my heart, but I've gotten more into racing and though the Dolphin is great for what she was designed for, the fickle winds and short courses of the Northwest are not her strong suit.

If you could post on the dolphin24.org site that she's for sale, asking $3000. The motor is not really any good, but the price includes a tandem trailer. The trailer had new brakes and new tires in 2019. There is really only 10 miles on them, from my house to the marina and back, (1) trip.

Her sails are still in great shape for almost 10 years. Includes a roller furling genoa and a spinnaker with pole, etc. At this point I haven't fixed the mast step or rotten chainplate backer, so someone handy or a yard will need to work on her before launching. Interested parties can email me

dredcaptcarl@yahoo.com

Let me know if you need more info for a listing.

Thanks and keep up the Dolphin faith!


Carl

*******************************************

******************************************************************
May 12, 2008. Carl Harrington formally checked in Poisson d' Avril, Yankee #89 with some local news and pictures which follow: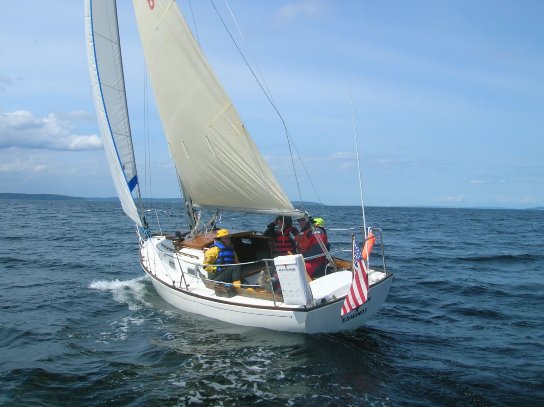 Ron -

Good to hear from you. I've been busy fixing the motor on my boat. I've renamed her "Yankee Girl Esther". I've sailed many a time on Ariadne and heard she was broken up for lead and parts. She fell on real hard times after Chris sold her. Very sad. But she was probably one of the most used boats out there, period. At least some others survive.

(Webmaster Note: Click here to go to the latest on Adriadne)

No updates on the Olympia Dolphin, haven't been down there in a few years now (how time flies). It might be Thistle, #99, for all I know.

Eric Sorenson (Parakletos) had his boat out for bottom work, as did I recently.

Attached are a few photos of my boat underway. Yes, I have a undersized head sail. Alas, can't afford new sails this year. Maybe next.

Love the web site, thanks so much for maintaining it. I hope to be sailing this weekend!

-Carl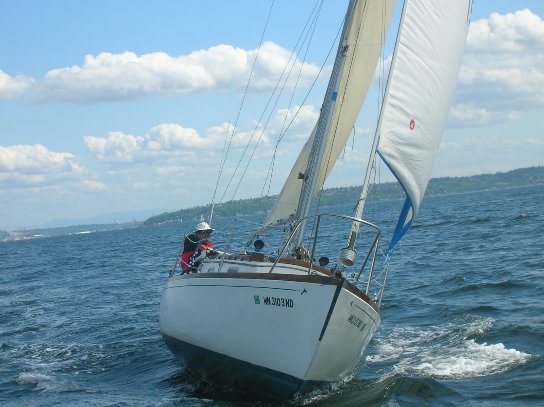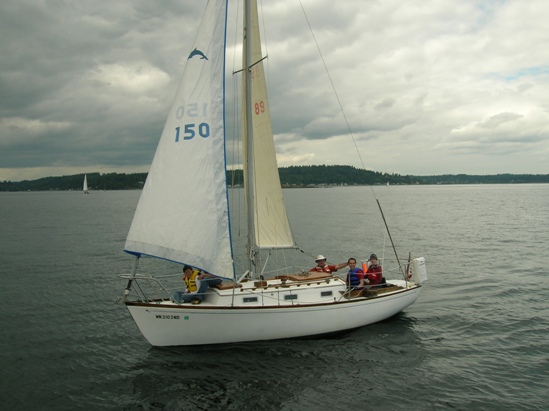 ***************************
Carl has done some investigative work on Dolphins in the Puget Sound area. He reports 4 Dolphins seen in addition to Poisson d' Avril. One is in sad shape at the Swantown Marina, Port of Washington.
***********************
June 15, 2010. Click for a link to a short YouTube video of Yankee Girl Esther sailing. Thanks to Erik Evens, Robin Lee, for bringing it to our attention.
****************
June 21, 2011. Carl sent in the following email and update
Ron-

I noticed on the following page that there is an unidentified Dolphin listed as being part of the Washington Yacht Club: http://www.dolphin24.org/ariadne.html

Actually, that is my Dolphin, #89, Esther. Also, a minor correction, the boat's name is Esther, not Ester. (Noted/Corrected/Thanks)

Love the site! Oh, and just got a new roller-furling genoa and main for Esther. She sails great with the new Dacron.

-Carl

**************************
August 23, 2013. Its been a while but Carl's been busy. Here's his update (minor edits)
Ron-

I have some photos of my Dolphin #89 I thought you might want to share. I have a few projects I've done/am doing if they are of interest.

At left is #89's Builder's Plate - from up under the mast.




Main Hatch


The original had payed seams. The new one is three pieces of plywood (two with teak facing), laminated together with West System epoxy. I just painted on the seams for looks. I kept the original arched shape by laminating them over a big 2x6 jig. I also made new stainless steel hatch runners, the old plastic ones corroded in the sun. It only cost $14 for the stainless, then $150 for polishing and countersinks (burned the first on out). Then added high-modulus plastic inserts into the hatch to protect the wood from sliding on the stainless. Then I had to add a $50 barrel bolt to keep it from sliding in a bouncy seaway. Funny how projects kind of grow and grow.



Lazerette Hatch Repair - Someone put a regular steel screw in the back of the starboard laz hatch, so I had to cut off the back part of the hatch due to splitting, then epoxied on a new piece of teak.

This is a picture of the piece glued on, but not yet trimmed down. The varnish was a mess, so I had to strip it and redo.

Cabin Trim Bow and Side - The wooden cabin trim on the perimeter of the cabin had worn down to about 1/2" wide by next to nothing thick. And the tricky part is at the front of the cabin, the wood is in an arch following the cabin top. My neighbor, retired shipwright, advised me to laminate the piece rather than cut it from stock and risk splitting with the grain.

The real trick will be making the corner pieces where the front arch meets the horizontal sides. Not looking forward to that part. The side pieces are 110" long x 7/8" x 1/2" teak.



Cabin Forward

The picture shows the original Dorade boxes and ventilators. It also shows where I had to remove the old adhesive that held the cabin trim on. It took four hours of rubbing with acetone to get it all off.

-Carl

********************************
March 2, 2014. Carl sent in a couple of photos from the book "The Sailboat Classes of North America". Click here to go there

*************************
March 18, 2018 - Its been a while but we finally got an update from Carl, and a bunch of pictures. Here's his email
Ron - Carl Harrington here, wayward Dolphin sailor.

I've been sailing a bit on Esther. Gotten into some local racing, though with at PHRF-NW rating of 312, I'm on the slow end. And that is with the spinnaker..... Joined the Corinthian Yacht Club of Edmonds up here in Washington. Probably got new sails since the last update (main and genoa). The spinnaker is off a San Juan 24, slightly undersized but plenty big enough to get me in trouble.

Had to rebuild the fiberglass engine hatch (Webmaster Note - check out the "Before" photo below). A previous owner had drilled some 1/2" or so holes in it to mount a self- steering vane. I sold that at the swap meet 20 years ago or so. I'd patched the holes with marine bondo, but didn't fair them or anything, so water got into the plywood core and rotted it. I dug it all out, ground it out, and epoxied in a few layers of underlayment plywood in it. Covered the whole thing with more fiberglass cloth and epoxy (or was it polyester? whatever). Threw on a coat of deck enamel and she's looking a bit better. Now to fix the leaking teak toe rail, not a project I'm looking forward to.

Attached are some updated photos of the boat in action.

Racing Fall, 2017 at the Corinthian Yacht Club of Edmonds

Click on the photos for a larger image

Above This is a picture of my father, Carl Jr (I'm the 3rd) on the last trip we took on the boat in 2013. He passed away in 2015 and is missed by us all.

Right, a picture of my father and my niece (Maddy) from a few years ago. She's much bigger now.

An action shot from the Whidbey Island Race Week 2017, a week long race series.

Esther at a mooring off Cypress Island in the San Juan Islands - click here for a larger image

Left Lastly for now, us, on Washington Lake, near Medina, sneaking up on the residence of William (Bill) and Melinda Gates. I guess he has some kind of computer business or something out here.

Carl

Webmaster Note With all the sailing areas referenced in Carl's report, staff suggested we provide the reader with some idea of Esther's home waters - Edmands is a suburb just north of Seattle.

Here a mini look at the Seattle area. Whidbey Island is just above the target. San Juan Islands are just east of Victoria.

(click here and Wikipedia will take you right to the Gates' estate

| | |
| --- | --- |
| Washington Lake - the target is the Gates' estate | Cyprus Island in the San Juan Islands |

**************************************
November 26, 2018. Responding to staff's 6 month Esther status inquiry, Carl, being a proponent of the "a picture is worth a thousand words' idiom, sent us the following update.
Ron-

Thanks for the reminder that I still have a boat. I'm in the middle of a long-delayed bathroom remodel and it seems that all I do is work on it and go to the day job.....

We had a good racing season this year with the CYC Edmonds. Came in 2nd in their Frostbite Series and 2nd in the Halloween Series. Not quite so hot in the two Summer Series, but you can't win them all.

I didn't have a long summer sail due to other plans, but did get a few over-nighters. Alas, maintenance is behind schedule, the sun destroyed all my nice varnish work in less than a year. Looks like it's back to the garage for the hatches. I may pull her early winter to work on some deck leak issues. And a new motor may be on the horizon too. Time to Break Out Another Thousand (or so).

Below are some photos of the season:

Carl

Right - The old 1994 9.9 Honda long shaft stuffed into the motor well. Not fun lifting the 120 lbs without bending your knees, but I'll miss the electric start and battery charger.

Probably go with a 6 or 8 hp next time. Not sure a new 9.9 would even fit

Click on the photos for a larger image

Above - Your faithful correspondent at the helm during a lovely July race day (Please ignore the trashed varnish. It's still called "bright-work" even when it turns grey.)

Above - Picking up marine debris, a mylar balloon. Trying to keep the Salish Sea clean

Above and Right - One of the crew of the 44' footer went up the bosun's chair and caught us ghosting into the anchorage from about 75 feet up. Not a drone shot, but a tangible human at the top of the stick

And, as it is the Fourth Quarter Holiday Season, Above is a photo of me in one of my other hobbies, Scuba Diving. I volunteer at the Seattle Aquarium, and in December make an appearance as the man in red himself

Postscript: Forgot one picture - from our first season of racing with the CYC Edmonds. Honestly my personal greatest sport triumph. It may not be saying much, but it means a lot to me. A Second and a Third in 2017.

Check back with me in another 6 months and maybe I'll have a repair story to tell.

Thanks for all your work on the web site, it is a great source of information and inspiration.

-Carl

******************************
January 29, 2019. Carl has earned his DFI badge! He sent in a heads up on this. Latitude 38 Magazine's 'Lectronic Latitudes' caught Dick Loomis' Old School, Yankee 212, at the starting line for their class at the 2019 Three Bridges Fiasco regatta held on San Francisco Bay, Sunday, January 26. Click here to go to the story.
******************************
August 19, 2019. Carl had a 'little' problem with taking down his mast. He posted on the Dolphin24 sailboats Facebook page and followed up with an email and photos. We'll put this up in our Technical Section as well. Click this link to go there http://dolphin24.org/mast_tabernacles_hinges.html
Carl Harrington
August 12 at 8:43 PM
Anyone know what the mast step "hump" is made of for a 1968 Yankee built Dolphin 24?When using a gin pole to lower the stick, things went great until the mast shifted to starboard in the last 6 feet and ripped the hinge out of the step. Oh well, probably been there since '68.

Webmaster reply - Ron Breault ouch! Send me a pic, Carl, and I'll get your question up on the dolphin24.org website

Ron-

Per my FaceBook post, here are pix of my mast step arrangement. I think the built up step is wood inside, but hope for confirmation from the brain trust. It spans between two bulkheads/deck beams. When lowering, the mast was fine till the last six feet, when it moved to one side, pulled the four wood screws out, and bent the step hinge. Now the repair list includes fixing the step, new VHF antenna, new masthead light, and Windex. Ugh.

Thanks for sharing with the community.

Carl

Click on the photos for a larger image

***************************************