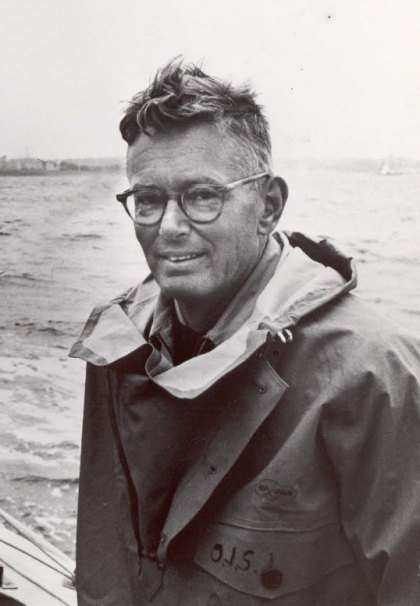 September 17, 2008
Olin's life, and his passing away at 100, is and will be memorialized by many organizations, publications and sailing community individuals. Here is an effort to capture, for our web site, a very few highlights that represent the essence of this remarkable man, his lifelong impact on our sport, and the impact on those who lives he touched.
The photo above is the one, of the many possible, that Sparkman & Stephens, the firm he founded at age 21, selected to formally announce that he had died. The following email was sent by Sparkman & Stephens Chief Designer Bruce Johnson.
To our clients, colleagues and friends,

It is with deep regret and sadness that we acknowledge the passing of Olin J. Stephens, one of the founders of Sparkman & Stephens, at 100 years of age. Olin was clearly one of the most prominent and prolific yacht designer of our time, an inspiration to all those involved with yachts and yachting, its history and traditions. He was a yacht designer with great design intelligence and talent, yet he exhibited the same modest, thoughtful and genuinely caring demeanor regardless of whether he was discussing design with the lay enthusiast rebuilding his Tartan 34 in his garage on a shoestring or a top sailor at America's Cup level.

We know that you share in our feelings of loss and sympathy as we extend sincere condolences to his family.

Best regards,

Bruce Johnson, Executive Vice President and Chief Designer, Sparkman & Stephens
************************
Many of us are religious readers of Sailing Scuttlebutt, the daily electronic newsletter http://www.sailingscuttlebutt.com/. They have a blog on which people can post comments. Here is one from Dave Pedrick, a well respected designer, who once worked for Olin. When asked at New York YC station in Newport, RI during the summer of 2008 to recall those whose designs showed promise for the future, Olin responded "Its difficult to say precisely but among the designers today, I like what I have seen from Dave Pedrick. I really couldn't say who's best"
Dave Pedrick's email to Scuttlebutt
"It's daunting to think of the number of sailors and industry professionals who have benefited from Olin Stephens' genius, whether through the adrenalin of racing or the serenity of cruising. Spanning from Lightnings to J-Class yachts, from blue-water cruising and ocean racing to virtually every important offshore racing event on the planet, Olin crafted designs that countless crews and the seas themselves have loved.

Olin always kept his sights on the next thing. He could see and admit publicly the weaknesses of any particular design, and was constantly figuring out the next improvements to make. When asked about why he didn't' copyright his designs, he explained that, if someone was copying your past work, that's right where you wanted them – behind you. Nevertheless, he shared his ideas generously by contributing for decades to the technical development of the sport of yacht racing.

I've held a special fondness for Olin, who gave me my start as a yacht designer in 1970. He soon trusted me with an increasing share of creative and technical work on major projects, including the America's Cup and emerging Maxi racers. With his office hours full of telephone calls and letter dictation, he used the quiet time of his evenings and train commute to advance his own ideas. Among the special memories that I have of Olin is often starting the day with an update on what he had been working on the evening before, and being asked to take it further during the day. I'd pass it back to him at the end of the day, and so it would go from one study to the next.

A few years ago, after I introduced Olin – my most significant mentor – at an event at the New York Yacht Club, he told a story about his early mentor, whom he called – even at age 97 – "Mr. Crane." After a few more stories of his early years in the Six Metre Class, in crisp detail and with humor and humility, all of us in the room felt the special privilege of having had that time with him. Throughout his fifty years as an active and amazing designer, and thirty more in an active and amazing retirement, Olin's standards of intellectual challenge and integrity never faltered, and will shine on every bit as brightly as all the trophies that his creations have captured."

Dave Pedrick
***************************
Here is another from a Stewart Hall in Toronto, Canada
I met Olin Stephens as a 19 year old in the mid 70's. It was my first trip to NYC and, having loved America's Cup boats since I was old enough to read Yachting magazine, I made my way to City Island, having heard there were 12 meters there.

I found a busy boat yard and starting poking my head around. It didn't take long to discover a number of 12 meters up on blocks in a dusty old shed. I believe one of them was Columbia.

As I stared at the boats in wonder an old man walked up to me and asked if I liked sail boats. I told him of my love for the America's Cup and that seeing these boats was a dream come true. We spent about 15 minutes talking. He was very interested in what I thought about the boats. He was kind, gentle and curious and seemed to have nothing better to do than talk to a gawky 19 year old. It struck me that he had the same kid-like love of these boats as I did.

Eventually he walked off and another man came up to me and asked if I knew who I was talking to. I answered no and when he told me I was flabbergasted. I will never forget meeting the great yet humble Olin Stephens.

Stewart Hall
Toronto
*********************
The New York Times obituary for Olin can be read by clicking http://www.nytimes.com/2008/09/15/sports/othersports/15stephens.html
*****************************
Sailing Magazine, whose photography stands out among sailing publications, had an article in their November, 2008 issue about Olin and the 100 year celebration of his life held in July in Newport, RI. It written and photographed by David Liscio. Here is a picture of Olin and writer John Rousmaniere taken only weeks before Olin passed away. John was the co-editor of Olin's autobiography All This and Sailing Too

In this picture he is pointing out to John his famous, and recently restored, Dorade, winner of the 1931 Transatlantic Race - the boat that announced the arrival of the designer that would dominate the sailing world for the next 50 years.
Earlier in the day, on the NYYC's Newport Station Harbor Patio, Olin was asked to describe what sailing means to him. His answer: "Sailing means life."
**************************
Olin's autobiography All This and Sailing Too, and Francis Kinney's biography of Rod and Olin Stephens You are First, are required reading for anyone wanting to understand this extraordinary man.
One of the motivations to start up this Dolphin 24 website was that our history was in danger of being lost as many of the people that made the Dolphin 24 happen had already left us - people like George O'Day, Bill Shaw, Palmer Scott and others. We are very fortunate to have had Olin himself directly impact what we have done here.
The last page of Olin's autobiography neatly summarized his view of life.
"In all phases of my work I was conscious of the need for balance, and I did my best to find balance in both the long and the short view. Broadly, I think I can say that I applied the principles of balance in design, in business and in the pleasures I enjoyed."
************************
November 23, 2015. The Mystic Seaport Museum has the collection of Olin's papers. Yesterday, we added to that collection a copy of the Dolphin 24.org website book. Olin had passed away while we were working on the book. Book #1 had been given to Miriam O'Day, George O'Day's wife five years ago. We had made a 'deal' that if ever the time came for her to part with the book the Mystic Seaport Museum had advised that they would take care of it for us. On November 22 I met with Paul O'Pecko, Curator and Vice President, Collections and presented the book.
So, it seems fitting that the Dolphin 24.org website Book #1 is shared by Olin's and George's memories, as they shared in the boats creation.

Olin Stephens

December 8, 1958

"I have just had a phone conversation with George O'Day, who is very anxious to get going on two new boats to be built of Fiberglass, which he would like to have built according to our designs.

The smaller boat he has in mind would be a Junior Ocean Racer.."
To go back to our Olin Stephens page, click here