March 6, 2016. Joe sent in the following email (edited)
Hello Ron!

My final note on "FANTASY". She's finally put to "bed". Men came this morn with an excavator and took her down; You, it appears, were on the money. The ballast was lead. They made a separate trip to "wherever" to accommodate the weight.


Well......thanks for all the help...it was a pleasure to meet you. Fair winds my friend.


J.C G.

Kindness is the language the deaf can hear, the blind can see and the mute can speak

and, Fair Winds FANTESY

******************************************

****************************************************************
January 18, 2016. Joe still has her (did I say that before??) - she's available for free. He's had a couple of interested callers but getting her away without a trailer has been a problem. Anyway, Joe would rather see someone try and fix her up, rather than pay someone to take her away and cut her up.
Webmaster note: Fantesy is on a steel crade (see photo below) When I got Marionette 20 years ago she was on a steel cradle and I built a trailer with it. Click here to see how we did it.
*****************************
***************************************************************
April 26, 2014. Joe still has her. Continues to have some interest but, so far, no takers. Joe is currently thinking of keeping her thru the summer and seeing what happens. Stay tuned....
November 26, 2013. Joe still has her. Has had some interest but no takers. Joe is currently thinking of keeping her thru the winter and seeing what happens. Stay tuned....
July 16, 2013. First last call for Fantasy !!!! August 8, 2013 - Update, some interest but still waiting - Joe is now going to talk to someone about cutting her up!!! - 2nd Last Call!!!
***************************
February 8, 2013. Preston, Connecticut is only a half hour drive away, so a DFI visit was scheduled with owner Joe Glidden. We needed some current pictures. The price is right for someone to bring Fantasy home and bring her back to her element. He is planning on moving in coming months and Fantasy needs to be moved. Here is Joe's updated ad
24 foot Dolphin Class sailboat
"A DIAMOND IN THE ROUGH".....BOAT HAS NO POWER, NEEDS

INSIDE WORK, HAS MAST, MAIN, JIB, GENNY
SITS ON A STEEL CRADLE YOU TAKE ALL
LOCATION: PRESTON, CONNECTICUT.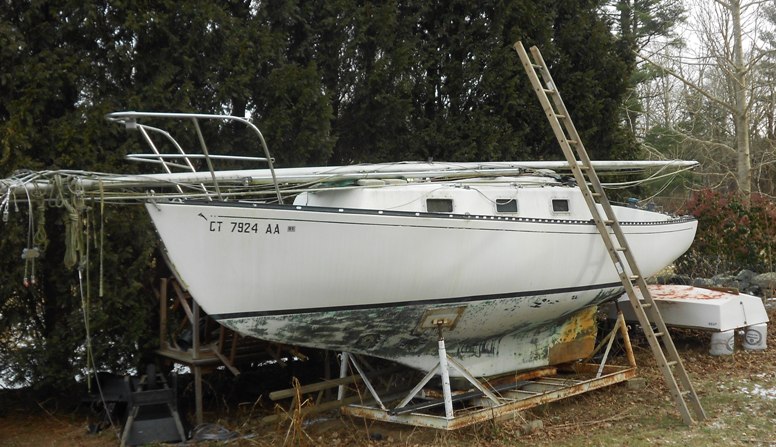 The steel frame has potential to be converted to a trailer (click here for how this was done by your webmaster)
| Note split backstay | |
| --- | --- |
| | |
Consequences of Fantasy's encounter with Hurricane Bob in 1991. You can read more about this by clicking here.
| Motor control | New rudder heel fitting |
| --- | --- |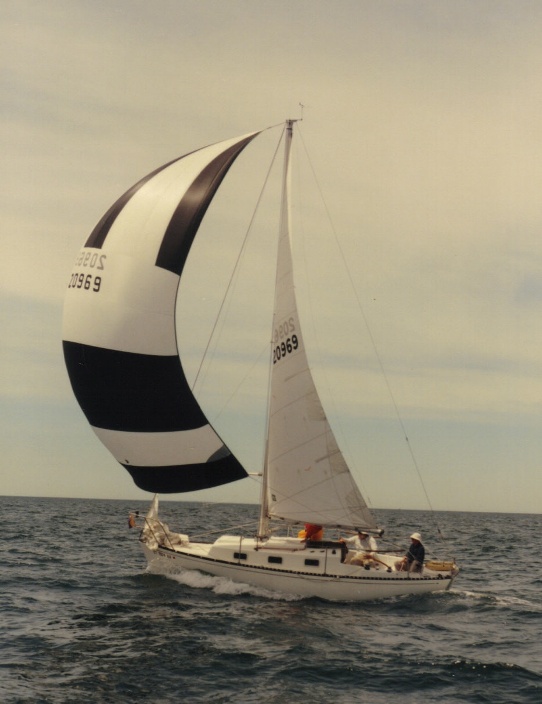 There's work to be done, but Fantasy can get back to her pre Hurricane Bob condition
***********************************
Back on July 30, 2012, acting on an email tip from Gordon Kyle, (Windsong, O'Day #66) we found a "Dolphin 27" !!! for sale in Preston, Connecticut on Craigslist. Well, it was raining that day, the Olympics were playing endlessly on TV, so a call was made to Joe Gliddon, the contact on the ad. Joe has had this 'Dolphin' boat for almost 20 years as a project, but is now thinking about moving, and was running out of time. Many repairs had been made but she still needed a lot of work.
At the time the boat's name had not been diclosed but Joe told me that bought the boat from Legnos Boat (something clicked in your webmaster's brain!), and that she had gone down in Hurricane Bob....
The search engine on the website brought up this page - the only one with Legnos on it. BINGO! We have found another Dolphin, our 207th. She was Jim Francis' Fantasy, and we had part of her story. Click here to go to her.
*****************************

Fantasy has been missing for nearly 20 years, and now is 'found'. She is our 207th Found Dolphin. Click here to go to that list

********************************