September 29, 2013. We have a new listing on TradeMe New Zealand
http://www.trademe.co.nz/motors/boats-marine/yachts/keeler/auction-264375308.htm
****************************************
August 10, 2011. We have an updated listing for this boat. Here is the ad and pictures
**************************************
March 5, 2011. This listing has expired. Someday, someone will check in Coq au Vin.
November 1, 2009 - DFI/FFI Steve Somerville (Festina Lente) sent in the following email regarding 2 Falcon 24s for sale in New Zealand. Below is the Coq au Vin ad. To go to the other ad ("Opua Falcon") click here
Ron

Enclosed is a link to take you to adverts on New Zealand's Trade Me. For 'Coq au vin' from the listings. It has no owner's details. I have tried to email to find out, but being a dealer they don't want to talk to me!

The second one I can't make out the name however you might as well have it for the record anyway. Hope all is going well.

Steve Somerville (NZ)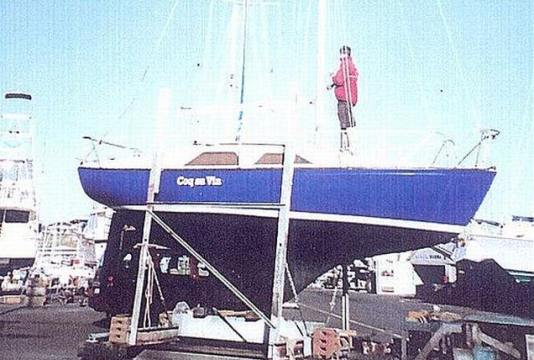 1977 Sea Nymph Falcon 24 7.3m 1977 - Asking price $17,500
Type: Fibreglass­
Length: 7.3 Metres (24 Feet)
Year: 1977
Engine: 8 HP, Inboard
Body: blue, Keelboat
Fuel type: Petrol

Transmission Details: Inboard
Engine Details: 8hp Honda
Beam: 2.29 metres
Draft: 1.37 metres
Fuel Capacity: 25 litres
SPARKMAN & STEVENS 24ft Falcon, GRP, 1977, 8hp Honda petrol inboard, pull start, 5 berths, Compass, nav lights, log, Hand pump cold water, 1 x 12v battery, tiller, interior repainted, new shaft, new rudder, exterior repaint, $8000 spent on refit 2004, 2 x mainsail, No 1, 2 & 3 h/sails, 2 x spinnakers, Kero: 2 x burner stove, Marine flush toilet, Anchor, chain & warp, Asking $17,500

Waikawa Marina - Picton Office
For more details and photos call our Listing Broker Gavin Stichbury 03 573 7457 or 0272 757 716.
Other Brokers available: Brent Cameron 0274 364 385, Mike Vining 0274 466 931, Phil Vining, 0274 466 939, John Moody 027 282 1022

175 Akersten Street - Nelson Office
Call Rob Greenwood on 03 548 1202 or 0272 245172

Wellington Agent
Mike Coupe 027 474 6106 or A/H 04 233 6055
Go to the ad by clicking the link below
************************
Webmaster Note: Your webmaster picked up a chartered sailboat at this marina in Picton some years ago as part of a memorable 3 week vacation in New Zealand. A part of this story is on Pelagos' page. Click to go there.