May 31, 2013. TradeMe reported this boat was sold on May 31, 2013. We'll standby for the new owner to check in.
**********************************
May 17, 2013. DFI Giles Grimstone (Summer Wine) advised that Scrounger has an updated Trade Me ad. This is the link
http://www.trademe.co.nz/a.aspx?id=594276841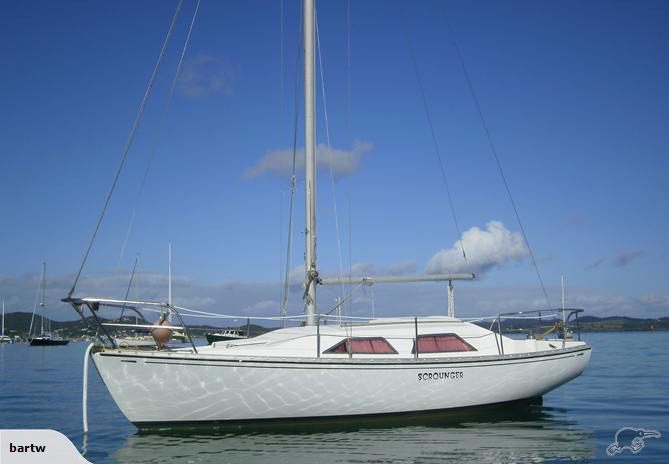 -Sparkman & Stephens 24ft Falcon
-GRP,built late 70's
-8hp yamaha outboard 2-stroke in good condition (new impeller)
-4 berths
-compass
-manual bilge pump
-2 burner stove (not hooked up)
-new unused marine flush toilet
-as new plough anchor, chain, warp (50m)
-new upholstery (not in pictures)
-1main and nr 1, 2 and 3 headsails (all average usable condition)

-I used the pictures made two years ago by the previous owner (except for the engine). The last haul was done back then.

-For sale because I want to buy a larger yacht and need the mooring free.

-Sold as is, where is.

-The boat is moored at Windsor Landing, Kerikeri.

-Payment must be made within 3 days after auction ends and pick up within 2 weeks.
There are 14 pictures up on the ad, and we have added a couple here to complement the ones in the earlier ad below.
************************************
We first heard of this boat on November 1, 2009 when Steve Somerville (Festina Lente) told us about an ad on Trade Me listing her for sale. We could not quite make out her name from the picture in the ad (see below), and as efforts to reach the owner were unsuccessful, Plan B went into effect - wait.
We waited, and on January 20, 2012 DFI Giles Grimstone (Summer Wine) was able to get the name of the boat. He also spoke to talk to the then owner of Scrounger and determined that he had owned the boat from 1997 to 2010 when she was sold. We are standing by for further information.
This in the chronological history we had on this boat up until now
November 1, 2009 - DFI/FFI Steve Somerville (Festina Lente) sent in the following email regarding 2 Falcon 24s for sale in New Zealand. Below is the ad for the "Opua" Falcon. To go to the Coq au Vin ad click here

Ron

Enclosed is a link to take you to adverts on New Zealand's Trade Me. For 'Coq au Vin' from the listings. It has no owner's details. I have tried to email to find out, but being a dealer they don't want to talk to me!

The second one (at left) - I can't make out the name however you might as well have it for the record anyway. Hope all is going well.

Steve Somerville (NZ)
Sparkman & Stevens 24 Falcon