January 11, 2018. Responding for a plea for a good weather report we got the following News! Joran and Helena are selling Festina! Here is Joran's email and a link to a youtu.be video. We standby for the new owner Duncan to check in.
Hey Ron!

We had a bit of a blow but Festina was fine. We sailed out to an abandoned resort island to explore along with these guys:

https://youtu.be/kq5BOsgO_4k?t=2m1s

You can see Festina sailing on the right at: 3:17. Hope things are good down (up!) there!


We've decided to sell Festina to our friend Duncan today, who I expect will check in soon. She's been an amazing boat and has got us ready to sail something we can live aboard and take around the world.

Thanks for your watch!

Fair Winds and Calm Seas - Jorran and Helena!

*********************************************

*******************************************************************

**********************************************

This is Festina's story up to this point
February 21, 2017. Joran and Helena Kikke checking in as the new owners of Festina Lente. Here is their email, and pictures, of Festina's return to her old homeport of Auckland, not far from where former owner Steve Sommerville found her in sad shape 8+ years ago. When time permits we will get an overview of her homeport geography in our continuing attempt to familiarize readers with our owner's homeport geographies
Hey Ron

This is Joran & Helena. We bought Festina off Steve around Christmas time and sailed her back down to Auckland with some pretty wild winds! Was aiming for the harbour but got blown to the east side of Waiheke so stayed there for a week or so because it was nice.

She's now moored safely up the Tamaki river - right in the city

Joran and Helen

WELCOME ABOARD JORAN AND HELENA !
*****************************************
February 23, 2017. Festina Lente's homeport, Tamaki River, Auckland, New Zealand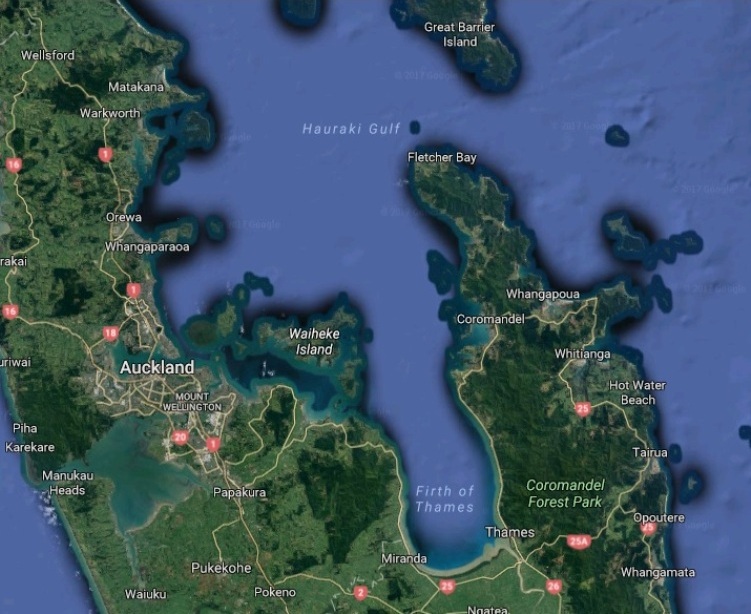 Click on the images for a larger view.

In the photo left Festina Lente is looking downriver over her bow pulpit at her neighbor Abel Tasman

Joran's comments

Hey Ron,

Yep, that's the river! We're further up, between piles on the north-west shore right up against the first bridge you encounter, here:

https://www.google.co.nz/maps/@-36.90717,174.8585515,772m/data=!3m1!1e3

Luckily enough, when we first arrived, the couple who own the place overlooking it said we could use their jetty, so getting on and off is way easier than we thought it was going to be

Joran

********************
**************************
April 14, 2017. Dolphin24.org weather staff was monitering Cyclone Cook that was hitting New Zealand over the past 24 hours and checked out what Nullearth had to show us. And, e checked with Joran Kikke to find out how his Festina Lente is faring. She is moored between those 2 posts (above) on the Tamari River in Auckland.
Yeah bit of weather hit a lot further East than expected - was aiming right for us but swung away a bit - it's travelling down the islands over the next 2 days.

We'd secured Festina with 4 thick lines to the two posts and we're repainting the dingy at the moment, so it is out of the water and safe. Friend of ours sailing his Raven 26 out into Drunks Bay to see out the storm at anchor, said there were a few other blue water crusers doing the same.

Joran

Click here to see the Nullearth visuals of Cyclone Cook's winds
*******************************************
December 5, 2017. Joran and Helena took Festina Lente out to the Great Barrier Island, had dolphins for escorts - and have a youtube video to share with us.
Hey Ron

We made this video of a trip out to Barrier Island, thought you might like to see it! Our 'Dolphin' doing what she's built for!

https://www.youtube.com/watch?v=QWU6XW2SpKE

Joran
************************************************************
January 11, 2018.
******************************************************************************
**********************************************************
***************************************
This is Festina Lente's story as we have it from when Steve Sommerville checked in as her new owner back in May, 2009. Its been a good ride....
December 28, 2016. Well, Steve has sold her and is moving on. Here is his email and a neat parting photo of Festina and the new boat (minor edits). We stand by for the new owners to check in.
Hi Ron

Merry Christmas and a great new Year to you. Just let you know I have sold Festina. But have moved on with the Kulkuri. A lot of work ahead for me. We are leaving today for 10 days up around the coast Festina is off to Auckland, a young couple now have her. May they have a lot of fun.

All the best to all on here. 'Stay well, Sail Free.

Steve S

Fair Winds, Steve

**********************************************

************************************************************************
March 20, 2016. It had been a while so we thought we'd check with Steve Sommerville and find out what's going on with him and Festina Lente. He had news. This part is edited and his news is here - click to go there http://dolphin24.org/The_Big_Boat.html
Hi Ron

I'm still here. My Festina is up for sale - I am selling her privately. My plan was to take her to Tonga in a couple of years but an opportunity came up to purchase a 41 ft Formos. This journey has been so huge, a life changer, it's hard to keep it short

Steve

*********************************
May 2, 2009. Steve Sommerville checked in with the news that he is the new owner of Festina Lente. Falcon 24's are down under cousins of the Dolphin 24. To find out more about these boats click here.
We first heard of this particular boat when Stefan Sebrechts in Auckland (Whistler) sent in some photos of Falcon 24's he had collected. Here is Festina Lente.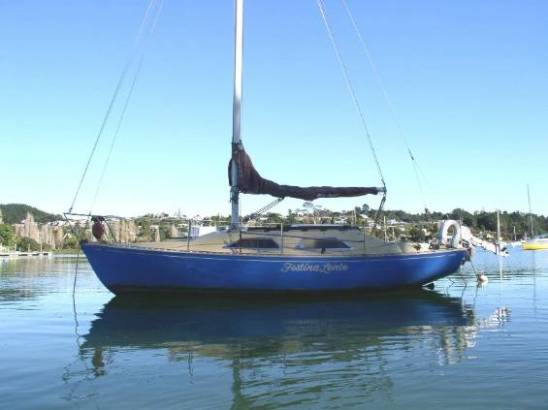 Here is Steve Somerville's check in email
Hi Ron

While wandering around the net, I found the photos (on your site) and listings of my precious Festina Lente.

Here's my story. I found her in an old listing of Trade & Exchange, back in 2007. I saw the ad once and jotted down details never found it again. Even the owner was very surprised when I rang up. He had taken the listing off along time before that.

Found in Stillwater, Auckland up the river. Went to see her, she was a mess. Outboard tilted up leaning over, the turning pivot seized. The chain plate deck plates were leaking. The bulkhead swollen and fuzzy around. Many, many nice sized Oysters lined her hull. A quick scrape and antifoul.

A great, slow trip back to Whangarei (Festina's new home port). Trip ending in our bay with a large pod of Orca around the boat feeding on Stingray. Set off whole trip. Since then many a sail has being had, up to Bay of Islands. Around Hen & Chicks, etc. When, I had trouble with my marriage. I lived on board for 4 months (loved it). I'm 6'2". But all good, amazing how you adapt, and you learn where not to hit your head.

While surfing the galactic highway, I also found out that a couple owned her and lived on Festina for a long while. Cruising the coast however the head room did them in. As well as the running repairs I have changed some parts of the inside hope to have photos soon.

On telling a spiritual friend of ours, her words were. "That the two of us have finally found each other". I believe that, I listen to my girl and we talk. Many a time she gets cranky, and I abuse her. Sometimes she frustrates me, no doubt the same for her. However while she sits on the mooring, I will get the summons and yes there is something to be fixed or sorted. And no matter how long she is closed up, on opening her up she has this sweet smell, nothing on boat to produce it, I really love my girl but she is a bit small. Time when a bigger boat is needed is coming. Not looking forward to it?

Anyone reading this please check your chain plate bolts. While sailing I had visions of the Rig dropping off. (Not good) so never really pushed her. So imagine my surprise when with the rig off, I found the 8mm Stainless bolts that looked good on outside had crystallized and all but 2 broke winding them out. (Thank you World). I now have 12mm bolts in them!

Hope to meet other owners. I can be contacted at svsomerville@xtra.co.nz

Many Thanks

Steve Somerville

******************
Stephan Sebrechts also sent in the following photos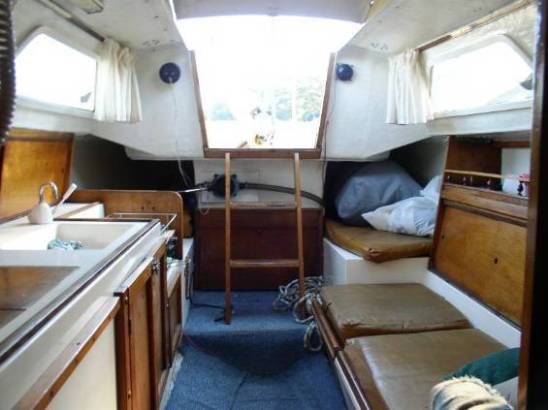 Notice the cabin sole - every inch of headroom counts..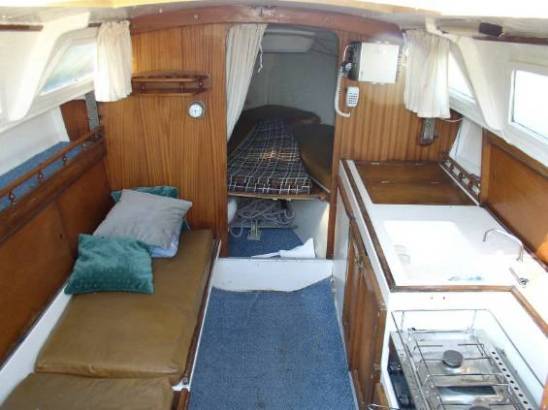 ***********************
November 26, 2011. We have not heard from Festina Lente in a while - Steve has been busy with other matters. Recently, sailing has been on his mind - here is his excerpted/edited email.
Hi Ron

Steve Somerville here from NZ. Back on the scene. Have been on a bit of an emotional roller coaster - Realised I had "Marital Thrombosis" and cut the Thrombosis out of my life. My poor girl Festina Lente has being sitting languishing at our wharf at work. When my daughter left I lost my sailing buddy and have not had the same feeling toward it. I have now decided to pull my finger out of my butt and have brought Festina out of the water and she's on the hard, finally.

I am now planning a trip out to sea for a week. I mean out to sea, wanting to go out 200 ml and sit out there and contemplate for awhile. The little girl is an awesome yacht. She has sat waiting for me to sort my dodos out. Staying totally dry. Cobwebs filling the bilge area. But she still has kept her sweet smell.

I see there seems to be a lot more boats on the list. Must go - all the best

Steve
Take care out there, Steve. We are standing by....
May 3, 2013. Steve has checked back in with the following update - minor edits
Hi Ron.

How are you keeping? it's being a long time. Sadly, my Festina Lente has being languishing on the hard for over a year. Over the year she had the outboard totally re built. Now have reverse... Built in a new holding tank . Replaced the toilet, built in a new hand basin into the forward cabin. Built in a new type of workable chart table. Its awesome Replumbed her. Wiring etc. Now having a new paint job done. A whole new colour will be appearing in about a month.

And I am building a wooden ach at the stern for the new 80 watt solar panel. Why wood? hey I am a boat builder wanting a challenge. Haha. The inside is still as it is. Not worried about that yet.


Will have photos at launching.. Will keep in touch.

Steve

Welcome back!
June 15, 2014 Steve has sent in the following update (minor edits)
Its great to say Hi and report back in. Here's a sneak look at my baby (click on the pictures for a larger view - click the back arrow on your browser to get back here))

| | |
| --- | --- |
| Before | After |

Its taken a very long time but she is getting close. Hope not to many purists will frown here when they see the arch. The arch on the back will hold the 80 watt Solar Panel. It beats having the 10 watt panel on the fwd hatch, Blanketted by sails, so the system trips out when you need it. Well, yeah right. ( Nothing blocks the view to the sun here. Except clouds)

I am 6' 2" so I had to have room to move around under the arch tending the motor etc. It has the GPS aerial and shelters the Spare VHF aerial. But also useful if I need to swing the transom mounted outboard inboard. It can be used, The donks abit heavy. as we found out on previous trials. Refer A Planned Trip. Yeah Right. hehe.

Basically every system onboard has been redone, rewired and replumbed. Outboard stripped and new bottom end and fixed gears. Holding tank. Plumbers nightmare. New hand basin built forward. New chart table going in. I listed the work done once - and realised why I am still broke.

The only thing thats remains is the old paint inside her. Will get there next time. To be honest she will get a alot of use coming up and I dont want to be afraid to touch anything in fear of damaging the finish

.Now I had mentioned previously about Festina being unbalanced. I obtained a copy of the rig specs, etc. My sails are all class, but it mentions there should be a 9 inch rake on the mast..... Fingers crossed? Also now setting up for a spinnaker. Bought one cheap so doesnt matter if I blow it out. Well, destroy it. So that's my baby - nearly done. Will send photos of the final appearance soon.

Now to start my home - rebuilding my bus

Steve

**************************
July 16, 2014. Ouch!! Didn't think these kinds of things happened down under!!
Hi Ron.

Just let you know Festina's launch has being delayed again. First after giving a young fellow worker here some advice about respect for other people's property.and taking without permission. He saw fit to take his frustration out by keying and gouging the new paint. (Maybe he thought it improved it). You wouldn't believe it!

Now a large rubbish truck rolled back after the driver jumped out and pushed a set of steps into the boat bow on. Gouging the paint both sides. Oh man!!!!! The good news a new paint job will be done again courtesy of them.

The weather here being mid winter has got damp so it maybe a wee while. As soon as its done. I will launch her. Get her in a safe environment. Hehe. Hope everyone is well. Hopefully back soon.

Steve.

***********************
August 14, 2014. Getting closer.....Click on the photo for a larger view
Hi Ron

Here she is. A small blemish to be done. A glitch by the painter actually. Hehe. Looking fwd to heading out to sea. I have to go to Wellington next week. So launching's a few weeks away. But getting closer. Yay.

Steve

Note this Falcon 24's artistic connection to her Dolphin 24 heritage - Nice!!

**************************
October 12, 2014
Hi Ron

She is in! Will get a good photo of her at anchor when I move her out to the River. Busy at work so maybe next weekend will take her to the marina.

Steve

Maybe something in this picture caught your eye? Click here for a larger view

Stay tuned....Click here for a larger view

*************************************
May 2, 2015. Six years ago today Steve checked in as the new owner with Festina Lente. On this anniversary, he has a story (minor edits)
Hi Ron

It's being a long time. Festina has progressed well. My new lady loves Festina. Loves spending the time on her. We do a lot of weekends away around the harbour. Easter at the Barrier Island.

I have just had a solo sail for 5 days just sailing. Testing the little girl. No plans, go where the wind was and I could see no land. Departed with #3 jib, reefed main. Westerly 25 knots. Exciting for an overnight run up the coast. Had the reef shaken out after midnight.


After a 55 mile run was off Cape Brett. Headed straight up and out. At 1300hrs the forcast was proving correct. Westerly 25-35, squalls, rough seas. Getting worse. Headed for a safe anchorage in the Bay of Islands. Fixed a few minor things.

Thursday, up anchor increasing up to 30-40 knots later today #3 and double reef main. Trip plan - a dog leg around the Poor Knights down to the Great Barrier Island. A 100 odd mile run. At widest point about 30nm offshore. Later in the afternoon the 30 gusting 40 came in. Big seas. Beam reaching and tacking. (Well, hanging on) Had the entire boat covered in water and drenched in deluge of spray. She shook, slammed, buried her nose, rolled. (edge of coaming under, taking water into the cockpit) which drains easy with the extra drains on the seats. Crunching into the next sea. Even had time to see a Manta Ray...On port and stbd side as I went over him.

The main part of the storm was late afternoon and overnight. From 1AM was still fresh, 25+kts, seas a little better. I hand steered only about 6 hrs over the main burst. Auto on and I then could go below and sit at the bottom of the steps sheltered and nap. Found the best sailing rest place. Later, gear off, I used the settee and stretched out - luckily we were on stbd tack. Wind slowly died down to a breeze again. I had water washing the sail numbers on the main (it was double reefed. My arch is 6 ft high. I have salt crusted all around the top. From frequent deluges.

I could go on..... later 1 am sitting below, auto on having a hot food-in-bag dinner. But you get the idea. (did get thrown violently across the cabin onto the port settee/ furniture) it hurt.....

Now why did I do it. I wanted to go and stay at sea for a period. Live the life. Feasibility check for planning of a trip with Festina to Tonga. But mainly wanted to see what the little girl could do. She came through as a real little ship. The work I have done on her - the arch. 80 watt solar panel. I have now so much power. Autopilot 24hrs a day no problem. Knowing it will get recharged the next day.

Breakages In the storm - NONE! Knowing what was ahead I made some checks and tweaked a few things at anchor. Frayed nerves a little. But generally still smiled talking to my girl. Giving her a pat.

Recommendations - If you feel safe push yourself. These boats are awesome. The S&S24 are huge.....Festina can be a cranky little bit** sometimes, but she is my suit of armour. I have total confidence in her and she looks after me. You feel it.
Another thing - I have finally bought myself offshore sailing gear, boots etc. A must. Despite getting doused very regularly. I was damp from sweat. And chilling in the early hours. but still dry when I took it off.

I didn't get far enough out to see no land this time. But NZ did look low down on the the horizon. And sitting bashing about, most times you couldnt see it anyway. Hahahaha. With the weather, I still got my experience. Next time. What it did show is fitness. I'm reasonably fit, active job etc. After a few days out there like that I have aches and pains from places I'd forgotten about. But it has got to be good for me.


Hope you enjoy this. I did. I didn't get any true storm photos. My phone is to valuable to get doused. But below are a couple from the early stages (click on the photos to get a larger view)


Steve

Here's a Google Earth view of Festina's trip - Huaraki Gulf is northeast of Auckland
****************************