January 19, 2011. Wallace Bremner checked in on January 18, 2011 as the new owner of Stefan Sebregts' Whistler. A couple of follow up questions and Wallace responded with more info and later photos of Whistler. His emails (minor edits) are are below. Stefan's check in email and photos of Whistler follow
January 18, 2011

Hi Ron


I have bought a 'Dolphin (Falcon ) 24 ' just recently from Stefan Sebregt. I have started to do little bits and pieces of upgrading already. This winter I plan to do a refit so my wife and I will be able to go on longer cruises. If you need further information Email me.


Cheers

Wallace Bremner
Auckland, New Zealand

Stay tuned

January 19, 2011

Hi Ron

I will not be changing her name, so as to keep with flow of ownership. It's interesting that it was a cousin of mine that started producing the SS 24s, then did the mo/ds for the deck/cabin which became known as the ' Falcon '. Interesting how things go in circles some times. Webmaster note: This interesting story about how the 'fin keel Dolphin' in New Zealand is covered here.


The (current) paint job does look at bit different to say the least in the photos (below that Stefan sent you), but it was repainted as you can see a year or so ago.

We, in North Auckland and south to almost Wellington, are verging on draught conditions at the moment with around 75 to 80 deg. F & 90s humidity. This quite high for this time of the year.

Cheers Wallace

******************************
February 24, 2012. We got the following update from Wallace on January 18, 2012 - somehow this slipped through the cracks (edited)
Hi Ron

We have (that's my wife, teen age son,dog and myself of course) have just come back for spending the lastfour days sail to a few lovely bays in the Auckland Gulf. I was hoping to get some photos of Whistler under sail with her newly laminated 'dolphin' logo and number on the sail and send it threw to you but it didn't work out.

I have done bits and pieces on the boat not a lot to look at the moment . It's the case of going for short sails then tweaking this and that to suit eg.

> Changing from roller boom reefing to slab reefing
> Changing from base handle main winches to 2 speed winches
> Using an off cut off a trawl net an stitching it to the life lines back from the pulpit to the staunchon to stop the sail falling into the drink.

This winter it will the major refit and paint (keeping the same colour scheme) using a 2 pot or 2K system.

Cheers for now and I'll be in touch.

Wallace

************************************
April 15, 2012. Wallace sent in the following update on a short Whistler cruise, and photos (minor edits)
Hi Ron


This is a couple of shots of our last five days break away with wife and I (leaving a pleased to be at home teenager ). This time we sailed to the east end of Waiheke Island (Auckland Gulf) hopping around a few bays, tramping. We met a young family with 3 young children that are living for a year on board and home schooling. They are both school teachers. We had a little wine tasting to cap off.
Cheers

Wallace (Whistler)

Looks like the Maine coast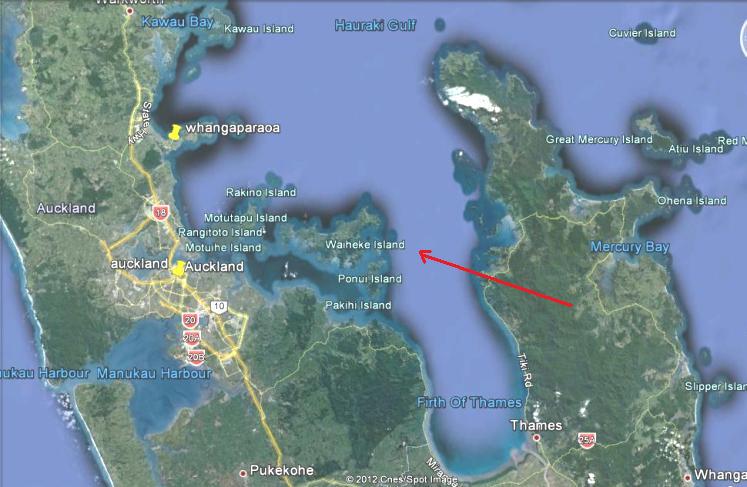 And a geography lesson...Did you know Waiheke Island is vineyard region? Click here
****************************
May 10, 2012. Wallace sent in the following article appearing in Yachting New Zealand's newsletter Briefing's, May 9, 2012 issue. Here is his email (edited), and the article.
Hi Ron

As you will see Yachting NZ has quite a broad audience, so when they opened an opportunity to a send in photo in their newsletter, I decided to promote a classic little lady (Falcon 24 ).

All the best and cheers
Wallace
"Wait, come back!"

After setting up his nervous wife to take over the helm of their 24 ft Sparkman & Stephens yacht 'Whistler', Wallace Bremner hopped overboard into their dinghy to take some snapshots of their boat.

... she handled the boat well and they made it home safe.

This photo was taken Wednesday April 10th sailing east toward Ponui Island (also known as Chamberlin's Island) in the Hauraki Gulf, just south east of Waiheke.

Here's the link to the full newsletter

http://yachtingnz.org.nz/NewsletterDetail.aspx?NewsletterID=608

********************
*******************************
****************************************************************
At this point we will go back to when we first heard about this boat. In October 2007 Stefan Sebrecht discovered this website, sent in the following email, and a few weeks later, followed up by sending in several photos not only of Whistler but several other Falcon 24s, which eventually we matched up. Stefan's October 30, 2007 email is reprinted here. His additional pictures of other Falcon 24's and his contributions provided a good base for our knowledge of these boats. More on NZ built S&S 24s and Falcon 24s can be found by clicking here.
Hello Ron,

Interesting website!

I, too, own a S&S Falcon 24, named Whistler, here in Auckland, NZ. I've owned her now for just over a year and she has given me very enjoyable times. And I have come to appreciate her heavy weather sailing ability!

There doesn't seem to be a heck of a lot of info around on these boats, and I think it is a shame that the owners association got folded. Anyway, I do have a review of the Falcon, out of a boating magazine. Unfortunately, it is not dated, so I don't know exactly when it was published. I think visitors to your website might be interested in reading this. I know I sure was happy reading a bit more about what I think is a boat that deserves a bit more attention! So, attached you will find a PDF file of the article.

I also have a number of photos that I've accumulated of various Falcons. (Some of them showing different interiors). If you are interested in these for the website, let me know. Enjoy.

Happy sailing,
Stefan
Auckland, New Zealand
Whistler at anchor somewhere
| | |
| --- | --- |
| | Note the interesting topside paint job. This photo on poppits is clearer. There must be a story behind this and we'll try and get it. |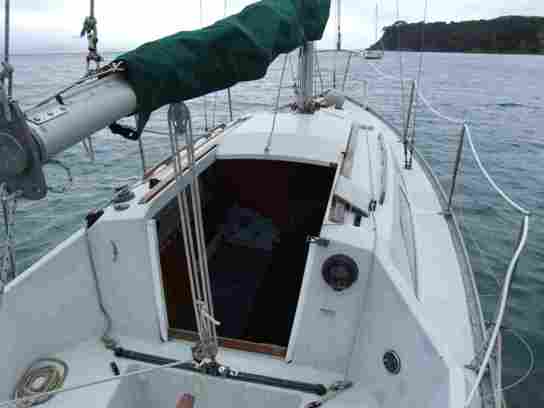 Falcon 24s have high aspect mains with only one set of lowers set up on the same inboard chainplate as the uppers.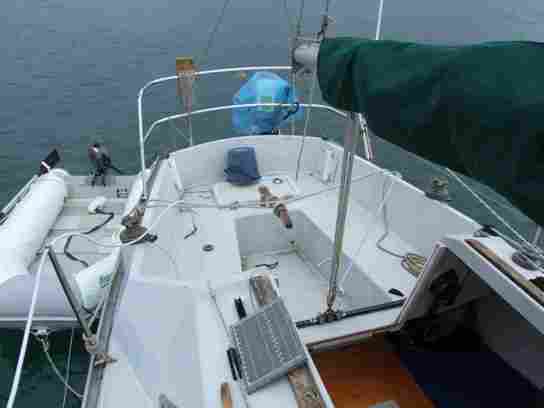 Whistler's cockpit - photo resolution could be better but it gives a good view of the layout. Note the solar panel.
| | |
| --- | --- |
| Whistler's V berth with athwartship head | Whistler inside looking aft |
********************************************