On March 30, 2008 Nick checked in Pelagos, an S&S24, from Nelson, New Zealand, with the following pictures and email. Nelson is in the northern part of the South island on Tasman Bay. In 1997 your webmaster vacationed in this area. More on this later.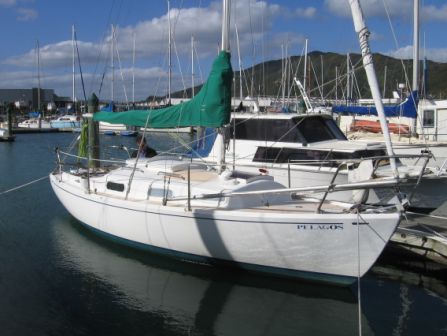 Hi

Thought you might like to meet Pelagos (K1052), an S&S 24 from Nelson, New Zealand. Bought her from my brother in 2006 who owned and raced her for a couple of years. What a well behaved little boat! We've sailed around 400 nautical miles in the last 2 years and had a lot of fun.

She has a Bukh 10 inboard which is reliable, but is getting old so needs regular tinkering. I was given an old Aries self steering unit recently which I've tidied up and now enjoy when sailing single handed. It's probably a bit big for a 24 footer but does a nice job.

The mast is due for replacement. Apart from the corrosion, it doesn't get much fore and aft support from the single lower shrouds, and has been stressed by an inner forestay (and storm jib?) at some stage. Previous owners installed running backstays which I took off initially, but have put back on for peace of mind until I replace the mast.

The interior is a bit basic, with two bunks and no galley in the main cabin. I'll probably make a stowable galley at some stage. I'll maybe send some photos of the inside once its looking a bit more respectable.

Regards Nick King

PS. I enjoy your website!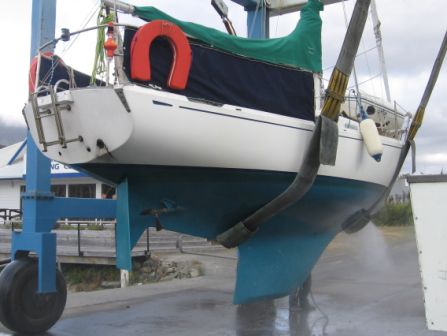 Note the offset prop and drive shaft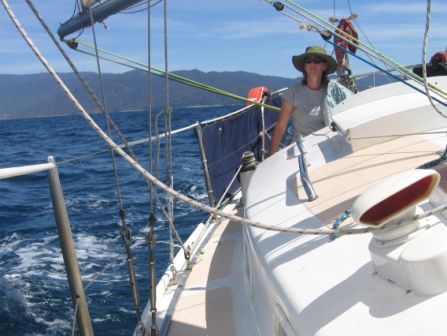 Admiral Kim, I presume?
**************************************************
Your webmaster and his Admiral had a memorable 1997 bareboat charter and hiking trip in this beautiful area, and pending more pictures from Nick and Kim , I originally and posted a few of our pictures here - promising to retire them when those pictures arrived. As promised their pictures arrived, and ours have been retired - to this link in our Stories Section - click to go there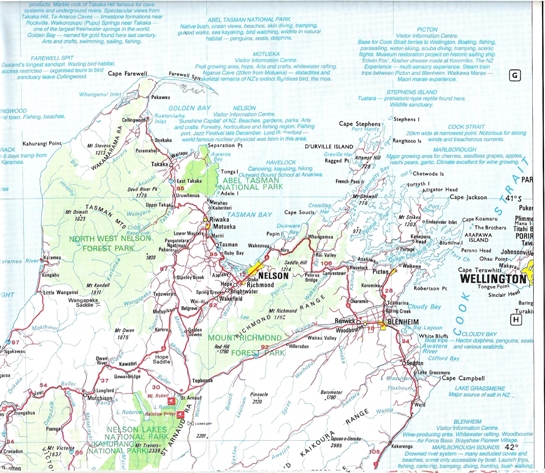 Nelson is right in the middle of the map at the bottom of Tasman Bay.
**********************
August 15, 2011. Its been a while but here is Nick's report on what Pelagos has been up to, and pictures.
Hi,

Have been working on a dodger for the last 6 months and finally fitted it last weekend, so this is a good chance to send some photos of the dodger and some updated Abel Tasman photos if you want for the Pelagos page.

I really struggled to find inspiration for a good looking dodger, so eventually decided to use the curves and angles already found on the boat, which I'm hoping has created a sympathetic design, that doesn't look too 'added on'. Having said that, the dodger is attached with just 4 bolts so it can easily be removed if necessary. Its mostly built from laminated marine ply and pine, with acrylic panes glued using polyurethane adhesive directly to the epoxy coated frames. Hopefully I have time now to get back to painting the rest of the boat, making an ice box, fitting water tanks ....

Regards

Nick

No question - a sympathetic design!

On the hatch cover are two 5W solar panels to keep the batteries topped up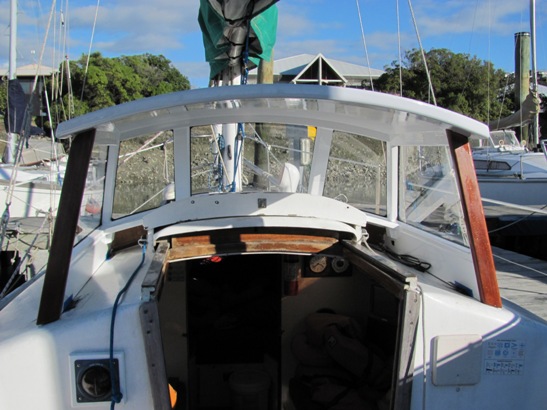 Well done!
These pictures and Nick's comments are also included in our Technical Section on Dodgers. WEBMASTER NOTE - October 30, 2015 - Click here to see see updated comments, pictures and drawings.
Here are the long awaited pictures of Pelagos on Tasman Bay and this spectacular sailing area.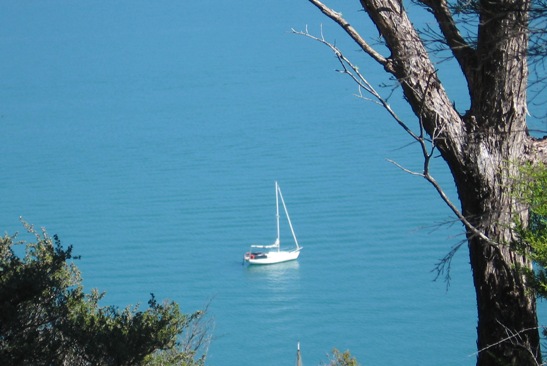 Pelagos at Adelle Island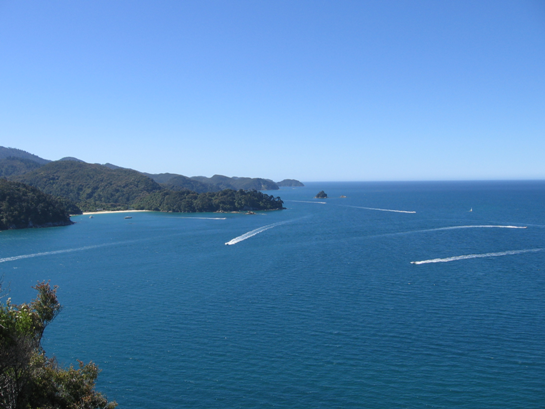 What are those white streaks??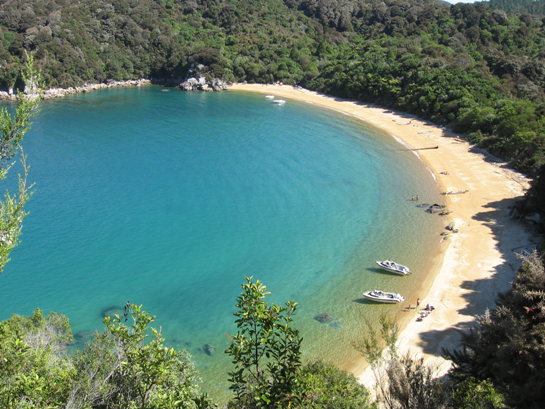 Pukatua Bay
February 12, 2012. We have heard from past owner Geoff Evans. Geoff was responding to our current to update our NZ history and locate missing SS 24s and Falcon 24s. Here he is emailing Giles Grimston (Summer Wine) who is speareading our local effort (minor edits)
Hi Giles,

Just been reading the Feb 2012 edition of the Devonport Yacht Cub News and was interested to see your item on the S&S24. We bought Seriola, sail number 1052 in 1980 from a Remuera dentist who had finished off the hull and decks in 1974. I don't recall his name.

We renamed her Pelagos and had her repainted cove green with a gold cove line. She had the original deck layout – a neat little ship, a bit rough down below, but fun to cruise and race. We cruised extensively for about 8 years up and down all parts of the NE coast, as far as north as Tom Bowling Bay (past North Cape) and south to Mayor Island. We raced her mainly with the RAYC, NZYS, Richmond and Ponsonby clubs and had heaps of fun. With three little kids in tow we outgrew her and sold her to a guy in the Marlborough Sounds and have not heard of her since.

We were active members of the owners association, racing / socialising and even chaired the association for a year. I have just had a look for the newsletters and membership paperwork, but no luck and guess I passed it all onto the next lucky owner.

Re. other S&S24s, another DYC club member, Carl Howcroft, owned one much more recently and another club member used to own Tintooki. I had a quick look at your site - looks good.

Best of luck with tracking down more of history!


Cheers, Geoff

****************************
October 20, 2015. We've got the following update and photos from Nick (edited).
Hi Ron,


Hi Ron

Here's a long overdue update on Pelagos. Firstly there have been a number of improvements since I last wrote.

Pelagos now has had a tidy up on the inside with new squab covers, a pantry cupboard, and ice-box. These items don't sound like much but make life so much easier when cruising.

Click on the photo for a larger image

I've fitted a tiller pilot which is great for motoring and single-handed sailing....

Finally the decks and cabin top have been repaired and repainted. This was a big job, since the previous paint coat was single pot enamel over gel coat and was peeling badly. Also there were a number of fittings that had been installed through the balsa-cored fibreglass with no reinforcement of the hole. Eventually the balsa compresses, the sealant breaks, rainwater water gets in, and the balsa has rotted before you even notice....

So Pelagos was hauled out and my kids had endless holiday work sanding and stripping paint. I cut out the damaged balsa sections and refilled these with marine ply, epoxy glassed over, and faired smooth. I removed any remaining deck fittings, over-drilled the mounting holes, and filled them with epoxy filler, before remounting the fittings to prevent future balsa core problems. The moulded fibreglass non-skid areas had lost their grip as a result of wear and several layers of paint so I power-planed and sanded these back fair with the rest of the deck surface.

After many hours of sanding and surface preparation (thanks Erica, Tim, Kim, and Bruno!), we primed the GRP surface with a Resene industrial epoxy primer, and then top-coated with a Resene Uracryl industrial two pot polyurethane.

This was applied by brush, with the non-skid areas grit-dusted and over-coated. Finally I laminated up new hardwood toe rails. The end result was very tidy and a great feeling to see Pelagos looking almost like new.

Click on all photos above for larger images - Click the return arrow on your browser to get back here.

While this was going on, I came across Kohine, a very tidy Roberts 34 with osmosis in the gelcoat and outer laminate, that was too good to refuse. I was reluctant to part with Pelagos until I was sure that Kohine was the one for me! However after 2 years and having dealt with the osmosis problem (which is another story if you're interested), Kohine has stolen my heart.

Pelagos has a new owner, my brother Patrick King, who owned a half share in Pelagos before I bought her. He will most likely moor her at Waikawa Bay in the Marlborough Sounds. This is a great place for a boat, especially in the winter, when the mornings are frosty and there's no wind for sailing, but the cool cloudless days and still turquoise water are amazing.

Happy sailing Pelagos!

Fair Winds Nick and Kim! Welcome aboard Patrick!

Pelagos is very much a family affair with Patrick and Nick doing a lot of sailing together on Pelagos. Departing from standard website ownership change practice we'll keep her page continuing chronologically......
July 10, 2017 Responding to a 'former owners' webmaster follow up, we got the following email (minor edits) and pictures from Nick. With the help of Google Earth we have tried to display some geography - as mentioned above your webmaster had the great fortune to have had a short cruise in the 'sheltered' area of Queen Charlotte Sound, Pelagos' destination. Click here to go there again
Hi Ron,

I haven't forgotten about you but have taken a long time to reply! First of all I've attached a few photos of the the delivery trip with Patrick round to Waikawa Bay in the Queen Charlotte Sounds (where my time with Pelagos began).

Click on the photos below for larger images

Patrick and I sailed up the coast from Nelson and timed our transit below D'Urville Islandthrough French Pass for slack tide.

Even at slack tide French Pass can get the adrenaline going!

We stayed that evening at Kokowhai Bay in Admiralty Bay next to some mussel farms.

Watched a lovely sunset. Next morning we headed off across the top of the Marlborough Sounds past the Chetwode Islands - photo at right.

I've got used to my larger 34' Roberts sloop and the thought of sailing along the coast in a little 24 footer made me somewhat apprehensive but this soon wore off as I rediscovered what a wonderfully well behaved little boat the Dolphin is.

We rollicked along eastward with the wind behind us, through the turbulent waters off Cape Jackson and then into the shelter of Queen Charlotte Sound.

It had turned nor-westerley at that point which can be quite gusty in the Sounds, but it was great fun blasting along with the wind behind on almost flat water. Again the well behaved Pelagos felt like a nimble little sailing dinghy kicking up her heels!

That night we rafted up at Pickersgill Island and then headed for Pelagos' new marina berth at Waikawa the next day. It was a nice way to hand over the little boat.

Hopefully you'll hear from Patrick about some of his winter expeditions in the Marlborough Sounds.I mentioned Kohine, our Roberts 34' previously. That extra 10 feet makes a big difference in all sorts of ways; speed, stability, smooth ride, comfort, space, loadings, weight and the area of hull when you're painting, grinding and sanding.

I finally bit the bullet and spent 3 months dealing with the osmosis.

Something like 1000 blisters that I started to treat individually but realised the cause of the blistering was a fairing layer of fibreglass cloth that hadn't bonded well to the otherwise sound C-flex hull.

So I took to the entire hull below the waterline with my trusty powerplane and machined off the troublesome layer (around 3mm or 1/8") down to sound laminate, and ground out the deeper blisters.

Once the hull had thoroughly dried out, I built up the hollow patches with new epoxy laminate and then put a new layer of chop strand fibre glass over the whole hull. Finally faired the hull, followed by primer, barrier coat, and then antifoul.

Sounds easy right?

It was quite an experience in all sorts of ways and yes, I would do it again. Very satisfying to see the finished result and we've had lots of good adventures around Tasman Bay since then. Not quite Bora Bora yet but I'm working up to it.

Thanks for checking up on us Ron.

I'll send you some more Kohine adventure photos sometime.

Cheers,

Nick

**********************
May 3, 2018 We got the following update and photos from Patrick.
Dear Ron,

Pelagos is now safely berthed in Waikawa Bay marina in Queen Charlotte Sound at the northern end of New Zealand's South Island. (see 'chart" above - and here is a link to the marina website http://marlboroughmarinas.co.nz/waikawa/)

Since I took ownership of her from my brother Nick I've been keen to make good use of Pelagos in the Queen Charlotte area and we enjoyed several outings over the summer holiday period. It's now autumn in New Zealand and the weather is cooling noticeably, but that didn't stop me from taking advantage of a nice window of settled weather over four days in late April. The photos tell the story: clear, windless days and nights, available moorings, and smooth waters.

Pelagos being so low in the water affords plenty of opportunities to get up close to the abundant wildlife of the Sounds. Slowly wallowing seals, dolphins (of the mammalian variety) and little blue penguins all seemed to enjoy Pelagos's company. The winds within the Sounds tend to be especially fluky, with the windex all too often pointing directly ahead. But when there is enough breeze to power her, Pelagos skims along very comfortably at 5 to 5.5 knots on her little jib without the need for any main.

I'm hoping the winter weather will allow plenty more such excursions in the Sounds.

For now,


Patrick King

Pelagos makes an early morning departure from overnight mooring - Click here for a larger image

****************************************