Your webmaster has had 3 failures in the boom/gooseneck, track and slide car system - two in 2008! In June of that year, while sailing Marionette back home from racing off Block Island, the stainless steel U bracket on the gooseneck slide car failed. The failure was not at the weld, but the arms of the stainless steel 'U" bracket "tore" right off at the bend - the weld was fine.
In 2003, this same bracket failed while single handing Marionette on Rhode Island Sound off Newport. That time however, it was the weld that failed. I jury rigged the boom to the mast with some line and padding and put into Newport where a guy welded the same bracket back on to the slide. This was pre-Dolphin24.org website days so there is no record, or photos, of this 2003 experience.
Returning to 2008's 1st problem - coming back from Block Island - I jury rigged the boom to the mast, again, and sailed the 3-4 hours back home. I did not have much time to effect a repair as I was again heading to Maine in a few days. So I had a local mast builder/rigger grind off what was left of the old bracket and make up and weld a heavier stainless steel U bracket to the same slide ($125!!)

At left is a picture of the slide car with the heavier material U bracket. One might ask why not just get a new slide car? Because my Dolphin's aluminum T track is 7/8" wide and they just don't make 7/8" cars anymore. I would have to get a new 1" wide T track and a new 1" slide car, take off the old track, match up the holes and all the hassle that involved. No time.
Three days after I picked up the repaired slide car we were on our way to Maine crossing Massachusetts Bay. My daughter Nicole and I were sailing downwind in probably 15 knots of breeze and 2-3 ft waves and had jibed a few times. After one jibe I noticed the boom at the mast looked 'funny', so I checked the gooseneck. It was fine but the track on which the car rides had partially ripped out of the mast and was bent!

The picture at left shows the bent track. The two screws holding the track right at the black band were partially pulled out of the mast and one of them was bent. This failure may have been gradually happening over previous days when racing - Dolphins love to jibe - and I never noticed the effect on the track. I always check and tighten the fastenings in the Spring when I set up the mast.
Probably these screws should be checked regularly during the season. They are ss self tapping screws in an aluminum mast and over time corrosion is a factor, although the screws did not look bad. Maybe it was just a material yield failure in the aluminum which I couldn't see. Anyway, when these screws let go the track was not strong enough, and distorted and bent. By tapping the bottom of the car with a hammer I repositioned the car up higher on the track to a section that was not bent and the screws tight, and reefed to take some load off the boom.
We put into Rockport at the tip of Cape Ann, where I would lose my crew, and anyway had to sit out a couple of days of bad thunderstorms. A good opportunity to hunt around and find some 7/8" track to replace my old track.
| | |
| --- | --- |
| | A short side story. I rented a car and drove down to Crocker's Boat Yard in Manchester by the Sea, about 15 miles away. Click here and wander around their photo galleries. This is a wonderful family owned boat building and restorations yard run by Sam Crocker, grandson of the famous Sam Crocker - click here to find out more about him . The picture at the left is his design # 291 on her shake down after restoration. A contemporary of our own first Dolphin builder Palmer Scott, and also a naval architect graduate of MIT, Sam Crocker designed fast cruising sailboats and was well known by boat builders in New England - certainly by Palmer. Anyway, grandson Sam, who is probably 70, listened to my story, and coffee cups in hand we wandered through their memory lane, several rows of wooden storage racks where they kept their old boat parts inventory - but no luck - no 7/8" track. Then he sent me to a couple of other old boatyards he knew around Cape Ann that might have this size track - still no luck. |
At this point we need a 'chart' - here's a Google Earth view of the area we are discussing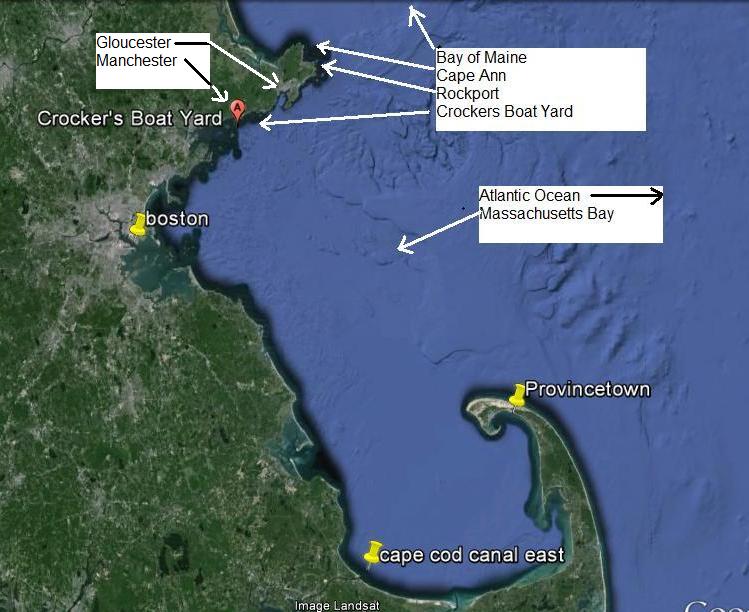 Altogether, this side trip on the fruitless hunt for that 7/8" track was a lot of fun and a great example how cruising around in a sailboat can lead to unexpected adventures and experiences. A side note - Curtis Prout's Kiwi, Yankee #170, now sailing in the Adriatic, once called Crockers Boat Yard, Manchester by the Sea, her home port.
Continuing off the track, pun intended, Marionette was moored at a floating dock at Sandy Bay YC inside Rockport's small, seawall protected harbor. This yacht club was very hospitable, had free launch service, but also lent out club dinghies free to get back and forth to your mooring, free showers, a lunch galley, reasonable mooring cost at $25/day, and WIFI!

It was also only a short walk into town for good restaurants and interesting galleries, and to a small, end of the line, train station that, with a couple of connections, will get you anywhere in the country that has track. Nicole caught her train here for Boston and points south.
It was late June in the middle of the week so the tourists were not there yet. After a last night early dinner at a great restaurant on the water, I wandered through the nearly deserted little town, walked into a couple of galleries and, in one of them, spotted a print I could not resist.

This small sailboat rounding Halibut Point off Cape Ann under an angry sky kind of looks like a Dolphin don't you think? Made a nice present for my wife - that she thought would be best hung in my office. I thought so too...
Webmaster Note: March 3, 2013. One of the hardest, and sometimes most rewarding, jobs of being webmaster is cleaning up, organizing, reorganizing the data base/files in back of the website pages you see. A recent project on replacing lifeline stanchions http://www.dolphin24.org/lifelines.html required a lifeline picture which, conveniently enough, was one that was the desktop background on this computer. Looking for a better, clearer photo in the files, I came up with a typical find/rediscovery, and it resulted in a new desktop monitor background photo - now inserted here below. And, interestingly, one will note all those boats in the background with the blue boom tarp. They are Rhodes 19's, some maybe built by Palmer Scott at Marscot Plastics/O'Day, at the same time he was building the Dolphin 24!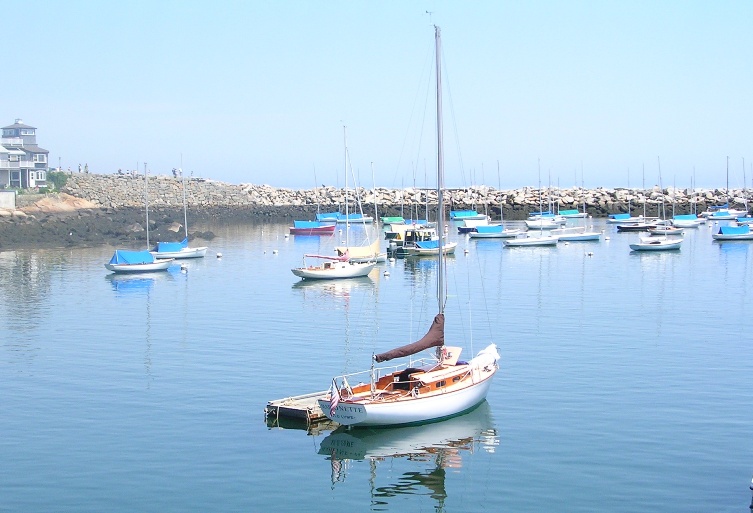 Marionette at Rockport, Cape Ann, June, 2008
Back on track, I had confirmed that the tapped holes in the tube inside the mast were stripped, and any new track would have to be repositioned and new holes drilled and tapped. So, with a clearing forecast for the next day I bought 2 large ss hose clamps, and found a thin strip of wood at the scrap pile in back of the club that I cut into 3.5 inch strips. I surrounded the mast with the strips positioned vertically 1/2 inch apart, and clamped the existing track to the mast on either end of the slide car. This gave me a 'fixed' gooseneck about 3 inches lower than the black band. I re rigged the down haul so I could properly tension the luff of the main, and this jury rig got me through a summer of cruising in Maine. But, from now on, I will have those 2 large hose clamps and wood strips on the boat in my parts box - just in case.

Why I did not take a picture of this set up in use during the summer escapes me. At left is a staged version put together after we got back home.

Click here to see larger pictures of these parts, and a partial restaging of the setup.
July and August were spent cruising around the coast of Maine, nervously checking this temporary fix. The Admiral came up to inspect, and I drove back home a couple of times to mow the lawn. During that time tightening the hose clamps a bit was all I did to keep the temporary fix doing its job. In early September we ran out of time to sail back. Marionette was hauled at Boothbay, Maine, and we brought her back on her trailer.
| | |
| --- | --- |
| | So back to work. Marionette is back home and we had to fix this permanently. I had a $125 into a rebuilt slide car that needed a 7/8" track. No luck in finding it. The nearest current standard I could find was a 1" wide T track with a 1/4" inch base instead of 1/8" - a beefier section. I found an 18" section for $2 in Defender's clearance section - a wonderful place to find stuff and unbelievable prices. I once found a pair of new Lewmar # 8 winches for $75 the pair! |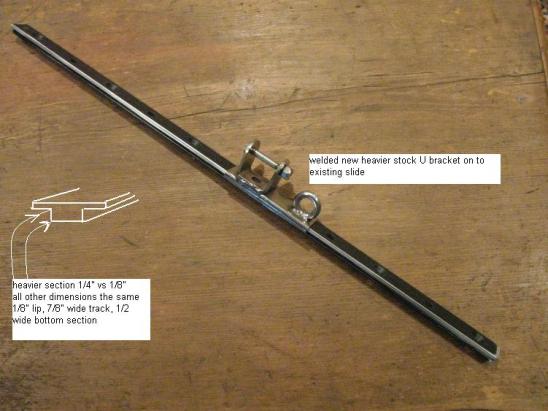 It cost me $50 to have the 1" milled to 7/8" and, after some fine filing and polishing to fit, I have a sturdier new 7/8" track. I will position the new track so I can drill and tap new holes into the mast and back up tube. These would be much stronger than the self tapping screws in the old system. I may even get extra long bolts (5 1/2 or 6 " bolts) and through bolt the track to the other side of the mast - just at the black band location.
The mast builder/rigger had suggested to me that I do away with the track altogether and go to a fixed gooseneck. Probably a good idea. The boom spends most of its time at the black band anyway. These are the soft reasons why I did not want to do this 1) you can adjust the vertical location of the boom if you have a track - useful in light air 2) at anchor when cruising I sometimes like to raise the boom and rig our boom tent so there is more headroom under the tent. This is easily done with a track, possible, but a hassle, with a fixed gooseneck fitting for the boom and 3) with a track and car system its easier to remove the boom.
The mast was put away for the winter so fitting the new track will be a Spring project. Stay tuned.
*****************************
| | |
| --- | --- |
| | February 27, 2009 - its not yet Spring but the temperature was 55 today. So down came the mast from its perch in the barn, and with 1/4 - 20 drill tap in hand, the new track was positioned with new holes drilled and tapped. |
| | |
| --- | --- |
| | While thinking about this over the previous months I had this great idea. I had the new track milled to make a 1/16" step on its back face (another $65) so that it would just fit inside the slide groove in the mast. This should further support the track against torquing under severe load and failing as the original one did. Sorry about the focus... |
| | |
| --- | --- |
| | This is the track ready to be fastened with these 8 bolts. New holes were drilled with a 13/64 drill, through the tube in the slide groove, and into and through the mast extrusion. Then tapped. They are all flat heads except the last one - a round head which is the slide stop. |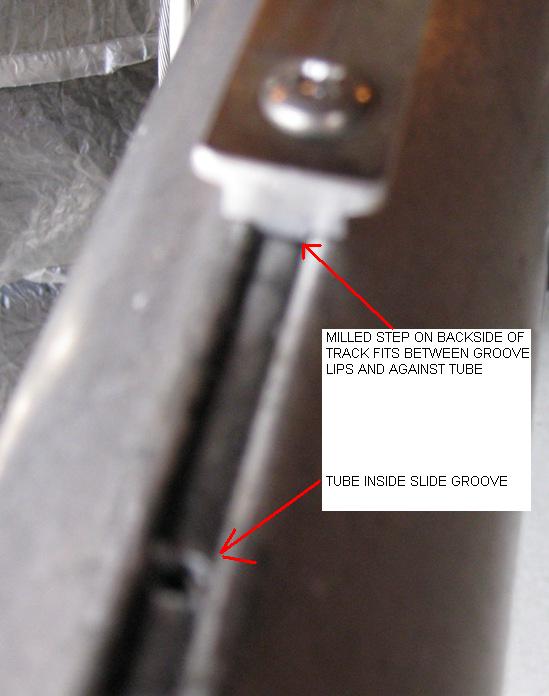 The bottom end of the track with stop bolt head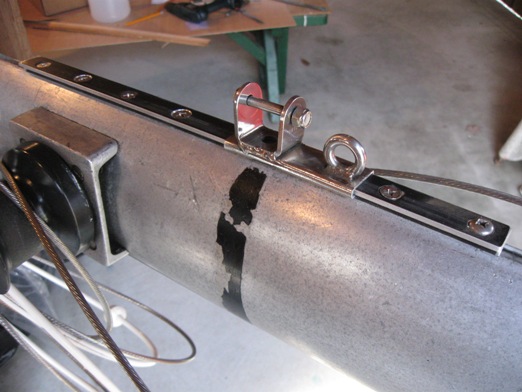 Here the final product screwed into the tube and mast - a heavy duty track with a heavy duty slide.
*****************
I don't really want to do this but the $$ recap on this repair follows:
| | | | | | | | | |
| --- | --- | --- | --- | --- | --- | --- | --- | --- |
| $2 | 18"' of 1" wide T Track (a great deal!!) | | | | | | | |
| $50 | Milling 1" wide track to 7/8" | | | | | | | |
| $65 | Milling 1/16" steps on back face of track | | | | | | | |
| $5 | 8 1/4 20 ss bolts | | | | | | | |
| = $122 | for the track | | | | | | | |
| $125 | weld heavier U bracket on old slide | | | | | | | |
| $13 | 2 6" dia ss hose clamps | | | | | | | |
| $73 | rental car in Cape Ann | | | | | | | |
| = $333 | total | | | | | | | |
I waived my $200/hr labor fee and did not include the cost of the Cape Ann print.
***********************.
I do not want to find out what 2' of standard 1" T track would have cost plus a new 1" wide gooseneck track slide fitting. Truth is, I would really love to find a small, used milling machine for maybe $200-$300?, learn how to weld stainless steel, and then get a welding set up and save even more money....
****************
May 26, 2009. Here is a picture of the new track installed with the boom/slide car in place.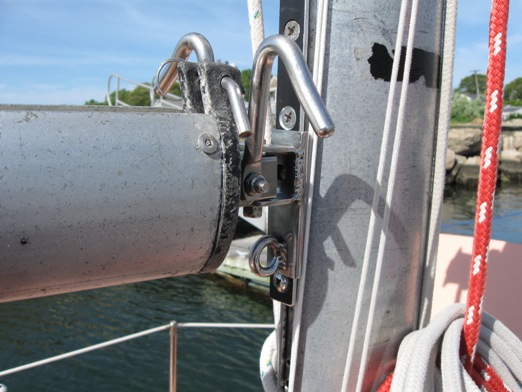 Note the black band
**********************
July 18, 2011. We had an interesting question on the Forum about the the clearance required for a dodger. This is related to the so called black band on the mast in the neighborhood of the gooseneck. This band determines the maximum low location on the slide track of the top of the boom for handicap measurement purposes. This is not an issue for those that do not race but is for those who do.
On the Sail Plan drawing above there is a side view and measurements of the mast that locate the top of the boom in its lower position. I read it as 24" above the top of the trunk at the centerline. I think this is where the 'black band' is supposed to be. Then the clearance you need for the top of a dodger is based on the section dimensions of your particular boom.
**************************************