This is an event that actually happened on Marionette. Click here to go to the full story about this incident. This temporary 'fix' was so effective that we were able to sail in Maine for 2 months without a permanent repair. This is the set up.
So, you are miles off shore somewhere, days away from your home port. It's blowing hard and shortly after what you thought was a reasonably controlled jibe with your reefed main you notice the boom is looking a little funny where it joins the mast - maybe the angle is not quite right. An inspection reveals that one of the screws holding your boom slide track on to the mast has partially pulled out, and the track is bent. Quick as a wink you pull the boom up the track so it is positioned over a part of the track that is not bent and the screws look good, and wrap the tail of one of the halyards around it to keep in from sliding back down into the damaged area. You adjust the cummingham to keep the main luff in reasonable trim.
Down below in your spare parts box you just happen to have 2, 6-7" diameter ss hose clamps plus a bunch of pre cut hard wood strips 3/8' thick, wood, 3/4" wide by 3 1/2" long.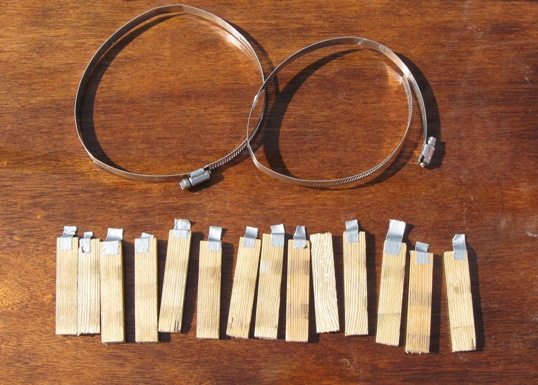 Those little duct tape tabs have a very important function - they hold the wood strips in place against the mast while you tighten up the hose clamps.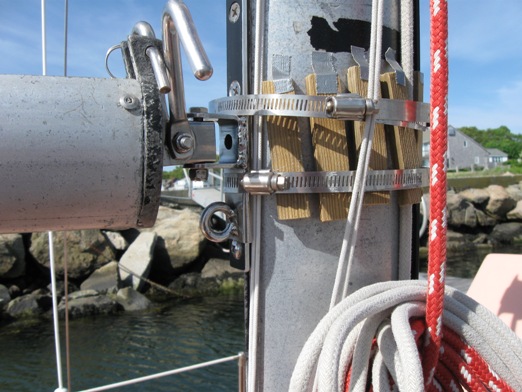 This is a staged photo but you can get the idea. The clamp is placed over the the ends of the slide either side of the U fitting that holds the boom fitting. The strips are equally spaced on both sides around the mast between the boom track and the spinnaker car track on the front of the mast. This spreads the load when you really tighten the hose clamp screws. These particular duct tape tabs were placed on those same wood strips nearly a year ago, and they still 'stuck' to the mast while I set up this picture.
In a pinch, any wood, even a spare batten you have on hand, can be cut to fit the need. Or in an, emergency, probably no strip. But, the hose clamps are a must. These can be used in other repair applications as well. A very good investment for the onboard parts box.
*************************