September 17, 2012. Mark Gaudette reports the new owner is Steve Cassidy and she is sailing out of Dorchester Yacht Club, just south of Boston, Massachusetts - and he provides this quote
Steve is new to sailing but he did get to use the boat this year - and reports "Awesome"
Her new name is Lady Grace. Click here to go to her.
**************************************
September 15, 2012. Mark Gaudette send in an email (below, minor edit) ) confirming his boat has been sold. We're standing by for the new owner to check in.
Ron

My boat was sold back in June of 2012. I miss the boat. I upsized to a Southern Cross 31 but will looking for another Dolphin when the inevitable down sizing knocks on the door.

Great work of the website. Thanks for all your work in keeping it up.

Mark Gaudette

*********************************
May 20, 2012. We have a report that this boat may have been sold. We are trying to confirm it.
February 4, 2012. Our last contact with Mark Guadette was October 26, 2011 when he advised that Stella Maris is still for sale. She has been winterized and shrink wrapped, and on the hard at Town River YC in Quincy, Massachusetts.
In the meantime we found this super picture with a For Sale sign on her.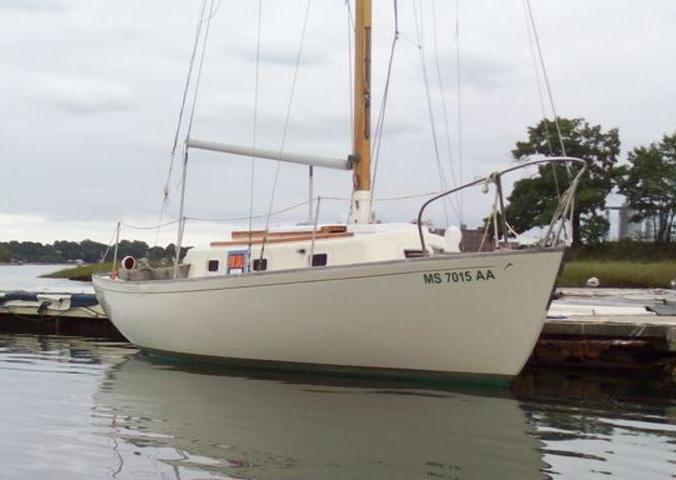 ***************************
September 24, 2011. The Craigslist ad for Stella Maris was updated. May 19, 2012. The link, http://boston.craigslist.org/sob/boa/2606014718.html, is not longer up but here was the ad.
Sailboat 24 ft O'Day Dolphin 1961 - $3400 (Quincy, Ma)

--------------------------------------------------------------------------------
Date: 2011-09-19, 8:52AM EDT
Reply to: sale-9q4hx-2606014718@craigslist.org [Errors when replying to ads?]
--------------------------------------------------------------------------------


DOLPHIN 24 MORC CLASS SLOOP "
DESIGNER: SPARKMAN AND STEVENS
BUILDER: O"DAY, 1961

Exellent coastal / pocket cruiser, Classic lines, very pretty boat, Sails fantastic

DIMENSIONS: L 24' 2" Bm 7' 8" DISPLACEMENT 4250#
DRAFT: KEEL/CENTERBOARD 2' 10" CB UP, 5'2" DOWN ( Lead Ballasted keel)
CONDITION: GOOD, RESTORED 2002-2010:
PAINT: TOPSIDES REFINISHED 2010, cabin 2009, decks 2004, 2-part Interlux Perfection. mast Varnished 2007
RECENT UPGRADES, FUEL TANK, CUTLASS BEARING, SS SHAFT, PROP RECONDITIONED, 7 NEW BECKSON OPENING PORTS, HARKEN TRAVELER, DANFORTH COMPASS,
SAILS: 2 Hank on GENOAs, 1 hank on JIB . SPINNAKER W POLE, RECENT MAIN 2004 &/COVER , BOOM ROLLER REEFING , ALL LINES TO COCKPIT
POWER: Gas inboard Palmer Pw-27 8 hp
HULL & DECK : SOLID FIBERGLASS (NO CORING)
INTERIOR: SLEEPS 4 TOTAL --2 ON V BERTH AND 1 ON QUARTER BERTH. ONE ON SETTEE, , SS SINK WITH 15 GAL. TANK , ALCOHOL STOVE, ICE BOX, HEAD UNDER V BERTH
ELECTRONICS: UNIDEN DEPTH SOUNDER, VHF RADIO ( needs to be connected to existing wire from , MAST MOUNTED VHF ANTENNA
ELECTRICS: SINGLE BATTERY SYSTEM WITH CB PANEL
CUSTOM:,HOLLOW Varnished WOOD MAST 5 boatstands included
PRICE: $3400.00 or Best reasonable offer

LOCATION: QUINCY, MA ( Mast stepping and Launch available at location Cost Approx 100.00)

NOTES
Jib and Genoa will need to be replaced in 2-3 yrs (Had planned for Roller Furler)
HAVE SAILED BOAT REGULARLY EVERY YEAR FROM Boston TO CAPE COD (BUZZARDS BAY)
FOR MORE INFO ON BOAT: SEE website dolphin24.org


Location: Quincy, Ma

***************************
August 25, 2010. Mark checked in with the following email (edited). We are expecting more info, pictures and his ad, soon. This is expected to be a 'Found" Dolphin. We had this boat in our Roster based on a Sailnet post dated 12/19/2005 (Boston sailing area) that we are still trying to find. Also missing is his referenced earlier email....(Your webmaster is currently up in Maine with only online, limited files, access)
Ron

I had contacted you prior (few weeks ago) about my Dolphin which is now up For Sale. I have had the boat since year 2000 and made numerous improvements. You can find the boat in the Roster as O'Day 1967 "No Name" Boston owner Mark Gaudette – Sailnet

I do not know the Hull # as there is no builder's plate or any number on the boat. The sail had a Dolphin insignia on the sail with the number 902. Have no idea what the 902 would indicate. Judging from pictures from other boats it appears to be the Lunn Laminate version.

Previous owner prior to 2000: Jim Russel, Hull name "Stella Maris", Home Port, Scituate MA. Current Owner: Mark Gaudette (that would be me) no name on hull, Home Port, Quincy Ma.

FYI, I recently purchased a Southern Cross 31 needs some work and thus the sale. I'm reluctant to sell the boat as it's the best sailing boat I have owned. If it doesn't sell I may just put it in storage for my daughter to sail in a few years or perhaps for my retirement years.

Many thanks for keeping the website up. I will continue to follow the Dolphin 24 "Saga"

Mark
This appears to be a newly "Found Dolphin" - if correct, the 161st. We hope to get additional information and confirm this.
Stay tuned.
September 1, 2010. Mark sent in some pictures and more info regarding his Dolphin (minor edits). We are 'officially' making this boat a 'Found Dolphin" #161.
Ron, In regard to my Lunn Laminate dolphin hull just posted I have attached some larger pictures. Hope they are not too large or too many to go thru. I have a bunch. Pictures of the interior will be forthcoming as they are in my camera on the other boat.

It definitely appears to be Lunn or Kit boat of same era. Flanged deck joint, bridge deck same height as deck, teak trim, partial fiber glassed encased deck beams, clamshell trim, etc.

Wood mast, interior appears different - ice box, sink, and stove are on starboard side, head under V-berth, integral water tank under forward part of starboard qrtr berth, bronze centerboard. So maybe a kit boat ?????

Sorry I have no more on the history of the boat other than what I previously indicated

Mark

***********************

| | |
| --- | --- |
| | |
| gooseneck fitting | mast step |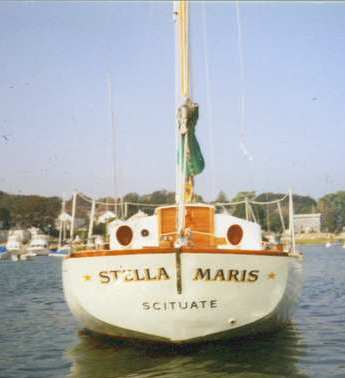 She was Jim Russel's Stella Maris. We'll try and find out more about this boat from him, if we can find him.
******************************
September 9, 2010. Mark sent in a few more pictures and the following emai (edited)
I did find some more info after going thru old paper work. The immediate previous owner is Capt James Russel of Scituate, MA, Jim was getting along in years when I purchased the boat I hope he is still in good health.

I found a copy of the a pre-purchase survey done in October of 1996 on behalf of Jim Russel The previous owner to Jim was a John Sciretta from Newtown, MA. Boat name was Second Wind. Boat was listed as a 1967 but I am in agreement that the boat is probably a 1961 Lunn.

I have attached recent pictures of the interior, etc.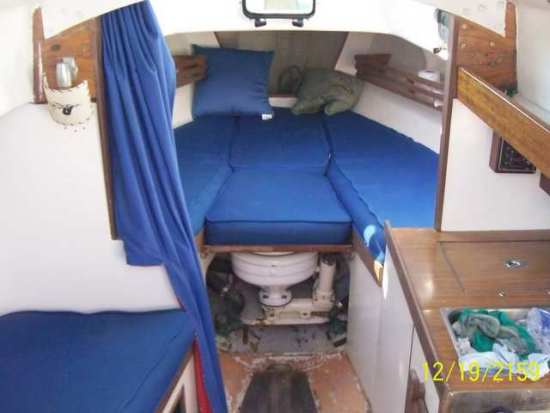 This picture is particularly interesting. That winch handle is the gear lever for the Palmer 27 inboard. Here is Mark's description/explanation (excerpt edited) in response to a follow up question.
The winch handle turns a vertical shaft which has an arm attached underneath which is attached to a 4ft (about) piece of rod linkage which connects to gear shift lever. Results in more play than I would like. But it works

***************************************
August 15, 2015. Dolphin.org staff has been working on the history of Stella Maris and has developed an interesting, if complicated story. Her first owner was Justin Kerwin and her name was Leprechaun. The story developed when your webmaster was setting up his boat in Rockland, Maine and a woman above on the bulkhead above called down "Hey Ron - is that you"? That encounter led to meeting a guy named Dave who used to own a Dolphin 24 named Touchstone. Anyway, if you want the whole story start with the link to Touchstone.
We contacted Mark Gaudette to confirm details of Stella Maris so we could confirm these are all the same boat. We pretty sure they are. Here's Mark's email (minor edits)
Ron

I read the articles (about Touchstone and Leprechaun). Very interesting. I can add the following. If ballast was added it might have been added externally outside in the keel area as I saw no sign of any internal ballast added but who knows ? I can tell you that it sailed fantastic though.

It did have the aluminium box beam located under the mast step as described. I got the boat with the aluminium roller furling boom. Stated some where in the article that it was swapped for a regular boom. Mast boxed hollow mast of very good construction. Interior was a fake wood grain Formica. Had a fibreglass companionway hatch . It did come with a teak cockpit grate (it was beat up I never used it).


Came with whisker pole and with spinnaker which I never used - looked like it had very little use. I sold it with the boat. It might be the same one shown in one of the earlier pictures. I replace the fixed aluminium ports with Beckson plastic opening ports. Centerboard was a bronze plate. I added the traveller set-up with the Harken blocks . Original traveller used a continuous main sheet arrangement using cleats.

Rudder was hollow. I drilled a hole in bottom to drain out the water when on the hard. Bow rail was replaced (A sailboat boat toppled over in the yard and the mast defected off my forestay and bow rail . Very lucky that is all that was damaged.

Hope this helps some. Sure sounds like the same boat. Only discrepancy I saw was concerning the boom roller furling but perhaps the boom was given to subsequent owner and reverted back to roller boom furling.

Good luck, I may be back in the market for another one when age dictates a need to downsize

Mark Gaudette

************************************
Webmaster Note February 18, 2018. Mark's email below adds proof to the Stella Maris - Leprechaun connection (edited)
Ron

I found a buoy in my basement off the boat with the name Leprechaun on it. So you are correct - the boat is indeed the old Leprechaun

Mark