August 28, 2017. Texas has been in the news the last couple of days (Hurricane Harvey). Rockport Texas was ground zero - 130mph!! - so we checked in with Carl who was safely up in Pennsylvania - but Western Flyer, when he left her, was at her slip in front of Carl's Rockport house. He gave us some not good news.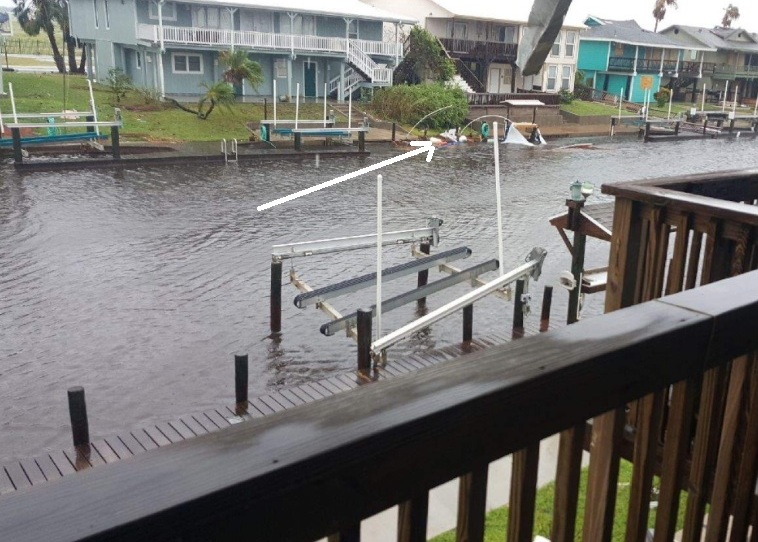 Click here for a larger image
This photo was taken from across the canal looking at Carl's house and Western Flyer's dock. A neighbor reported to Carl that Western Flyer is on the bottom, upright, with her mast laying along side. There's damage to the house as well. Carl is planning to let things settle down and head down to Texas next week.
Thanks Carl, for sharing this with us. We know what you have done to restore Western Flyer - you shared that too. Our thoughts and best wishes are with you.
**************************************
******************************************************************
March 6, 2016. We got an email from Carl this morning. More details to follow
Hi Ron

Lots of changes in two years. We are in a slow move to PA. I retire this month. I hate to part with Western Flyer but feel it's probably best do to the move. Will you put something in the For Sale section for me?

Thanks much. Asking $6800.

Email carlrh42@gmail.com phone # 361-688-3148.

Carl

Read below to see the effort Carl put into her restoration
December 11, 2016. We got the following update from Carl (minor edits)
Hey Happy Holidays.

We've had a couple of inquires on Western Flyer. Have not been pushing it. Sailed her in September and October a couple of times. Going down to Texas maybe in February for a bit. Hope to sail her a couple of times if we get some warm weather. Small game hunting reopens tomorrow in PA. I have a year old English Setter and we've been having lot of fun together hunting Grouse and Pheasant.

Merry Christmas --- hope all's well in Old Lyme these days. Light snow here at the moment - about 20 degrees or so!!

CRH


*********************************

******************************************************
Here's how this all started....
December 2, 2010. Carl emailed us a couple of days ago interested in a Dolphin 24 Website Book, and advising he was a Yankee owner in Texas! He followed up with a short email advising her name and number - and we found out we already had her hull number (!) in our Roster as a mysterious, one line post from the old Jim Huxford Dolphin 24 website mentioning a for sale ad from a Jerry Johnson dated April 20, 1999.
"Miss Behavin" is a newly found Dolphin, our 171st. She is also the last known Dolphin 24 built by Yankee Yachts.
Webmaster Note - June 2, 2012. We just got a bunch of pictures from Carl which we will insert in the following text where it seems to make sense.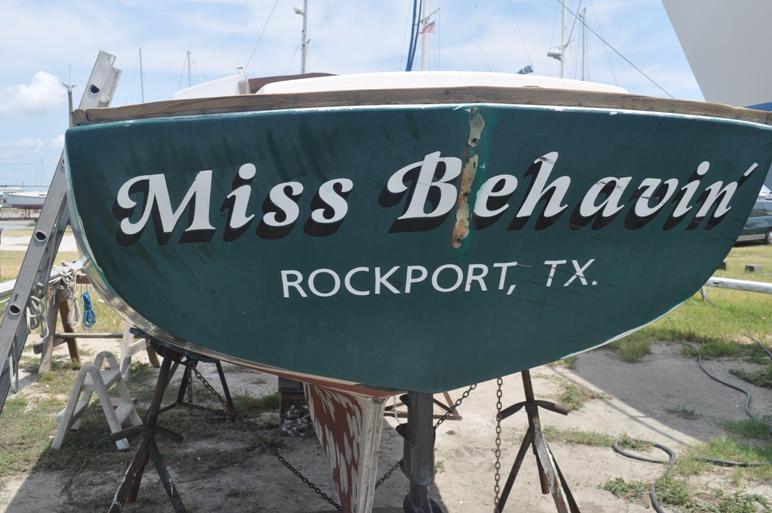 We don't yet have a full view picture of Miss Behavin' - until we do, this one is a pretty good hint at what's to come
Carl's December 2, 2010 email follows - consolidated and edited.
Ron

Her hull is #248, built by Yankee. She is in a canal in my back yard. The name on the stern is: " Miss Behavin" Rockport, Texas. I bought the boat from Jerry Johnson many years ago. She is currently in need of lots of work.

I noticed some e-mail talk about #246 possibly being the last Yankee built boat. But, by my hull #, I would say not.

CRH (Yankee owner in TX)
We'll stand by for more info from Carl and, in the meantime, hunt through our old Huxford website files to see what we can find. Stay tuned
****************
May 11, 2012. Carl has been in touch over the past few months and is slowly getting #248 in shape. He has given up on finding replacement chainplates and had a local welder make them up.
A new centerboard still to be decided on/found. Here are his latest emails consolidated (minor edits)
Ron

Just a quick update---have been working on the boat for about a month. All the hatches are painted and the top sides are about ready for paint. Need a weather window and should be able to get some finish color on her. Then to the boat yard for the bottom and maybe hull sides. Probably new rigging.

More Later
CRH

ps took a couple of pixs for you -- but can't get this old computer to down load the chip. When I get the computer sorted out will send. Shot the first coat along the toerail today. Hope to get a coat on the cabin house tomorrow and a second coat along the rail. Should get the cockpit painted in a few days if all goes well.




cabin painted with Interlux Brightsides

************************
May 30, 2012. We have the following update (emails consolidated and edited)
Hi Ron

Boat is at the boat yard. Mast removed - working on the bottom. Lots of blisters in the hull were ground out. A real fun job. Nothing deeper than the first layer of mat, thank goodness. The people at the yard took a look and said " not bad at all". Yikes!!

Blisters

| | |
| --- | --- |
| Rudder heel fitting area | The centerboard slot area |

Rudder came out fine - took the longest to dig the hole to let her into. The front edge of the rudder appears the have quite a bit of delamination.Thanks for the info on removing rudder heel fitting (Webmaster Note: http://www.dolphin24.org/rudder_post_heel_fitting.html).

Have seen some info on rudders on the website but could not find a source for one. (Good Luck Carl - probably have to build one - see http://dolphin24.org/aquilas_new_rudder.html)

The next pix show a badly split rudder the length of post. I sent the rudder to Finco to get a new one built. They could not locate their mold, so needed to send them mine.
Webmaster Note: Carl has located a company, Finco, that may have made the Yankee rudders. We will have to confirm this. They certainly can make rudders. Here is the link to their website http://fincofab.com/rudders.php Webmaster update October 20, 2012. Carl did buy a new rudder from Finco. He shipped his old one to them so they build a mold to duplicate it. It cost $1500. Click here to see photos and more on this rudder
The centerboard pin in #248 was in the centerboard trunk, buried under a ball of some sort of filler - just like in a couple of the web pixs. A wood chisel works best to chip away the material. A 20 min job once you get your courage out to start digging. Bolt came out quite easily!! Wow. Webmaster Note: Check out http://dolphin24.org/227_CB_trunk_repair.html

| | |
| --- | --- |
| Cabin sole panel | The centerboard pin hole |

Part of the old centerboard was still there. Also there was some wear thru of the glass around the centerboard trunk.Webmaster Note: There's some great info on this subject at http://dolphin24.org/227_CB_repair_project.html

The pixs in the Technical Section on the web sight were great for both projects. Thanks. Ordered new running and standing rigging so that will be waiting to put on. Hope I can get a few pixs to you if ever I get the computers sorted out. HE DID!!

The stemhead fitting

I have not done anything with the toe rail. Will probably paint with Pettit Brightsides Brown. A lot of the rail is in too poor a shape to look like anything with Cetol or varnish. The better pieces are --- will be Cetol.

| | Doors and trim pieces |
| --- | --- |
| Companionway ladder | Locker drawer |

Interior wood parts have one coat of Cetol applied

Will get you a full length pix of her. Also a name change is in the works.

As you say: Stay Tuned. CRH

**************************************************
June 7, 2012 - Full length view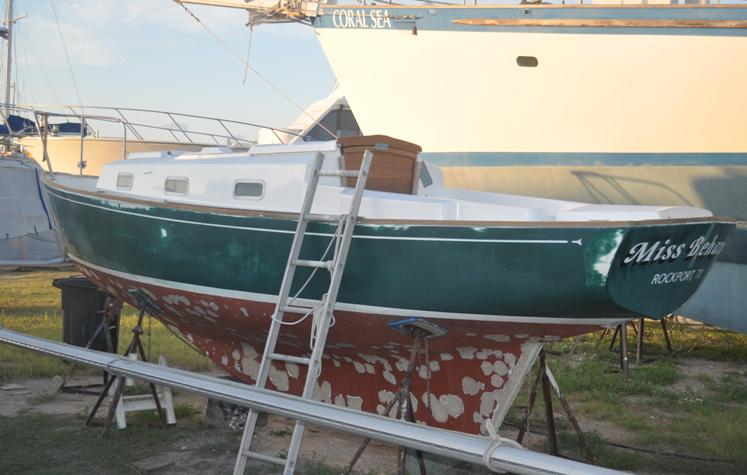 ***************************
October 15, 2012 Update from Carl...
Blisters repaired and barrier coated. Working on sides and toe rail. Should make good progress this week.
Regards
CRH

***********************
October 20, 2012. Carl sent in the following photo - spot primed with Primekote. Also click here to see update on Miss Behavin's new rudder.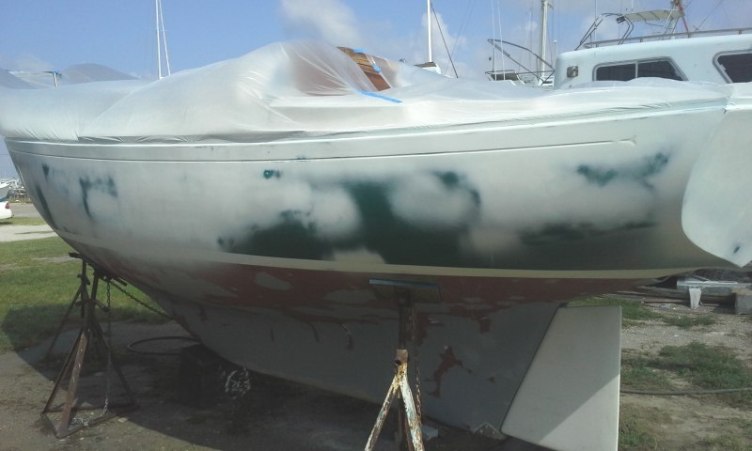 ****************************************
October 26, 2012. Miss Behavin has a new stainless steel centerboard. (emails consolidated and minor edits)

Hi Ron

I found a 4x4 piece of 3/8 stainless. Had it cut to size. Primed and painted it. Bronze bushing for pin to ride on. Hope to install soon!!

Should have enough ss plate to cut out another if anyone is in need of a centerboard.

CRH

ps Below photo - Topsides Primed and ready to paint. Need a break in the wind. Blowing 25+....

Webmaster note: See Forum post re ss plate

http://www.dolphin24.org/forum/forum_posts.asp?TID=214

This update is included in our Technical Section on centerboards. Click here to go there.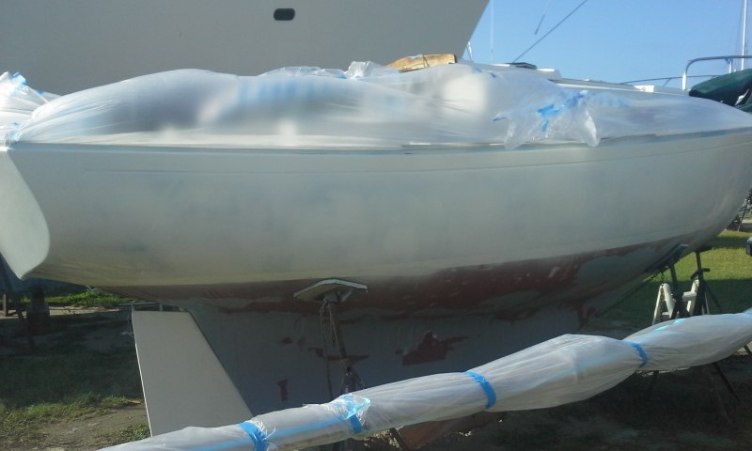 Ready for final topcoat
***************************************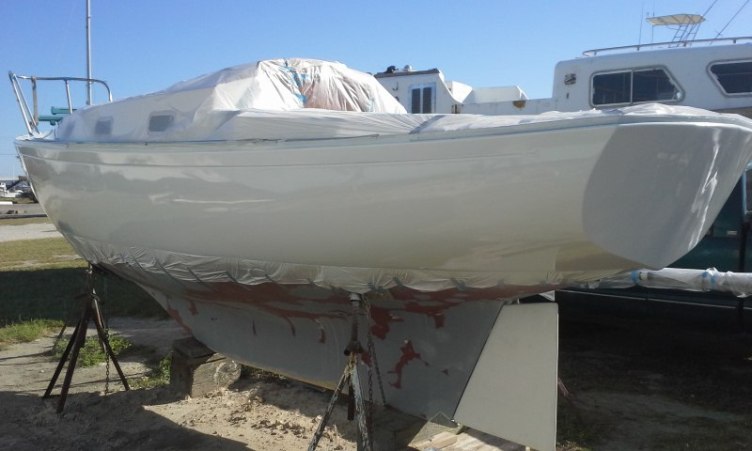 October 31, 2012 - Four coats of Matterhorn White!!
***********************************
January 29, 2014. Its been a while since we've heard from Carl - a follow up was in order after a Dolphin fan saw Miss Behavin in the boatyard and reported to Dolphin central that she looked ready to appear in some centerfold. Here is Carl's reply (minor edit)
Hey Ron.

Boat is ready to go back in the water. The only reason the boat is still at the yard is I am redoing my dock. Hope to get her home by mid-February. Will get you an update and current pixs. Thanks, and Happy New Year.

CRH

***********************************
June 5, 2014. Carl's not letting Miss Behavin's naughty past catch up with her. Besides the above plastic surgery and make up changes, he's changed her name!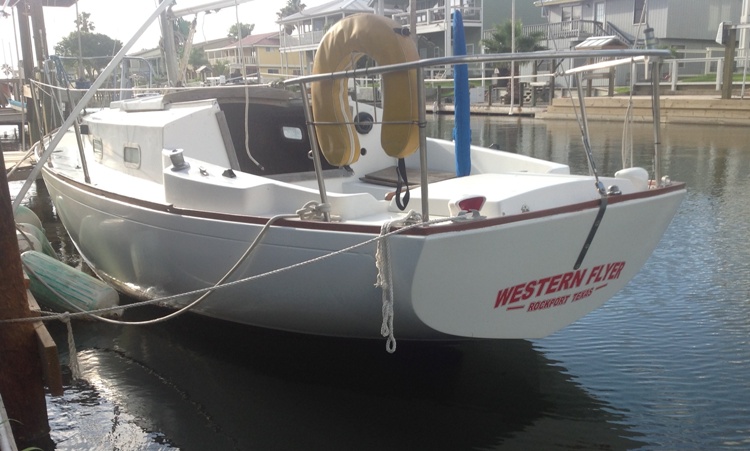 The cabin top winch (not in this view) helped getting the new handrails bent into position
*******************************
September 24, 2014.

Carl sent in a couple of new pictures.

Looks like Western Flyer has a new furler, and maybe a new Fortress anchor....
*********************************