October 27, 2012. Yesterday, Chris Gibbs posted on the Forum http://www.dolphin24.org/forum/forum_posts.asp?TID=215, that he has purchased Zesty, and he responded to our Welcome Aboard! with another post today.
Thanks Ron. I'll do my best to keep you all in the know once I get down below and have a look around. for everyone's sake. I bought this from the nephew of Gene Cerex...long time member of Richmond YC. Gen 'crossed the bar' about 6 months ago.

I can report- upon first view the boat needs to be hauled, rubbed out and waxed. It's never been painted. I'm sure it needs a bottom job. but it's been unmolested -no holes, no cracks, no soft spots.

Hoping in the springtime to put boat back in the water, polished and shined, and see how fast those old sails will make it go.

Chris
Pending new pictures from Chris we'll put one of Zesty's 'file' pictures here.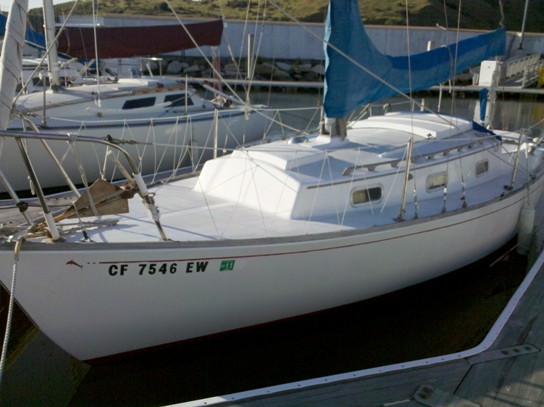 Chris followed up with the following email (edited)
Hi Ron

I've been racing since forever and now I'm 45. When I was a kid in Vallejo my old man had a Santana 30 we campaigned down bay for years - our neighbor was a Don Serel (sp?) and his wife, Mary - they had a Dolphin. They never took it out much I guess - they were content to polish, shine and varnish. I always liked the boat.

Me? Later in life I went from a Cal 20 to an Aphrodite 101, and then to my current boat of 10 years, a Wyliecat 39. In July I loaned boat to a friend - he raced it and broke about 70 feet worth of carbon fiber mast - ouch.

Insurance will cover it but it's takes forever. I bought 'now gone' Gene's boat from his nephew. The boat is just the boat of an old man- no mods, no holes drilled in the deck- everything is solid. it's an outboard boat - I think there are three sails all together - not sure - will know when I go down to the boat in a couple of weeks.

in 2008 I took the Wylie on the Pacific Cup - we won our division. i'll try to type this quietly so my wife doesn't hear me and divorce me, but I'd like to do the single handed Trans Pac in the Dolphin.

That would be slow - yet epic. The Wylie is like a formula one car but there is way too much horse power for me to deal with alone.

i'll keep you 'in the know' as soon as I get down below on the boat and take it for a spin. The plan this winter? haul it out - clean the bottom and let it sit dry till the spring.

Cheers

Chris

**************************************
November 4, 2012. We have been trying to track down that Dolphin that Chris remembers was in the slip next to his dad's boat 30 some years ago. We haven't found her yet but are making progress. Check out http://www.dolphin24.org/mary_dear.html. And Chris will keep looking. Here is his latest email (edited)
Next week I'm planning to sail Zesty up the river to napa - taking it out - stripping the bottom and then it's going to sit for the winter and hopefully dry out a bit after about 35 years in the water. Napa Marina seems to be the 'authorized' place' where old boats from the north bay go to die. I'll have a look around when ! get the boat out - could be that Zesty ended up there.
I'll let you know what iIfind.

Chris
San Francisco Bay is a big place - here is Google's view
********************
November 8, 2012. Zesty arrives safely for her winter nap - you can take the up-river part of this trip with Chris by clicking on this really neat link http://www.napavalleymarina.com/Pages/dirwater.html - minor edits and webmaster inserts in red.
Well, Sunday at 0100 hrs (ouch !!!!) found me pushing that boat off the dock for the first time. Dark and no wind - 5 hours later we ended up in Vallejo for a nap then another hour up the river to napa and the marina. Gloriously I avoided the buoy 7 shoal and was smug for about 15 minutes before landing self on mud on the other side of the river. (That warning was in the fine print at the bottom!!)

Two hours after that we floated off and made it. Funny little boat. Pretty well balanced but strange...it goes to weather very well, it points pretty high, and that surprised me alot. It is balanced and the weight of the thing seems to help it punch through any chop.

Whoever decided that boats should have the main sheet located aft of the driver was a moron. I'll change that. (Bill Shaw - ouch!!)

Surprisingly the sails are 'almost new' and that's funny as they were new in 2001. So says the writing on the tack. Going to need a track on the mast for a pole - the roller furling could be led better - that's easy.

Here's a question for you - original spars...the boom? Has anyone EVER successfully used that rotating boom reef system? (Not to my knowledge!!) That's such a crack up and so retro!

The rudder is such a suggestion of directional wishes - I guess I'm going to have to learn how to balance it with the sails and the centerboard - I kind of forgot about that thing - and have no experience with those save for dinghys. All my praise for going to weather was with that thing in the up or un-deployed position.

Looks as if the last guy who owned might have bought a 170 used...and had bronze hanks replaced with plastic. Didn't get a chance to mess around with that either.

However all in all? A well balanced, pleasant little family boat. Do you know if people reposition the traveler? What about a bendy-er rig? ($$$!! for the spar, and more $$$ for new sails!!! ouch)The head stay tension seems good but it wasn't blowing and I never seemed to get very over powered with the main save for a couple of the bigger puffs.

Can't wait till the spring time - it will be a hoot to do a couple of beer can races and see what we can come up with. (Besides being fast, the PHRF rating is a big boat killer!! http://www.dolphin24.org/technical_PHRF_Cert.html)

As to trailers...and getting one built - is there a sheet or a guide on the site that i could print out and give to a builder? I'd be curious about that. (Check out http://www.dolphin24.org/trailer_overview.html)

Thanks - Chris

***************************
June 7, 2014. Its been a while but here's Chris' update (a couple of emails consolidated and minor edits)
Ok - I had to write you. I've been busy stripping bottom paint off Zesty at the napa marina, when I was busted by the yard for not having suction device on my sander! They would be 'happy' to rent one to me- ugh. So after 'talks'? the yard will strip all the paint off the boat for about $1400. ugh. But, as my shoes are now the same 'interlux blue' as my cuticles I figure it's not a bad deal.

Usually, my days off are Monday to Wednesday. it's a four hour commute to Richmond to the 'big boat'. Good Lord I cheated and stayed for Wednesday night races and who did I meet? Dick Loomis - and the mighty restored Dolphin...with those hot paxton sails. amazing. hi-teck WITH roller furling- I'm so down. update? Webmaster Note Click here to go to Dick Loomis' Old School, Yankee #212

My centerboard is pretty beat up. I think I'll replace it with something else that's not wood/ply. After 2 weeks should have a new bottom, new color boot stripe/hull stripe...and no CB! After the new board is built I'll have it installed in Richmond - and at that time the hull will be polished and waxed.

One thing at a time right brother? :) Be well and enjoy.

Chris

ps All the paint should come off in the next 10 days. I'll send a before/after shot. Working on tiny outboard today

**************************************
May 21, 2015 Again, its been a while - here's Chris' update (edited)
Chris Gibbs here. Yankee #218. Dick Loomis' dock neighbor in Richmond (Yankee #212).

After searching the web site I was saddened to see that there is NOT a Dolphin Inter Galactic Congress to which I might protest Dick's CLEARLY illegal, fancy-shmancy aluminum toe rails.

Yankee #218's slotted aluminum toe rail

So, with no other recourse, i decided to remove the teak rail on my own boat. I took out the bungs and found a combination of wood screws and stainless machine screws keeping things in place.There seemed to be no permanent seal between deck and hull.

THAT explains what looks like coffee stains on the inside of the boat and also would explain some of the water in the bilge - nasty stuff. I guess I'm going to be investing in some used toe rails and a bunch of two part epoxy plus filler.

Click here for a larger view

Next week I guess I'll get the mast down once the epoxy cures. I need new halyards in the worst way.

Here's a photo of a little dock side sailing- had to take that little jib down to pineapple. The jib is not the worst but they are putting a new roller furller cover. I'm talking to Quantum about a 150 foresail, maybe I can double reef and fly a heavy #1 and get rid some of the hobby horse in the chop. We shall see. The Quantum guy told me 'not class legal' but i really feel like we need to do something about the lack of power up front. I'll let you know.

Cheers

Chris

p.s.- Dick's boat is looking real nice. I spoke with him before I left on Monday- he was going to attempt some electric work - as in rewiring the boat. Man, I hope the boat 'still' looks right and not burned up! THAT is what would happen if I tried that! He also reports two boats in the neighbor marina. Brickyard Cove - one belongs to a retired congressmen - Miller- and the other? mystery. He has sent mail in an effort to contact I guess. Ed Note We need to follow up on this!!

Click here for a larger image
Stay tuned
******************************************************
*******************************************************************************
At this point we pickup Zesty's story as we knew it before Chris checked in.
On April 25, 2011, Senior DFI Nicole Breault sent in the following photos of a Dolphin she found while walking the docks in Richmond, California. We knew nothing about this boat but she met the minimum requirements for a newly found Dolphin - our 178th! Click here to go to that list.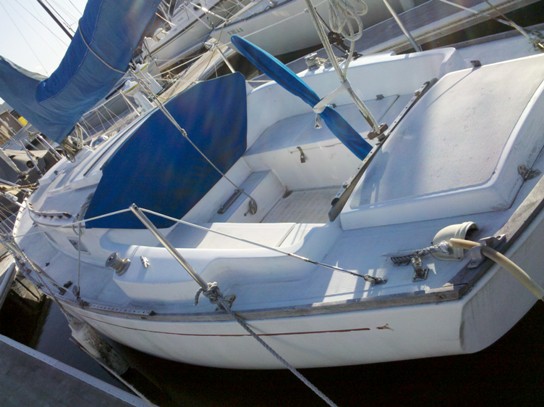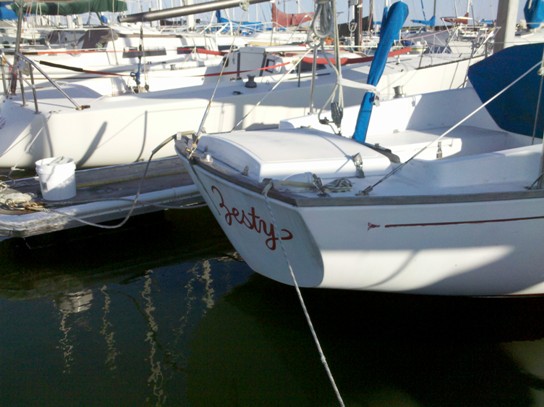 *********************************
August 28, 2012. DFI Alden Harris (Shipperke) advised us of a Dolphin for sale on Craigslist - and your webmaster called the listed number. We found Zesty - again!!! Here is the ad, Craigslist link, and contact info.
24' Yankee Dolphin Sailboat - $5500 (albany / el cerrito)

http://sfbay.craigslist.org/eby/boa/3227669056.html

Reply to: qsx49-3227669056@sale.craigslist.org


24 foot Yankee Dolphin Sailboat: Owned by the same owner for the last 29 years with all documents and manuals, fully equiped and ready to sail with an Evinrude outboard, marine radio, boarding ladder, life jackets, anchor, Smiths speedometer, depth sounder. Boat was built in 1971 and includes the main sail, working jib, lapper, 150% Genoa, and spinnaker with turtle. Please call me with questions or if you would like me to send you additional information.

If this ad is up (on Craigslist), then she is still for sale.

Thank You,
John

****************************************
On October 6, 2012 there was an updated Craigslist ad with the price reduced to $3800.
**********************************