April 12, 2015 The new owner of Two Moons have checked in. We'll set up a new page for her once we get new pictures and maybe? a copy of her log of the upcoming intercoastal voyage up to her new home in the Myrtle Beach, South Carolina area. Webmaster Note: April 18, 2016 - Nope - she came up by trailer, and current thinking is that since former owner Bill Lamp is still part of Two Moons' life we'll 'share' this page.
Hi Ron,

I am very excited to join the Dolphin community. My sister Kerry Ann Dame and I drove down to Florida on Monday to meet Bill Lamp and Two Moons, and I became her new owner.

We've been scrambling to find a tow vehicle and driver. But I may just bring her up the Intracoastal Waterway to her new home in the Myrtle Beach area, likely Georgetown for the summer.

I'm currently making plans for the trip, and rallying possible crew for a departure next week.

Thanks for a great website and for rallying the community! I've been following for awhile -- the Dolphin may be the perfect family boat for us in the Southeast.

Cheers,

Matt O'Toole

Welcome Aboard Matt!

*******************************************************************
April 18, 2016. We were approaching a year withour news about Two Moons - in response to our plea we got the following update from Matt.
Hi Ron,

Good to hear from you! An update has been on my mind, but it's been a busy couple of months, in fact a very busy year. To make a long story short, family issues kept me from taking the boat up the Intracoastal Waterway as I had planned, or even getting down to Florida to get the boat onto a trailer and hauled home. So there she sat, for almost a year.

I did finally get to Florida last month. I stayed with Bill Lamp for a couple of days, and got the boat hauled. She was really none the worse for wear -- except for the bottom. We powerwashed and scraped, but she's going to need more than just paint! I found a tow driver through uShip -- Chris Gonzales -- who does a lot of towing in the area. This turned out to be a good thing. The trailer had a broken spring and needed some other bits to be roadworthy. Chris offered to come back after a couple of other jobs, and fix the trailer where it sat before towing. This gave me time to get the parts, from Allen's Pro Trailer Service. Many thanks to both!

So as of two weeks ago, Two Moons is in a secure yard in Georgetown, SC, awaiting a bottom job. I've brought the motor home to clean out any marine growth, and otherwise check it over. I'm shooting for a June launch, to enjoy the summer exploring Winyah Bay, the Waccamaw River, and maybe up and down the coast.

| | |
| --- | --- |
| | |

After the bottom job, next will be sails and rigging, to have a great sailboat to play with. My sister Kerry Ann, an interior designer, is in charge of new cushions.

It was great spending time with Bill Lamp, and knocking around Fernandina Beach. I hope to visit again, and I look forward to Bill coming to South Carolina to sail on Two Moons with me.

More soon -- probably a blog.

Cheers,

Matt O'Toole

Pending Matt's pictures of Two Moons in South Carolina we'll borrow a Bill Lamp photo - looking good in Florida

****************************
December 20, 2016. We got the following update from Matt. (minor edit)
I'm motivated to get Two Moons back on the water ASAP, but it will probably be a few months.

In the meantime, she's safely on her trailer in a yard in Georgetown SC, awaiting a bottom job, and none the worse for wear. No water at all in her yesterday. There was about an inch in the bilge after hurricane Matthew, when rain probably blew in under the companionway hatch. I check at least once a month.

Friends here are anxious to come sailing with me too. So, in the next few months, bottom job (just sand and paint), mooring, splash, then new sails. I hope someone's doing some sailing!

Cheers, Matt
***************************
August 30, 2019 Over the transom a couple of days ago we go a reminder from former owner Christie Edwards that its been a while since the Two Moons saga has been updated. A followup to Matt produced the following (minor edits)
Hi Ron

I definitely owe you an update! Yes, Two Moons is still in Georgetown, right where I left her. Unfortunately the boat project stopped as caring for my Mom took over my life, full-time for 3 years. Mom passed away early this year. Since then I've been working on getting working again, and will get the boat going after a few paychecks.....

I check on the boat about every 3 weeks, to make sure the cockpit drains are clear, check for mold and bugs, etc. Naturally there's been some "weathering" -- the main hatch has rotted and needs to be replaced, which I will do soon. The paint is peeling off the mast -- stripping it to refinish will be easy! Other than that, she's just dirty, in need of another wash.

The boat needs a full bottom job, mast refinished, wood trim scrubbed and refinished, standing rigging gone through, new sails and running rigging. My plan is to get the bottom done, then do the rest myself, except of course buying sails. Then keep the boat on a mooring in Georgetown, and/or move it up and down the Grand Strand.

I have friends here who are sailors and eager to sail on Two Moons, also willing/able to help with some of the work. But realistically, progress is still a few months away. I also may need to move away for employment. It's possible I could take the boat with me (especially to the DC area), or still keep it here.The Dolphin is perfect for this area, and she's a fine little yacht that's worth all the work and expense. I don't plan to give it up, but if somebody really wants one, I would consider it.

I would also be happy to show it to anybody wanting to see what one is like. I so enjoyed meeting Bill Lamp and spending time with him. I hope I can take him sailing before too long! Maybe Christa Edwards too -- great that you heard from her.

Cheers

Matt

ps As we get older, we don't bounce back like we used to.......Webmaster note oh oh - you mean trouble ahead??

Glad to see you're in touch with Mike, #176, "dacapo" on Sailing Anarchy: http://forums.sailinganarchy.com/index.php?/topic/209033-cant-say-no-to-projects/&tab=comments#comment-6701609

Got a note from "Bull City" (Bob) about my Dolphin -- he's not too far away, and vacations here in Pawleys. He posted the full restoration of his H-Boat -- like a cross between a Soling and a Folkboat -- good reading for anybody with a similar project:http://forums.sailinganarchy.com/index.php?/topic/161931-h-boat-renovation-project/.

Sailing Anarchy has lots of Dolphin fans. The son of Yankee's founder, the late John Shumaker, posts there regularly as "Shu." Here's a great thread, starting with his dad's obit: http://forums.sailinganarchy.com/index.php?/topic/168824-john-shumaker-founder-of-yankee-yachts/

I hope to check on Two Moons this weekend, and send you a picture or two.

Webmaster Note: For those that don't know Sailing Anarchy https://sailinganarchy.com/ is an online boating Forum - Dolphinites are not constrained from posting stuff elsewhere about their boats......

********************************
******************************************

************************************************************

**************************************************************************
This following is the history we have on Two Moons while she was in Bill's care. And before Bill she was in the care of Peter Edwards - click here to go there.
April 22, 2015. We got the following note from Bill Lamp, and standby for the new owners to check in.
She has new owners. We can close the For Sale site. Thanks Ron, you are a great help.
Bill Lamp

Fair Winds Bill!! Thanks for your Reports
April 9, 2015. We received the following email (minor edits) from Bill Lamp. He's done a lot of work on her. This is a special situation - Bill has not advertised this yet - just to the Dolphin 24 community. - see pictures below.
Ron

Unfortunately I must let go of my Pacific Dolphin 24. Comes with trailer and new tires. She was given to me. I worked on her and am passing her on to the next loving guy or gal. She's in great shape. FOR SALE OR GIVE AWAY TO THE RIGHT PERSON

Anyone interested can E mail me at Boatsail1@gmail.com

Bill

ps Here are some extra's - Two head sails; First Aid Kit; Binoculars; new battery; Two anchors with rode.; hand held VHF
uninstalled Depth Finder; Ice chest; Butane single burner stove; misc rigging.

Bill keeps Two Moons at Fernandina Beach/Amelia Island, Florida (above Jacksonville near the Georgia/Florida state line)
***********************************************
***************************************************************************
March 31, 2014. This has been in the works for a couple of weeks and it is now official - Bill Lamp, who on March 5th, posted a Dolphin 24 Wanted notice in our For Sale Section, has checked in as the new owner of Two Moons. Emails below, edited, excerpted and consolidated
Ron
Two Moons is officially mine. Post away and let me know how I can help. I will take photo's of work and plans. The trailer repair shop ground off the old hitch and a new 2" hitch was placed. She is on her way to her new home on Amelia Island, about 15 minutes from ocean sailing. Man, I am ready to have her here. Purchase new 6 hp with alternator and 25 inch shaft.
Bill - Happy new owner of Pacific Dolphin #250.

ps I'm stoked and do some work every day. Have patched a few holes in rudder and am making arrangements for a bottom job. Still contemplating interior lay out. Getting electrical figured out. Ordered parts and safety gear. All is well in cool sunny North East Florida.

Two Moons has been out of the water for 10+ years and will need some TLC. Your webmaster and Bill traded several emails on this undertaking, and this tidbit, lifted from website archives, may have helped Bill decide.

"Two Moons is Pacific Dolphin's 1st Dolphin. Romain Corbin was Yankee Yachts's plant manager and bought the molds when Yankee went out of business. He knew how to build the boats, and maybe wanted his first one to be a really good one?"
Here is Two Moons getting prepped for her trip.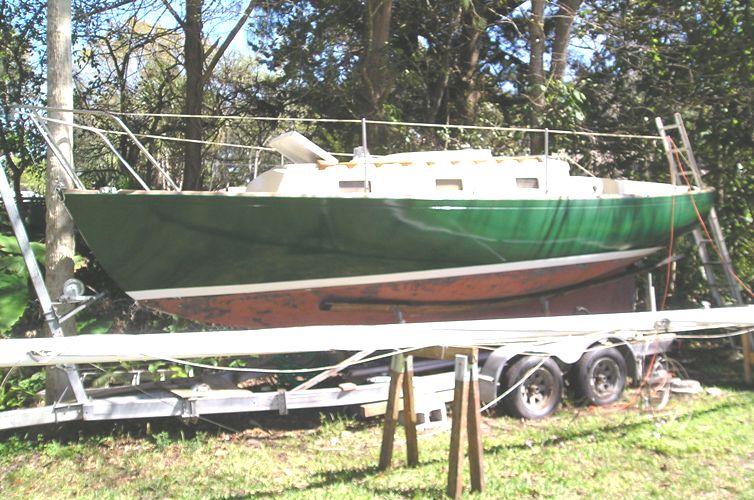 Pending more pictures from Bill below are file pictures of Two Moons from when Peter Edwards had her. Click here to go that page.
| | |
| --- | --- |
| Sailing off Savannah, Georgia | Another shot off Savannah |
************************************
April 3, 2014.
Update from Bill (minor edit)
Ron - Here's a picture for you. She is now in Fernandina Beach. Rudder needing repair, interior is disassembled and no head. Enough for now. I am in the plans and planning stage. What to do and how to do it. All is well and summer is fast approaching. Bill

*************************
April 11, 2014.
Bill sent in the following update (minor edits)
| | |
| --- | --- |
| towed to lift off trailer | lifted |

| | |
| --- | --- |
| split in centerboard. WOW! | Stuck |

Click on the centerboard images for a larger view

Today's progress. Worked all day on dropping centerboard. Big split in forward section. Had to remove pin to get the centerboard to drop. Front remains stuck (swollen split) steel and glass wrap. Cut the nut off the pin and the board dropped. However, the board remains in the trunk. Tomorrow will be the task for tomorrow. So that's the story for now.

Thanks Ron, This is a great project

Bill Lamp
**************************
April 19, 2014. We got the following update from Bill
Hope all is well with you and the spring weather is fast approaching.


I've been looking for ideas and what other Pacific owners have done behind the gang way. I would be very interested in pics of what others have done. I am not finding any pics in the site. Can you direct or describe some ideas? Lay out is quite different than the Yankee.


Lots of bottom work being done, soaking thru hull valves and greasing to get back in working order. Many small leaks. Raining like cats and dogs here. Repairing glass work on centerboard pin and nearly finished on centerboard. Had guy at boat yard do work. Replacing bulbs in running lights/anchor with LED's, and new wire in mast. Busy part time. All is well.
Bill
Webmaster Note: Anyone have any ideas/comments? Marionettte #12 is also an outboard, in the transom, powered Dolphin. Click here to see how we handle the space under the bridge deck, behind the companionway steps and under the cockpit floor. Its very simple and a functionally used space. Click here to go there.
**************************************
May 4, 2014. Bill sent in the the following email and pictures of his repaired centerboard. If we can get Bill to fill in a few blanks we'll get this in Our Technical Section/Centerboards
Afternoon Ron,
Marionette is the water yet? Must be turning nice up there. Rainy and cool here. A few dry day and rain to find drips in cabin. Will be starting electrical soon. Progress is slow. Some pictures of centerboard repair and cable attachment hardware. Centerboard hardware took a lot of discussion and comment. Not as designed but believe it will function just fine. Able to move forward now.
Be well and smooth sailing,
Bill
Note the exposed and rusted steel plate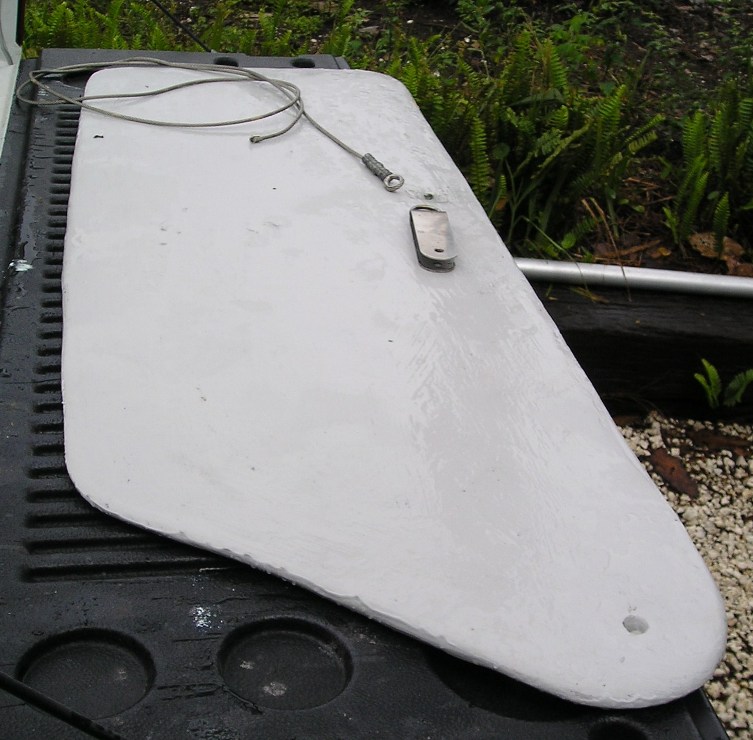 Almost done
May 5, 2014
. Bill sent in the following email. We set up a page in the Technical Section for
Two Moons
Centerboard project.
Click here
to go there.
Two Moon's centerboard had two large separations in the glass caused by water entering and rusting the steel plate. One split on top rear area of centerboard was ground down, laminated and reshaped with polyester resin and biaxial material. The second and most major of repairs was the front bottom of centerboard. The repair process was basically the same only more involved as glass was cut back to expose the rusted steel plate. (See above photo) The plate was ground down, cleaned with Ospho (spelling?). Again the entire area glass area ground down and then built up and reshaped with resin and biaxial material. Then the entire board was coated the heavy (thick) two part epoxy coating that now needs to be sanded back.

The decision on pennant placement took some conversation. The old pendent was rope, slotted through the centerboard and back knotted through the retaining hole. Two Moons new pennant is patterned after the bronze boards, only not molded into board when milled or pored. We decided on an externally mounted pennant shaped bracket, (much like the bronze boards) made of stainless steel, U shaped, that fits tightly over the top of the centerboard with external dimensions that allow room for internal centerboard trunk dimensions. It will be pinned through the centerboard and the pin spot welded to the bracket at both ends. A lot of work by people more equipped and talented than I.

Will keep you all posted as new things happen. Keep your fingers crossed.

****************************************
May 27, 2014. An exchange re depth sounders
Ron,
Lot of work of late getting Two Moons ready for launch. Drilled hole in port hull for echo sounder. I think this was a bad move due to angle of hull. Wondering if should glass over, find new location for transducer, go with idea from "Summer Wine" or forget the whole project. Ideas on what most folks are doing.
Thanks in advance,
Bill L.

Hi Bill
I'm certainly no expert but I have a 'thru glass" inside the hull transducer system - check out http://www.dolphin24.org/depth_sounder_installation.html if you haven't already. Marionette is going in the water late this year so it will be a few weeks before I can give any feedback on my system's operation

Ron

*************************************
June 10, 2014. We got the following update from Bill (minor edits).
Put Two Moons in the water on Friday. Leaked around centerboard pin. Out of water to fix. Will redo rudder packing gland while at it. That should take care of all. Hole for depth finder repaired and can't tell there was ever a hole. (Webmaster Note: Bill is referring to that exchange we had back on May 27 above)
Be well and at peace.
Bill L

Postscript exchange So, Bill - what are you going to do re the depth sounder? There is the crew on the bow pulpit looking option...or a crew with a lead line calling out soundings?

Reply I think I'll throw a lead line.

Post Postscript

Seriously though, I'll probably go "shoot through the hull" I've got everything I need so why not give it a try once in water. Boat looks good with standing rigging in place. Motor is in well. Pumps are installed. One electric and one manual. Rain water getting in through cock pit hatches. All is well here. Hot early. Maybe hurricanes this year.

***********************
June 27, 2014. Two Moons is launched. Here's Bill's proof...
She went in water today There she sits. Lookin good. She looks excellent in her natural environment. All is well. No leaks this time. Dry as a bone all day. A good adventure continues, Bill L.

Click on photos above and below for a larger view
| | |
| --- | --- |
| In slings. Can see 6 HP motor | Over Egan's Creek and ready to go in |
| | |
| --- | --- |
| With friend Steve in cockpit | With friend Steve in cockpit |
****************************************************
July 8, 2014. Bill sent in the following update (minor edit)
Hi Ron - Here are photos of the new electrical panel/system I installed in Two Moons. All the wires were there. I traced them down, used LED switches, built a new switch and fuse box, and mounted it on the starboard hull. Used #12 and 14 gauge tinned wire. Rewired mast and installed new LED lights. Nice...

Have a lot of spare switches at this point. Once I get the new battery I will finish the wiring. The Tohatsu 6 HP supplies 6 watts of power.

Thanks. Bill L

.

***************************************************
September 7, 2014. Bill Sent in an update on his centerboard repair project. Click here to go there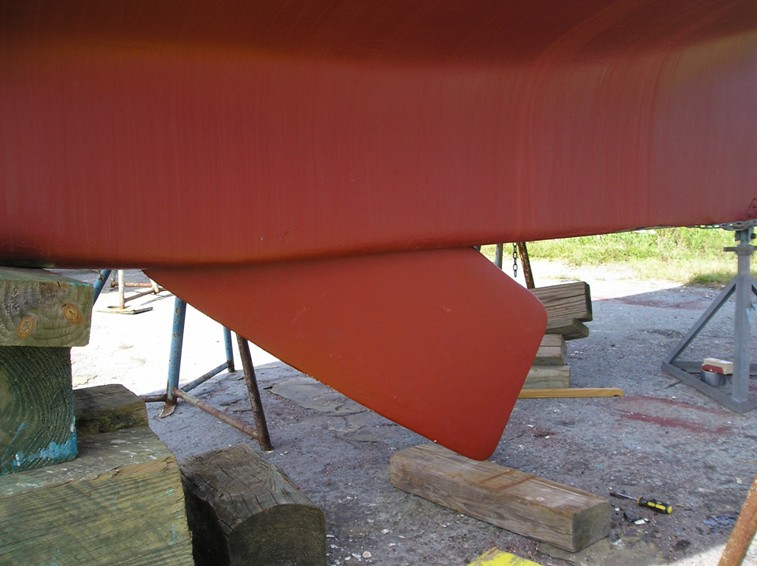 ********************************