May 5, 2014. Bill Lamp has sent in some pictures and emails regarding the centerboard repair project for his Pacific Dolphin #250, Two Moons. Lets start with this picture.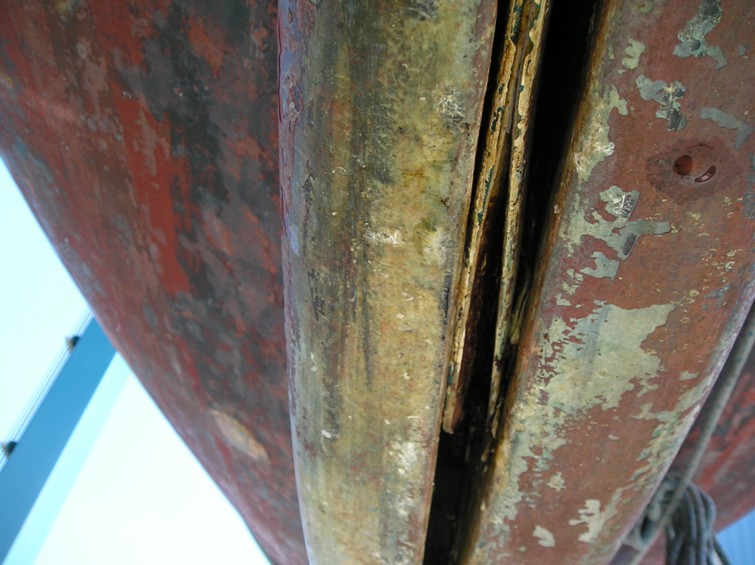 Bill sent in this photo and the email below on April 11, 2014 - Two Moon's centerboard peeking out of the trunk
Today's progress. Worked all day on dropping centerboard. Big split in forward section. Had to remove pin to get the centerboard to drop. Front remains stuck (swollen split) steel and glass wrap. Cut the nut off the pin and the board dropped. However, the board remains in the trunk. Tomorrow will be the task for tomorrow. So that's the story for now.
May 4, 2014. Bill sent in the the following email (edited and consolidated) and pictures
Progress is slow. Some pictures of centerboard repair and cable attachment hardware. Centerboard hardware took a lot of discussion and comment. Not as designed but believe it will function just fine. Able to move forward now.
Be well and smooth sailing,
Bill
Note the exposed and rusted steel plate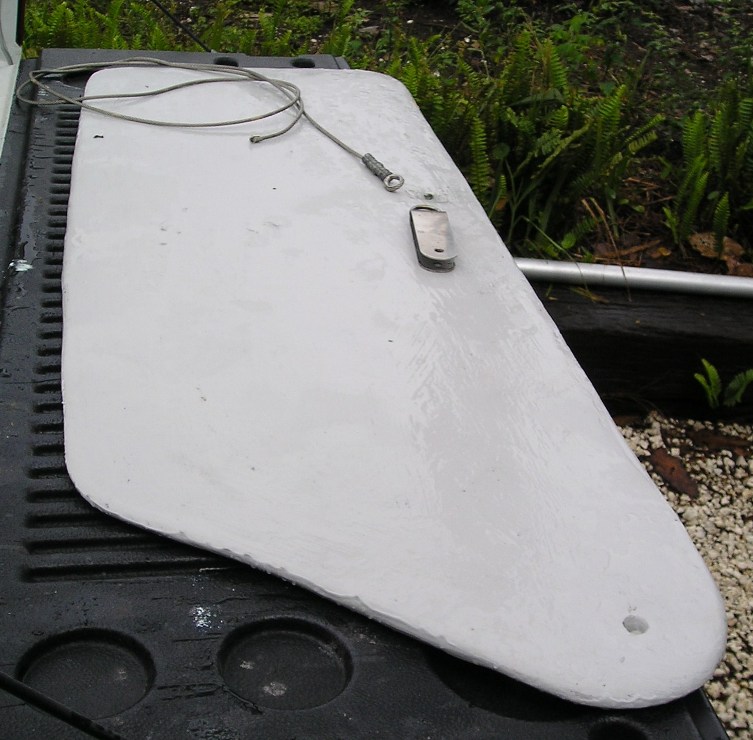 Almost done
Two Moon's centerboard had two large separations in the glass caused by water entering and rusting the steel plate. One split on top rear area of centerboard was ground down, laminated and reshaped with polyester resin and biaxial material. The second and most major of repairs was the front bottom of centerboard. The repair process was basically the same only more involved as glass was cut back to expose the rusted steel plate. (See above photo) The plate was ground down, cleaned with Ospho (spelling?). Again the entire area glass area ground down and then built up and reshaped with resin and biaxial material. Then the entire board was coated the heavy (thick) two part epoxy coating that now needs to be sanded back.

The decision on pennant placement took some conversation. The old pendent was rope, slotted through the centerboard and back knotted through the retaining hole. Two Moons new pennant is patterned after the bronze boards, only not molded into board when milled or pored. We decided on an externally mounted pennant shaped bracket, (much like the bronze boards) made of stainless steel, U shaped, that fits tightly over the top of the centerboard with external dimensions that allow room for internal centerboard trunk dimensions. It will be pinned through the centerboard and the pin spot welded to the bracket at both ends. A lot of work by people more equipped and talented than I.

Will keep you all posted as new things happen. Keep your fingers crossed.

Bill

****************************************
September 7, 2014. We got the following update from Bill (minor edit)
Thought I would finish off the centerboard project. Once the centerboard was painted and rigged, installation started. Using wedges, piston hydraulic pump and wiggles and curses, finally got the holes aligned. Then began the process of sealing the SS holding and pivot bolt. Took two tries to get it water tight. Centerboard works well and helps to Windward. This is one enjoyable project down. I do like the projects: creative and planning and manufacturing. Does a soul good to have it come together.

Click here for a larger view

Click here for a larger view

with pennant attachment

*******************