March 10, 2012. Wendell Dunn has checked in as the new owner of Spirit II (nee Tiana - stay tuned on her name....). Here is his email (minor edit)
Hello Ron!

Happy to make your acquaintance – digitally. I'm 'checking in' as the new owner of SPIRIT II (formerly TIANA), having purchased it recently from Jann and Derek Dawes. They have done a truly beauteous job of rebuilding/refitting her and I have undertaken to keep her to the same standard. For the foreseeable future, she'll remain based in Russell in NZ's Bay of Islands.

Cheers,

Wendell Dunn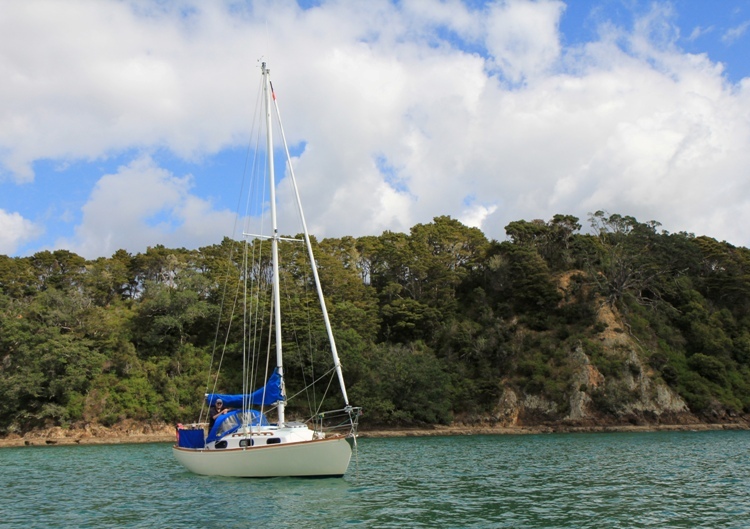 Wendell's picture #1
Wecome aboard Wendell!
Spirit II looks like a beauty - and organizational thanks to Jann and Derek for giving her that new lease of life. We reserved the space immediately above for Wendell's 1st picture of her.
Following is Spirit II's record as we have it but we'll add a piece to it here. In her prior life she was Tiana and owned by Perry Wilkins. He was single handed racing her in the local Kerikeri Cruising Club races, and died of a heart attack whilst approaching the finishing line. Jann and Derek bought her from his daughter and commenced their two year plus refit. Perry was a much admired member of the local community with an excellent racing record.
Your webmaster has 'digitally heard' parts of this story from 5 different Dolphin connected people in New Zealand. Comments varied but one I liked was 'that's the way I wanna go!" Thoughts like 'Tiana took him home' pass through my mind - and her just and fitting reward was to get the new lease on life Jann and Derek gave her. Boats can do this to you...One of the rewarding parts of doing this website is the stories I hear about people and their boats. This is a bittersweet one.
December 15, 2012 Webmaster Note: We have set up a Perry Wilkens/Tiana page - click here to go there.
*********************************
April 28, 2012. We received the the following email and the above and immediately below pictures.
Hello Ron! Greetings from Down Under. As promised, some new photos of NZ-built S&S 24 "Spirit" with new owner near Russell in the Bay of Islands. Cheers, Wendell
| | (Photos copyright and courtesy of Tom Mulvey; used with permission.) |
| --- | --- |
****************************************
December 15, 2012. We got the following email from Wendell, and a new photo of Spirit - not hiding behind her lee cloths...
Hi Ron! Season's greetings.

A new photo of Spirit on her 2012 Spring shakedown cruise (October, Pipi Bay, Bay of Islands, Northland, NZ), courtesy of Tom Mulvey. Doesn't get much better than this. Keep up the good work; these beauties are well worth it.

Cheers, Wendell

Spirit at Pipi Bay, Bay of Islands, Northland, New Zealand
******************************************
March 20, 2016. We asked Wendell for an update on what's going on with Spirit II. And we got it! First, her name has been changed back to Tiana. His reward, and hers, was to be named the 'the most beautiful boat in the marina'! Here's the update - minor edits
Hello Ron!

It has been a while. Trust all is well with you and yours. Thanks for asking. As (too) much of the gear failed to work properly during our first full season and shakedown in 2012-13, I decided in 2014 to seriously rebuild, update, and modernise Spirit II. Our now-two-year-project is almost finished and, despite some long delays and disappointments, "Tiana" (her original name) is almost finished.

The previous owners, the Dawes, did a great job of re-working the interior, installing a brand-new engine, and lots of other betterments – as can be seen in the older photos (below). But the electronics, plumbing, through-hulls, weight and balance, etc., needed attention, as did a number of other things related to Tiana's 45 years of age.

So, out came the wallet and in went the goodies: all new radio and instrumentation; a switch panel worthy of a seriously fine yacht; reworked batteries, placement, distribution, and switching; new through-hulls; proper dorade boxes and wind scoops for ventilation; a stern boarding platform for convenience and safety; all-new paint and bright-work….etc., etc.

I've attached a number of in-process photos documenting bits of the work, much of which was performed by Kevin Johnson, master boat builder and crew in Devonport, Auckland. The pre-work was done in the yard of Doug Schmuck of Doug's Boatyard, Opua, Bay of Islands. Both men are beaut blokes.

Pre Work - Opua. Click here for a larger image

At right is her interior placard – which served as a project concept statement for the workmen's reference –

We're still not quite finished. Some new canvas – much less blue – additional safety gear (EPIRB, etc.), another shake-down cruise and we're in business, hopefully this season.

Already we've had a number of rave reviews on the result; last week my next-slip neighbor said she thought Tiana the

'most beautiful boat in the marina'.

The task, now, is to keep her that way!


I trust this brings you and our colleagues up to date. Feel free to post anything appropriate to our community.

Cheers,

Wendell

*******************************************************

***********************************************************************************************************
At this point we have the history of Spirit with her prior owners Jann and Derek Dawes.
February 18, 2012. Spirit II has been sold to Wendell Dunn - we are standing by for him to check in. We got the following email from Jann and Derek (minor edits)
Hi Ron - well, we've very sadly sold Spirit. I just wish we'd had more time to sail her - she is such a joy to handle. We are happy with the new owner - we feel he will look after her and enjoy her qualities. He is a fellow countryman of yours, Wendell Dunn, who now lives in NZ:
.
Thank you for all the help you have given us over the time we have owned this lovely boat - we do feel she has been given a new lease of life and will continue happily for some years. So - we are back to the UK for a while.

Every good wish - Jann and Derek Dawes

********************************
February 8, 2012. We have an update from Derek (edited)
Hi Ron

We are selling Tiana/Spirit reluctantly as we have to return to the UK in March. The few sails we have had in her fulfilled all our expectations. A pure little thoroughbred. Our engine installation is a great success, and the two bladed folding prop. throws her through the water at a good rate of knots. We just hope that someone will appreciate her for what she is - a great credit to Sparkman & Stephens.


Hope all is well with you and yours.

Kind regards, Derek and Jann

**************************
October 10, 2011. DFI Giles Grimston alerted us that Spirit II was placed for sale on Trade Me. Here is the link to the ad http://www.trademe.co.nz/a.aspx?id=414113118. Below is the ad with some additional pictures. Many of the pictures on the ad are already on this page
SPARKMAN & STEPHENS 24 - YANKEE DOLPHIN CLASS
Asking price: $28,000 Listed: Mon 10 Oct, 12:22 pm Listing #: 414113118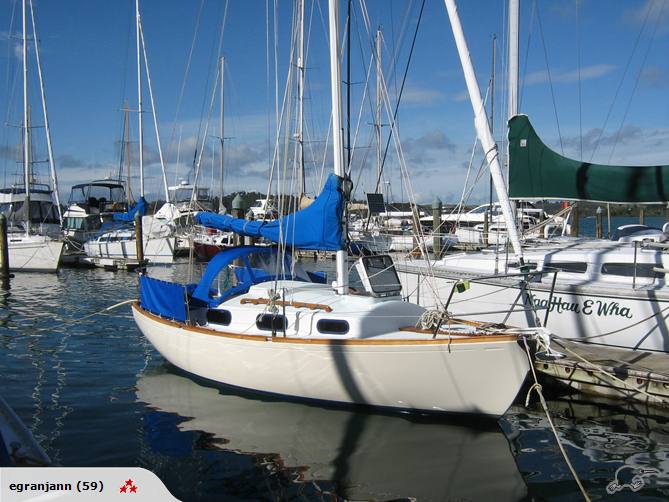 NZ registered vessel - sail No. 1445 - formerly Tiana now named SPIRIT 11. A genuine SS 24 built by D Bremner Ltd. of Sea Nymph, Auckland in 1970.

This vessel has spent over 2 years being renovated with the intention of being cruised around the NZ coast, but sadly plans have had to be altered and she is now reluctantly for sale. She is an ideal pocket cruiser racer sleeping 3 in comfort with a large quarter berth and 2 saloon berths - all new cushions and upholstery.

See her own website on http://dolphin24.org/tiana.html - this gives an idea of her renovation.

Inventory includes:

>Inflatable dinghy.
>2 new batteries - 1 engine and 1 domestic.
>Total rewiring throughout.
>New compass. Nav lights. VHF.
>CD player with 2 speakers.
>New Jabsco marine toilet. Porta Potti.
>New 2 burner gas cooker with grill on gimballs - gas container in aft lazarette vented overboard.
>20 ltr flexible water tank is installed in galley area - we also carry several 2 ltr containers of fresh water.
>30 lb Plough anchor stows on bow roller with 5/16" galvanised chain and warp led below to chain locker. Lofrans winch.
>Spare Fisherman anchor stowed below deck.
>New S/S guard wires with pushpit and pulpit.
>New canvas spray hood, side screens and cockpit cover.
>New roller headsail has been fitted - sails -(main, headsail, spinnaker) all in 'as new' condition - are by Simon Willis of Kerikeri.
>Mast and boom were professionally stripped and repainted.
>New forehatch and cabin windows have been installed.
>The interior and exterior of the entire vessel has been stripped and professionally repainted.

Spirit is a very comfortable cruiser/racer offering many opportunities for enjoyment. She is lying in the Bay of Islands.

| | |
| --- | --- |

**************************************
This page originally started on October 16, 2009 when Jann and Derek checked in and we subsequently exchanged several emails. Some of these have been consolidated and/or edited. As the reader has already seen from the above pictures, and those below, this restoration is extraordinary.
Interesting cradle system

Hello Ron - Greetings from New Zealand.

My wife & I are a couple of young Brits in our 70's spending time in this delightful country visiting our children. Having had boats all our lives in the UK, we were at a loose end without one, so we have bought an S&S 24 (Tiana) which had been raced hard and maintained badly! We have stripped her down to bare hull and spent many hours making good her defects. The main one being that wherever there were through deck fittings i.e. cleats, stanchions, the balsa core was locally very wet - so we cut out the defected area and glassed in sections of marine grade ply.

As this was an executor's sale we are badly in need of some basic information on this lovely little vessel. Can you help please? We would like to know the weight of her bolted-on lead fin keel (1900lbs); The ship's total displacement (4640 lbs); Original sail plan (some info on website and local sailmakers); The correct position to install a small 10hp diesel in relation to her overall length (we have enlisted Alan Mountford - Blue Gum). We know she was built in Auckland in the early 70's by Sea Nymph Boats, but we have no knowledge of her early history. I have written to S&S, but sadly they have not replied. If you can help we would be most grateful.

We have thoroughly enjoyed reading your website and discovering so much about these great little ships. We can't wait to sail her.

Kind regards,

Derek & Jann Dawes

*******************

Consolidated and edited emails follow .....

Hi Ron - many thanks indeed for your quick reply and all the information.

We have contacted several of the web site (links) you gave us, and obtained most of the answers to the questions we asked.

We will certainly send some (more) photos when the weather gives us a chance - we are experiencing a very wet spell just now! The attached is the only photo we have of her at present. Our sail number is 1445 - but we cannot find any hull number or identification anywhere on the boat

To date we have always had classic wooden boats and this is our first venture into fibreglass. I think when she is afloat again she'll have a bit more wood on her - Derek has already made a teak main hatch - the plastic one was damaged.

We are in Rangitane on the Kerikeri Inlet, Bay of Islands, Northland, New Zealand, near the Kerikeri Cruising Club. We have met the owner of Varoa - who keeps his boat, a Falcon, in Opua, also in the Bay of Islands. We have visited her which is why we know Tiana is not a Falcon.

Thank you again and best wishes.

Jann and Derek

******************
November 9, 2009. In response to our comment about the interesting looking cradle on which Tiana sits Jann sent in the following (minor edits)
Hi Ron

Re Tiana's cradle - she was floated into this cradle which was on a low-loader which backed into the water. She was then taken to our house - the low-loader backed into our drive, the cradle was jacked up and the low loader drove off. When she is ready to go afloat the whole process will be reversed. Apparently the owner of the Boat Haul firm has a variety of different cradles to fit varying sizes of boats.

We are slowly proceeding with the re-fit. Having always owned and built wooden boats we are struggling a bit with the fibreglass but having a bit of help with that now, which helps. Derek has planned out the new interior and is well on with that now. As soon as he has finished lining the saloon and berth sides I will be doing the upholstery. We plan to make her as comfortable as possible so we can enjoy living on her for a while. Hopefully I'll have some more photos of her soon.

Regards,

Jann

*****************
June 9, 2011. We have the following update (minor edits) and photos from Jan and Derek.
Hi Ron

I expect you've given up all hope of receiving more news from us about the renovation of Tiana - now renamed 'SPIRIT'. We ended up having to do some major work but she is now up and ready - also ill health slowed us down somewhat.

One of the major events was to install the new Nanni diesel - photos of new engine beds and the actual lift in of the engine below. It was a major day for us!
| | |
| --- | --- |
| new engine bed for new Nanni diesel | lifting in the Nanni |

Also, since she was deposited in our garden in 2008, the entire hull has been stripped of all fittings and the interior furniture removed plus all interior and exterior paintwork was removed. The hull was allowed to dry out and then professionally sprayed with International Interprotect and the appropriate overcoatings.

All bow and stern rails and stanchion bases were rebedded in Sikaflex, fastened with s/s bolts with underdeck padding or s/s washers where necessary. New teak handrails were through-bolted to the coachroof. New kauri toerails were fitted to the deck edge; a new teak entrance companionway and hatch and a new Maxwell fore hatch were installed.

The mast and boom were removed to a workshop, cleaned back to a bare surface and resprayed. Standing rigging was renewed and a new furling headsail fitted. All electrics were rewired - installations have been kept to basicas i.e lighting, VHF, depth sounder and Nav. Lights.

The interior of Spirit has been redesigned to our requirements using teak and mahogany trim. All plywood used has been to B.S.1088. We now have a very comfortable three berth pocket cruiser which we are looking forward to sailing during the next NZ summer. Phew - what a lot of work! Following are pictures of her launch day.


Spirit' is now back in her natural element. The launch was a race against bad weather but went very well - the engine worked perfectly and pushed us down the Kerikeri Inlet towards the marina very well so we were in our berth before the gale force winds and heavy rain arrived - thankfully!

Regards, Jann and Derek

****************************
August 12, 2011. We have the following update and great photos from Jann and Derek. We have included this in the Technical Section - Interiors
Hi Ron -

Sorry it's taken so long to send pictures of 'Spirit's' (ex Tiana) interior - but we have continued to sort it all out. Our main concern was to invent a table as we felt we needed to be able to play cards, eat comfortably etc in the evenings! Derek drew up plans for a table that is easily removeable and stowable. The s/s pole slots into bushes underneath the table and into a keel fixture. As you can see, it swivels so access to and fro is easy - also the table swivels over our knees so we each have an end for whatever necessary. The chart table is situated fwd on the port side with a comfortable seat over the heads. We now have a large quarter berth (skipper's berth) plus two saloon berths with trotter boxes.

All in all a comfortable 3 berth pocket cruiser/racer. The new engine installation also provides a comfortable perch for the galley hand. Hope this makes sense?

Kind regards, Jann and Derek

Wow!!

Very nice

| | |
| --- | --- |
| | |
| and a mid ships anchor chain locker? | There's a craftsman on this project.... |

Note the aft facing portlight - the cabinetry is intimidating
August 24, 2011. Derek and Jann clearly have some skills most of the rest of us are lacking. Prompted by your webmaster's questions the following is their reply (minor edits):
Greetings from New Zealand, Ron -

Thank you for your email and kind comments.

No, we are not 'professionals' but I have built up a lifetime's knowledge of yacht construction. Jann and I have owned wooden boats all of our lives and have spent much time (and money!) restoring old boats to our satisfaction. We also built a 35' Alan Buchanan designed sloop back in the 80's - over four years, and with the help of a shipwright we constructed her from a 5' diameter log of iroko - carvel planking and cast lead keel. When completed we took our 14 year old daughter down to the Med - great fun.

We enclose some 'before' pictures (of Tiana - below) - the dear boat had been raced hard over many years with little maintenance. The previous owner, however, enjoyed her for her fine sailing qualities - each man to his own.....

The forward strut is a channel feeding the cable (anchor chain to us yankees!) to its locker. We have always painted the first fathoms white as a handy marker when weighing the anchor. The after strut we put in as a useful handhold and strengthener.

The engine is almost totally visible in its box - access is also available through the port quarterberth and the stb cockpit locker. From the cockpit we step down onto the engine box and then there is a step at the fwd end of the box. The box is easily detachable if required.

Pictures of her sailing are always difficult - but when the NZ summer arrives we will make an effort to join up with some of our family on their boats to get some photos.

In the meantime - kind regards - Jann and Derek
| | |
| --- | --- |
| topsides prep | new prop shaft |

*************************