December 16, 2012. We have had pieces of this story for some time, and there are still pieces missing. It is of special interest to those of us that singlehand our boats. Lets start with a picture we just received from her present owner owner, Wendell Dunn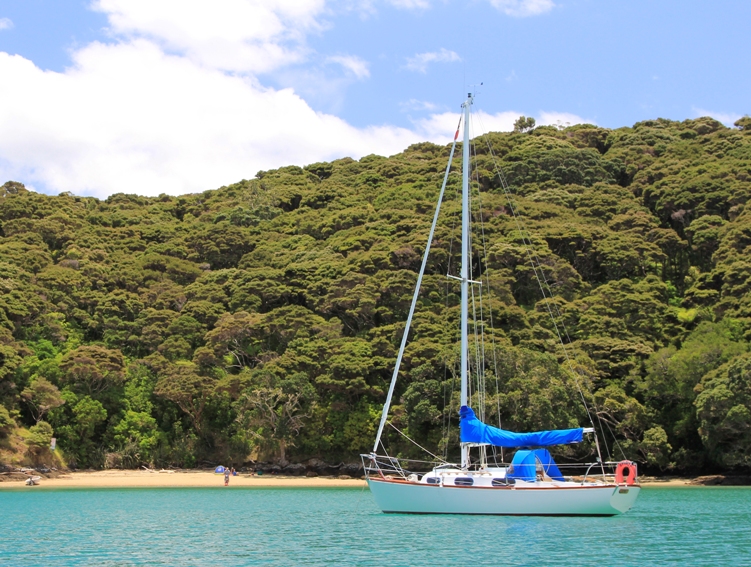 Here is Tiana, now Spirit, in October, 2012, at Pipi Bay, Bay of Islands, New Zealand
Perry Wilkins owned Tiana and raced her successfully out of Kerikeri Cruising Club located on the Bay of Islands. He was racing her single handed in August, 2008 and, approaching the finish line, Perry had a heart attack. Tiana finished but race officials noticed Tiana drifting at the mercy of the wind and tide after crossing the line.. Boarding her, they discovered skipper Perry in the throes of a fatal heart attack.
When your webmaster first heard of this story I was not sure about how to handle it. I was told that a man by the name of Ray Douglas brought Tiana back into her slip. Three other people have told me parts of this story, one with a comment that struck me - paraphrased "that's the way I wanna go!". Thoughts like 'Tiana took him home' passed through my mind. Boats can do this to you...One of the rewarding parts of doing this website is the stories I hear about people and their boats. This is a bittersweet one.
Anyway, this story was incomplete, still is, and at the time I did not want to jeopardize, from 12,000? miles away, her finding a new home. So I did not include this story on Tiana's website page. I wanted her to be sold to someone who wanted her at least in part because of this story, and I wouldn't want her to go to someone who wouldn't want her because of this story. Perry's daughter sold her to Jann and Derek Dawes, a pair of transplanted Brits with a love of boats and some serious boat knowhow. They changed her name to Spirit and proceeded to bring Tiana back to where she belonged - a beautiful yacht. She was lucky, and so were the Dawes. The Dawes were re-transplanted back to the UK and she was again for sale. Tiana's and Perry's story may have been known by some locally but it was not to our website community - until now. Current owner Wendell agreed it was warranted.
An article about Perry and Tiana appeared in the Northland Age on October 8th, 2008 - click here to go to it.
The story of Tiana's restoration can be found on Spirit's page - click here to go there.
***************************************