April 4, 2012. DFI Mark Spruell (Yankee #203, Paradiso) sent in the following report (edited). Finding this one may take a while...
Hi Ron

When I was working on my boat last year at Ford Yacht Club in Grosse Ile, MI (Lake Erie), an oldtimer at the club told me that at one time there were 2 Dolphins at the club -- the other boat was called "Smashtray". Quite a name!


Thanks again for all your work on the site!


Mark

******************************************
April 24, 2012. Making good use of the 'webmaster network', we have learned from the webmaster at Ford Yacht Club that the owner of this boat was a Bill Lockwood.
Stay Tuned
June 5, 2012. Thanks to the help from the webmaster at the Ford YC we have heard Bill and Diane Lockwood and daughter Megan (crew). Here is Bill's email (minor edits)
Re: Yankee Dolphin sail number 235 SNASHTRAE. Purchased from dealer in Port Huron, Michigan in the early 1970's (can"t remember dealer's name). Chosen for cruising and racing in western Lake Erie because of the design of Olin Stephens. I was very successful racing in MORC and PHRF.

Had the boat in my possession for five to six years before I sold it. Needed a larger boat for a growing family and was sorry I had to sell it.

Bill Lockwood
It was not unusual for a boat's hull # to be used as its sail number - a quick check of our Roster by hull number found Bill Sonntag's Yankee #235 FOR SALE in Eastpointe, Michigan. Bingo!! We'll take a leap here and connect these dots - they are the same boat.
Megan sent in a photo - with a note apologizing for Snashtrae being the boat behind. She may be behind but is certainly ahead on corrected time!!
Until we get a better close up of Snashtrae we'll use the following photo from Bill Sonntag's ad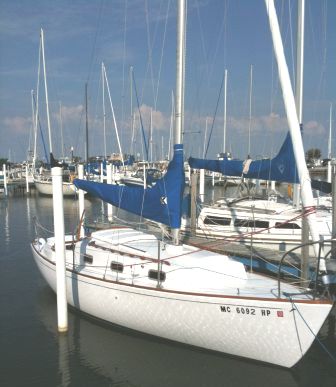 We are standing by for more information and hopefully, more pictures. Stay tuned
***********************************
June 14, 2012. We got the following update from Megan and her Mom (minor edits)
We bought the boat in '71.

The name came from experience on previous boat where some of the crew members (who all smoked) sometimes failed to get their ashes over the side. This caused the skipper to exclaim "What do you think this (the boat) is? A g__ d___ ash tray?! So Snashtrae is a contraction of "it's an ashtray".

We took delivery at Stevens Marina in Port Huron. I think the boat was sold to someone from Crescent Sail Club in Lake St Clair.

************************************************
June 17, 2012. Further update on Snashtrae from Bill
The origin of the name came from a couple of friends who came aboard and treated it as an ashtray after I spent all morning cleaning it. I got upset with them flicking ashes and said what do you think, this is an ashtray? Thought it was a good name for the boat, so changed it up to Snashtrae.

The year was a guess on my part so it may very well have been 70 or 71. The hull number I believe was 235. The boat was brand new when I purchased it.

I traded it in when I bought Trigamy, a Pearson 10 meter custom. I believe this was at the Toledo Beach Marina somewhere south of Monroe, Michigan on Lake Erie. The Dolphin ended up in the Gibralter Boat Yard In Michigan where I did see it but do not know who purchased it. Don't know if the name was changed.

Sorry do not have any pictures handy. If I find anything else out, I'll let you know.

Bill Lockwood