November 25, 2016. We missed this one - Silver Sage was sold March 25, 2016. Still waiting for the new owner (Robert) to check in.
FAIR WINDS BRIAN
******************************************************
March 2, 2016. We got an up date from Brian. Silver Sage is For Sale.
Hi Ron

I just put Silver Sage up for sale. She is here in Corpus Christi Marina on the hard; asking $5,995; more details on

http://sailingtexas.com/201601/sdolphin24101.html

contact is agent, Guy Le Roux, (361) 882-7245.

Brian


Dolphin 24 by Yankee Yachts, 1968


Dolphin 24 built by Yankee Yachts, hull number 100 for sale. This venerable design was design #1497 from the catalog of the renowned yacht design firm, Sparkman and Stephens. Famed designer Olin Stephens was quoted saying that the Dolphin 24 was, "One of our best designs".

| | |
| --- | --- |
| | |

>Shoal draft keel-centerboarder with 2' 10" draft (board up) and 5' 2" (board down).
>Solid hull and deck. Heavy hand laid-up fiberglass
> Mainsail in fair condition. Newly refurbished 150 Genoa on Pro Furl roller furler. >Working Jib good condition
>Halyards run aft to Spinlock Line Clutches
>New Standing Rigging in 2014 (also new halyards, boom vang)
>Tiller Tamer
>Evinrude 8hp Outboard with two 6 gallon fuel tanks
>Original Danforth anchor. Also small "picnic" folding anchor
>Original Corsair Danforth/White Compass; new Ritchie Trek lighted dial compass
>Exide Dual Purpose 12 volt Battery
>Marine VHF 156-162 MHz Radio(still in box); Shakespeare Galaxy Antenna, wind vane mounted on antenna
>Rule 360gph Bilge Pump with new Rul-A-Matic float switch
>Wedgewood Vision 2-burner stove with new LP tank
>Miscellaneous Safety Equipment
>Telescoping boat hook. Gunwale mount boarding ladder. Genoa track/slides. Cockpit cam cleats. Fenders. Misc. lines, Hardware, Flag pole, Paddles, small Folding Table etc
>Original sales brochure
>Brightwork needs TLC
>Trailer included but not viable for road transport

Email Guy at saylinfun@yahoo.com or phone 361-882-7245

***********************************

******************************************************
July 15, 2011. Brian Nilsson checked in as the new owner of Yankee #100. His email is below. We are standing by for more information about See Ya Sooner, and some pictures.
Hello, Ron.

I'm Brian Nilsson, new owner of Hull #100, "See Ya Sooner" ... bought from Chris Brown in Taos, New Mexico. I signed up for the newsletter, and would like to be added to the Members roster for the website. I'll also register for the forum and fill in the info, but I didn't know if I needed to be official first? Anyway, looking forward to the association with other owners.

Thanks

Brian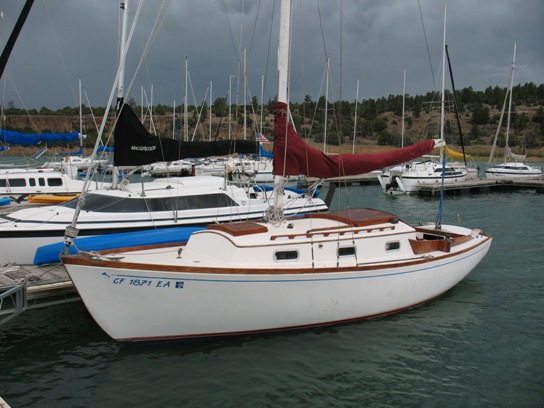 Hi, Ron,

Here's a pic of my #100 in water at Heron Lake, at New Mexico Sailing Club Marina ... I must say she's the sexiest boat in the marina.

Brian
July 28, 2011. Brian's been working hard as his picture above indicates. Yankee #100 is also a good example of the work that our tireless Dolphin Field Investigators (DFIs) do. We first found out about this boat in November, 2008. DFI Brian Henderson started it off with a field report (minor edits). The continuing trail of discovery is below. And, #100's new owner also joined the ranks of DFIs with a report locating two previously unknown Dolphins #142, and #152. Click on the hull numbers to go there.
****************************
Here is the trail -
November 12, 2008

Hi

My name is Brian Henderson; I have a DeFever 38 in Marina Cortez, San Diego. Delphinidae is a couple of docks down from me. I have always admired the Dolphins and wish I could fit in one, but I just don't think a Dolphin is in my future as I am a large, stiff jointed old guy.

Nevertheless, I am currently on "vacation" in San Carlos, Mexico (a resort area just north of Guayamas, Sonora) and have spotted a couple of Dolphins. One is hull # 100 owned by Tom and his wife, whose name I do not remember. It is docked three boats down from the guest dock I am staying at (on a friends boat). I talked to Tom and he should be reporting in to this site with some info on his boat, so I will say no more about it except to say that it is a very nice and clean looking little boat.

In the dry storage marina nearby (Marina "Seca") is hull number 238. It appears abandoned and is on a kinda rough trailer with flat tires. The companionway boards have been removed and there is about a foot of water inside. No name on the transom. Mast is down. Looks quite restorable, but would require quite a bit of work. I have heard that it was in this same condition 5 years ago. Trailer is licensed in Arizona and the boat has regatta plaques from 1972 and 1973 mounted next to the hull number plate. I have pictures of the boat and will send when I get home to my own computer in San Diego in a couple of weeks. I have not contacted the marina management to see if they know any more about this boat

.Brian Henderson
***********************
March 7, 2011 Senior DFI Jonnie Walker (Yankee #227) sent in the following report (edited)
Hey Ron!

Hope the winter is treating you well...it was 80 here today. Over on Sailfar.net there is a guy who was cruising the Med, sold his boat there and flew to the Sea of Cortez...(La Paz maybe?) in Mexico. He bought a Southern Cross 35 and is working on getting it cruise ready. He noted on the SailNet thread that the other day he went for a day sail on...

" a BEUTIFUL little SailFar -style boat An S&S design 1969 vintage Dolphin 24 with a centreboard, trailerable."

I posted a question and asked the hull number...he posted back and said he thought it was #100 - which would match the website's story of #100 cruising in Mexico. Here's the thread http://sailfar.net/forum/index.php/topic,1099.100.html, and his blog http://svnanna.wordpress.com/

Thought you should know.

Jonnie
Someday, we have to get Tom to check in...
*******************************
April 5, 2011. Senior DFI Jonnie Walker reports that he had another SailFar Forum exchange with "Chris" who has the Southern Cross 35 and went sailing on #100. it produced the following additional information.:
"The owner I met and sailed with is named Chris. He bought the boat in San Carlos a few months ago I think. He's based in New Mexico. Nice guy too."
So it seems that Tom and his wife sold the boat to Chris a few months ago. Someday, we have to get Chris to check in. Stay tuned...BTW, this San Carlos is the one on the Pacific Coast/Baha.
****************************
June 27, 2011 - Chris has checked in (minor edits)
Ron...I am the Chris that now owns Hull #100. I ran across the entry that you hoped I'd check in. I now have her in Taos, NM. Her Name is See ya Sooner.
Chris Brown

*******************
March 24, 2012. Ok, let's get back on track. See ya Sooner has her own page now - click here to go there. We got the following email from Brian - minor edit
Hi, Ron ...

Thanks for the earlier info. You were right, the major leak(s) are in the cockpit drains, which I'm replacing. I am now in Corpus Christi, TX, with the boat and have renamed her "Silver Sage." I will have her at the Corpus Christi Marina and plan to get her sailing in the next couple of weeks.

Thanks again.

Brian
Webmaster Note: Brian and I had an exchange about a major leak problem he was having. This might be of some interest to others so this exchange has become a start on a new page in the Technical Section - Leaks. Click here to go there
****************************
August 31, 2015 Your webmaster was following up on leak problems for another Dolphin owner and stumbled across Brian's exchange on this subject. I noticed it has been a while since we've heard from him - so we checked. Here's his reply - edited. (Jerry Slaughter, ROWDY, also in Corpus Christie, basically told me the same thing - too hot to sail....)
Hi, Ron ...

Yeah, it has been awhile. I'm here at my ranch, Silver Sage, North of Taos, New Mexico. In summer its cool here. I go to Corpus Christi and sail "Silver Sage" in winter. ... Works out.

Brian