February 28, 2009 - The 2009 Memorial Edition of the Sparkman & Stephens Association Yearbook arrived in the mail today. One of its feature stories is about Dick Beals and Think Big, the story that first appeared on our website - thanks to Doug Pease (Aspara)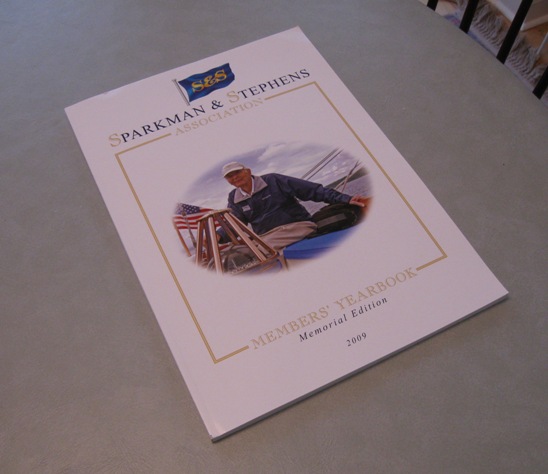 The Yearbook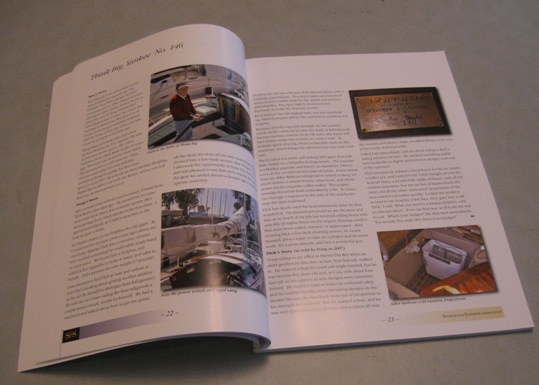 Pages 22-23, first 2 pages of the 3 page article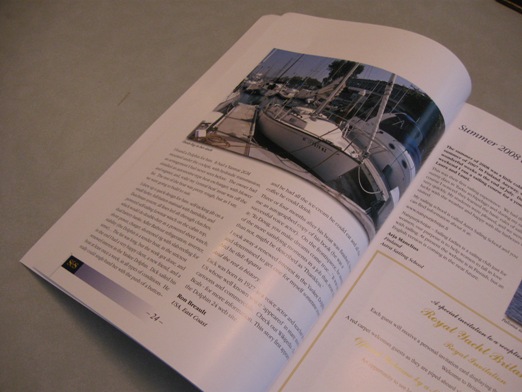 Page 24, 3rd page of the article
Bruno Taylor, the editor of the Yearbook, and Treasurer of the S&S Association, and based in the UK, contacted members in late 2008 for suggestions for feature stories in this yearbook - much of which was going to be devoted to the life and passing of Olin Stephens. Your webmaster suggested our story about Dick Beals and his Think Big, Yankee #146. There were some small editorial changes but it is largely unchanged from the version on the website. If you have not read it you have missed a great story - about a man, and his boat. Click here for another chance.
Think Big was in good company - among other feature stories was 'The Restoration of Tenacious" Ted Turner's winning boat in that infamous 1979 Fastnet Race, later Warren Brown's War Baby, whose circumnavigations and high latitude cruising won it the Blue Water Cruising Medal from the Cruising Club of America. The 61' aluminum 1971 S&S design is being restored at the Stofberg and Sons yard in Enkhuizen, Netherlands,
The new owner, Jan de Vires, who lives in the Netherlands, had long been interested in buying this boat. In July, 2004, while attending the 75th anniversary celebration of S&S at Mystic Seaport (we were there and memorialized this event at http://www.dolphin24.org/stories, S&S 75th), he met with Warren Brown and he bought her. War Baby had just crossed the Atlantic to be at this event.
The Sparkman & Stephens Association has members all over the world who own and have restored some of S&S's most famous designs, like Finisterre, Dorade and Bolero, to name a few. The organization is especially strong in Europe where many of these S&S classics have been restored. We have them on our Links page. Click here to go to the S&S Association UK/Ireland website.
***************