On this page we will try and accumulate information on refinishing your spars. Our first posting here came into our Forum from Dick Galland, former owner of Kestral, in response to a question on this subject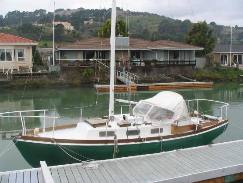 I had an O'Day Dolphin in the 70's and painted her mast and boom white. Can't recall the details. Then I bought a little 16' swing keel day sailor. Her mast had been gouged somehow. I had the gouge welded up and sanded smooth. Then I sanded the whole mast and boom with moderate grit sandpaper, to remove burrs and scratches. I acid etched the aluminum with a product from West and painted both the mast and boom by hand with a brush. I seem to recall that I put two coats on. It worked very well. I wouldn't hesitate to recommend the process. Hope this helps.
Dick Galland, Kestral
To see a larger image of Kestral, click here.
***********************************
The following post came from the Wooden Boat forum from a guy who seemed to know what he was talking about. Its quite a read but worth it.The subject is painting to achieve buff color spars but presumably applies to any color.
advadv@mindspring.com on October 25, 2000 at 12:19:27:

I read the previous reply and am familiar with the product and technique suggested. If you are interested in a much more durable application that is admittedly more time consuming may I suggest what my experience has been with the spars of my two Cape Dory 10 and Cape Dory 14 catboats.

My information comes from what is successful, long term, in painting aluminum aircraft and aluminum outdoor signs where the job has to last.

The problem begins with the fact that as far as paint systems for metal are concerned, most metals- steel, iron, are cathodic surfaces and that's what paint is formulated to stick to. Aluminum, brass, galvanized steel, and zinc are anodic and paint adherence is poorer.

Painting aluminum successfully involves two steps-surface prep, and then the painting. Both are equally important, but successful prep is really pretty easy. If you are dealing with mill finish aluminum, it's easier, but I doubt that you are. Virtually all spars OEM furnished are anodized clear, gold or black finish to prevent corrosion. That's the buggerbear - anodizing also limits adhesion. I've tried all the short cuts and variations of the steps listed below so forgive me if I sound like the Voice Of Experience here, but if you don't want to see your nice pretty paint chip where the jaws rub the mast or where the mainsheet block strikes the boom, you've got to do the system.

J boats, Melges, Pearsons, et al., that come with factory painted spars that hold up terrifically well in hard racing use and salt water all start with bare aluminum. You'll have to wet sand all the anodized surface of the aluminum away- a good 3 or 4 thousands of a inch deep.

Go to an auto body paint supplier and get a conversion coat treatment kit. This is going to convert the anodic aluminum surface to a cathodic one for MUCH BETTER paint adhesion. I like the DuPont brand. You'll get two bottles. All you'll need is a pair of rubber gloves( dishwashing gloves are fine) and a cheap sponge you'll throw away. The first bottle is mild phosphoric acids etch solution you'll wipe on and rinse off. The other bottle is a zinc chromate solution you wipe on, let stand, and then rinse off. It will leave a greenish yellow stain on the aluminum. Remember aircraft frames - they are all primed with a yellow green color- not because the military likes the shade- it's the color of zinc chromate aluminum primer.

The auto paint store can sell you an aerosol can of special gray primer for ALUMINUM surfaces to be used instead of the above conversion coat. I've used it too. It's quicker, cheaper, and second best. I wouldn't use it again myself.

For painting, the big boys spray. Use a two part epoxy primer (DuPont Corlar) and a two part polyurethane (DuPont Imron). Both are expensive and toxic - you need to use a good respirator but you will duplicate factory looks and performance.

More practical is to come as close as you can rolling with a foam roller and tipping off with a foam brush - a made to brush, consumer, not professional product. I urge you to first sand off the anodizing and do the conversion coat procedure. It is affordable, requires no tools, and no special skills.

Back to the boat store. I too like the Interlux line. They have a two part, two quart, epoxy primer 2100/2101 at $41.00.The single part Brightside Primer at $18 a quart will do, but again you are sacrificing adhesion and durability. The top coat is again, for first choice, a two part polyurethane. It's safe to use if you're not spraying, but I still recommend wearing a respirator. About $60 at the auto paint place. It'll have two charcoal filters. If it's working right, you won't smell ANY vapors. They're that good. Isocyanite activator is poisonous. That's what killed hundreds of people in India when the Union Carbide plant had a accident venting to outside air. It will arrest your breathing as well as cause nerve or brain damage. It can be handled safely by an informed amateur, just like a power tool or car, but don't fool around. This is not like getting light- headed on lacquer fumes from a spray can and getting a headache. Outside, fresh air, not in a garage or basement with a water heater or furnace pilot light to ignite the fumes. Even if you go the respirator route, the fumes will still be there even if YOU can't smell them. Safety First.

The problem is getting a good buff color at the boat store. Woolsey makes Grand Banks beige two part polyurethane but it's not a traditional catboat color. You can get a custom mixed brushable two part urethane from a Sterling paint dealer, probably $85 to 100 bucks with activator. If you're not leaving the spars exposed to the sun but under a boat cover like I do, you can do what I do, go to a Pratt & Lambert " house " paint dealer and get their industrial "Palgard" epoxy coating and gloss activator in shade 1-159, about $35, almost a perfect match for the Interlux one part Brightside Sun Down Buff which is the name that replaced spar buff- guess it sells better now that there are so few wooden masts that the hardcore wooden boat crowd would want varnish anyway. Of course you could top coat with the single part Brightside Sun Down Buff (The Brightside Buff is on my 15'Joel White wooden MarshCat catboat deck and it looks great- but- you can scuff it with a fingernail and two part polyurethane is actually harder ( but not thicker ) than gel coat. Again, the cheaper and easier sacrifices durability.

Buying a two quart epoxy primer and a quart of top coat is going to give you enough product for three sets of spars your size , and if you go the full etch, conversion coat, epoxy primer and custom color two part polyurethane route, you've spent $175 on materials, let alone the respirator. If you're doing three boats at a go like me, it's not so bad, but for just one, maybe the boat store paint makes more economic sense. Still, if you do it yourself there's no yard labor charge.

Well, now you know what specifics and products, I can tell you from my own experience – if you follow all the label directions, you'll get a great looking job- you just need to consider how long it will last. The aluminum rudder and Honda outboard on my 22' sailboat were painted with the full prep and prime procedure on the bare aluminum, and a wet sand only on the blue factory paint of the Honda, top coated with white DuPont Imron polyurethane in October of 1973. They have both been in the sun, and the boat in the lake here at Lake Lanier in Atlanta ever since. They have only been washed occasionally with soap and water with a terry cloth towel, never waxed. The motor has a tolerable few nicks along hard edges from being handled on and off the mount for trips to the shop. Nowhere has the paint lifted or blistered. What little oxidation occurs washes off leaving a good, if not original "wet look" gloss, far more than the occasionally compounded white gel coat hull. Going on 24 years now, that recommends the effort and expense using of the professional auto paint materials was well worth it, don't you think?

Of course, the clear anodized spars have only seen rainwater and still look great too, only a little hazy. But then they aren't buff.
Good Luck.
Buddy Sharpton
---
`