On November 17, 2008 Fred sent in some pictures and sketches on how he raises and lowers Thankful's mast. Here is his email (edited)
"With too much volunteer help raising and lowering the mast always turned into a dangerous Keystone Cop routine. I therefore decided to rig up a gin pole to make it safer and easier.
A previous owner was elderly and had installed a boom sprit with anchor roller to make retrieving the anchor easier. Now that I am more appreciative of the lines and design of the Dolphin this is sort of like putting a tongue depressor into the mouth of a beautiful ballerina but what is done is done.

I decided that using the trailer winch and anchor roller with the gin pole would make lowering and raising the mast a one man job and it worked.
Using a little trig and scrap wood form the Peaks Island transfer station I made a 7 foot gin pole that could be lashed to the mast approximately 6 feet above deck.

At left is a close up of the gin pole support pad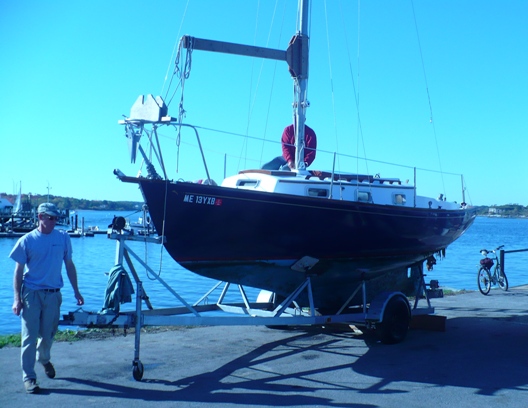 Ready to go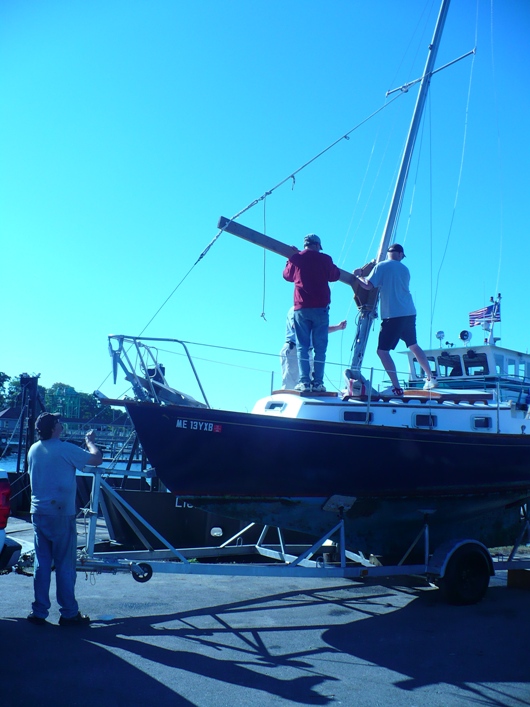 We looped a line around the mast above the spreaders and tied it to a pre-made loop on the far end of the gin pole gin pole and ran the winch cable over the anchor roller to another pre-made loop also on the end of the gin pole. We then released the port and starboard shrouds and winched the mast down with finger tip ease.

Webmaster Note: It did not escape the sharp eye of your webmaster that there are 4 people involved in this maneuver. A follow up email to Fred produced the following reply "Yes, I did put the mast up and down by myself last spring to try out the gin pole system while Thankful was still in my yard. The mechanical advantage of the gin pole provides is truly amazing'"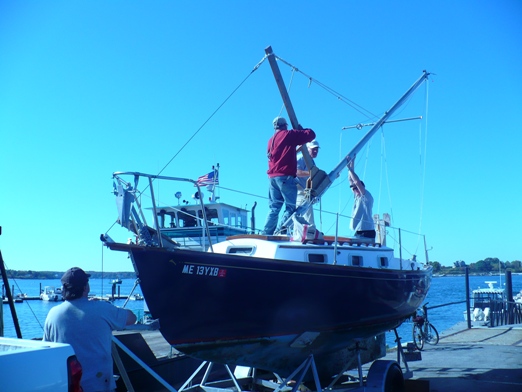 Fred sent in 2 hand drawn sketches. Click here to see them
***************************************
Check out the Technical Section for more pages related to Mast Stepping, Tabernacles, Hinge Plates and related.
August 16, 2013. Fred sent in the following email and photos of Thankful's mast step at the request of Jack van Zandt who getting organized to adapt Fred's system to his Yankee #150, Wanderlust.
Jack,

I have attached pictures of my mast step. I did not launch my boat this year and she is still under a trap.

The masts step is a 3/16 bent stainless plate with slots for the pin, connection for the down haul bail, and it has 4 through bolts holding it to the deck.

Note - instead of simple holes for the pivot pin (Bolt) there are long slots. I have found that the bolt must be loose enough to ride up and down in the slots when raising the mast or it binds up.

Fred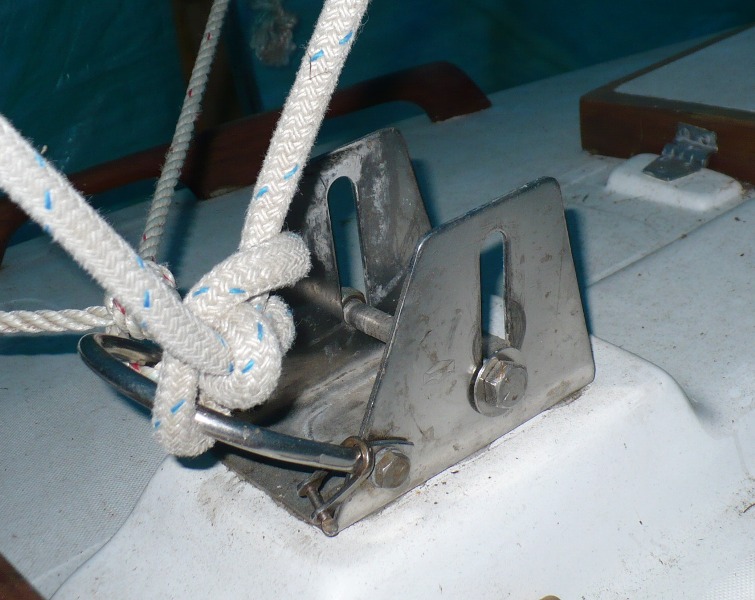 ***********************************
June 8, 2014. Clinton Hodges, Windswept Too used a similar system.
Clinton sent in some pictures of his mast raising system, without any descriptive text. We'll post the pictures and standby for some detail description.

He is using a gin pole system similar to one Fred Gougen uses on Thankful. At left is a picture of the gin pole.

What we want to know is how did the mast get to the position in the picture above?

And, what is the line from the end of the gin pole tied to?

Stay tuned

************************************