Fred checked in with Thankful on July 20, 2007. In June, 2008 he sent in the following emails (consolidated and edited by your webmaster) and these photos of Thankful. He is working on identifying another Dolphin found under wraps on Peaks Island.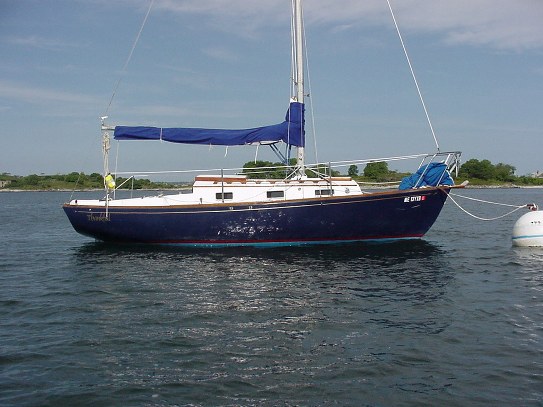 Dolphins look good in blue, don't you think?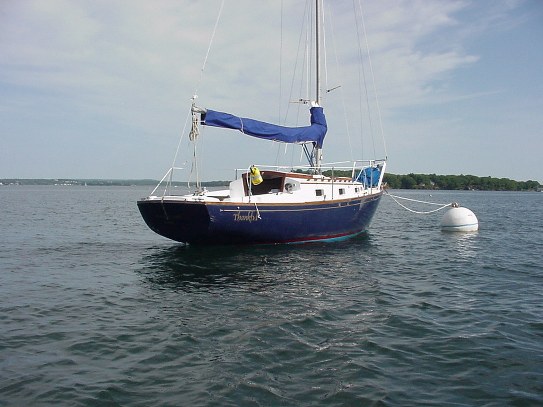 Ron,

I keep my Dolphin "Thankful" on a mooring off of Torrington Point, Peaks Island in Portland not far from the ferry landing on Peaks.

Here are a few pictures of my boat Thankful. The other Dolphin on Peaks was completely tarped over so I did not take pictures. I found out the first name of the owner - "Walley" - but have not yet made contact.

Webmaster Note: November 24, 2011. Contact!! Aurora, O'Day #76 Click Here

Sincerely,

Fred Goguen
***************************
November 17, 2008. Fred sent in some pictures, sketches and and some information on how he raises and lowers Thankful's mast. This can be seen in the Technical Section - Masts and Related - click to go there. He also gave us some history.
"My wife Cheri purchased "Niantic" Pacific Dolphin Hull # PDM242410767 on E-Bay from Andy Johansson in August 2006. Cheri had read the article in Good Old Boat and had decided that a Dolphin would be the perfect boat for us and she was right. We had "Niantic" trucked up from Barnagat Bay, NJ to Portland, Maine and sailed her over to our mooring located off of Peaks Island where we live. We performed the renaming ceremony and "Niantic" is now "Thankful"

At haul out time that fall 2006 I had found an inexpensive trailer near by on Craig's List that is a little undersize but works since we only have to haul Thankful about a 1/4 of mile for spring launching and fall haul out."
Here is a picture of Thankful on her trailer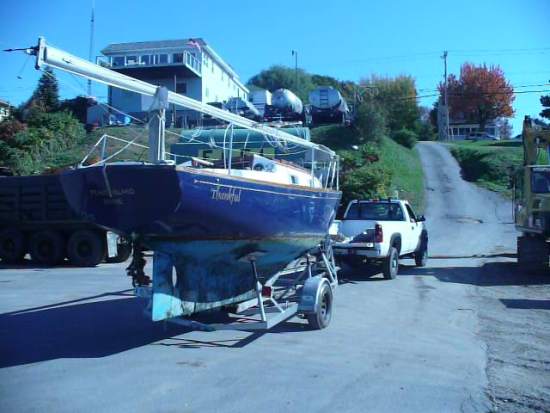 *********************
November 21, 2008. Your webmaster spoke with Harry Avery today. He is a prior owner of #261 and when he bought her in 1998/99 she was in pretty poor shape. He restored her. Click here to go to his story. We have not been able, as yet to talk to Andy about Niantic.
********************
November 24, 2008. Fred sent in the following email about Thankful's Vire inboard
Ron,

I pulled out the Vire 7 and gave it to Ron Shaw on Peaks Island. Ron Shaw is an old Mainer. I knew Ron was familiar with Vire engines because Ron had purchased a new Vire engine in 2001 and installed it into a small Friendship sloop . Ron soon tired of the Friendship sloop and sold the boat. Since I knew that Ron was familiar with Vires and mine had a corroded carburetor I gave it to him.

Ron got the Thankful's old engine all clean up and running like a top and traded it to another old timer up in Ellsworth for a cast iron marine stove. I am using the old 5 HP Honda outboard that came with the boat when I bought it from Andy.

By the way that two cycle Vire had deposited gooey substances never before seen by man into the bilge. I had a heck of a time trying to clean Thankful's bilge

Fred
*****************************
February 11, 2009. Fred sent in the following email and pictures of the galley he built for Thankful - minor edits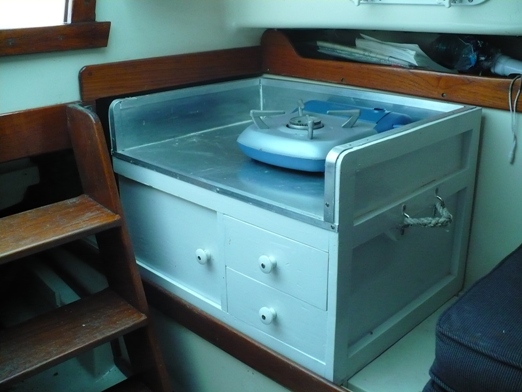 Ron,

Thankful did not come with a galley or cabinets like I see in other Dolphins, but she did come with 2 slots molded into the surface of the port berth / seat. The slots start at the forward end of the fist cushion and end under the cockpit.

My wife Cheri and I only go cruising for 2 or 3 days at a time and she would complain that she did not have a surface to put down hot pans when trying to prepare simple meals on our little camp stove. And she did not have any convenient storage.
Last winter 07/08 I decided to build a simple cabinet with a metal surface. I figured that it would be a trial unit and therefore used scrap lumber and an inexpensive sheet of aluminum figuring that we would want to make changes once we used it for a while and I would make a final unit from better materials.

It has worked out so well I have just painted it white and plan to use it for the foreseeable future. (For a galley sink Thankful uses a plastic basin that stores in the sliding door section, and a jug of fresh water).
I put rails on the bottom of the cabinet that fit the molded slots in the berth. The rails stop the cabinet from falling forward when pulled out ( I would not trust this in heavy seas).. The rails also prevent the cabinet from sliding to far aft since the slots end under the cockpit. When the cabinet is slid back under the cockpit in its stored position the seat cushion locks the cabinet it in place. The cabinet is also high and wide enough that when slid back it is held in position by the edge wall of the cockpit.

Fred
Webmaster Note: This submission by Fred is also included in the Interiors part of the Technical Section with more and larger pictures. There are other sliding galley versions as well. Click here to go there.
*********************
November 2, 2011. Through an oversite we forgot to include a Thankful detail on this page. Here is the excerpt from a November 6, 2006 email from Fred.
| | |
| --- | --- |
| | A previous owner was elderly and had installed a boom sprit with anchor roller to make retrieving the anchor easier. Now that I am more appreciative of the lines and design of the Dolphin this is sort of like putting a tongue depressor into the mouth of a beautiful ballerina but what is done is done. |
| | |
| --- | --- |
| | November 24, 2011. Fred advises that Thankful is now homeported at Potts Harbor, Harpswell, Maine. This is further east in Casco Bay, at the tip of a long peninsula, with an appropriately named Dolphin! marina and restaurant. Some years ago your webmaster sailed Marionette from Connecticut to Maine, and had a spectacular all day sail up the Bay of Maine, mostly under spinnaker, from Cape Ann to Casco Bay ending up at this harbor and marina. |

************************
August 16, 2013. Fred sent in an update to Thankful's mast raising system with photos of her mast step fitting. Click here to go there.
*******************************
June 20, 2016. It was coming up on on 3 years and we are Thankful that Fred sent in an update.......
Ron

All is well.

I am in the process of repairing Thankful's hatch cover so she is still in my yard. She will be moored in Ash Cove, Harpswell just up the cove from the Dolphin Marina. If on your way through you happen to stop at the Dolphin Marina give me a call.

The website is phenomenal !!!

Fred
Webmaster Note: In our continuing effort to better know our Dolphin sailing areas here's some help from Google Earth.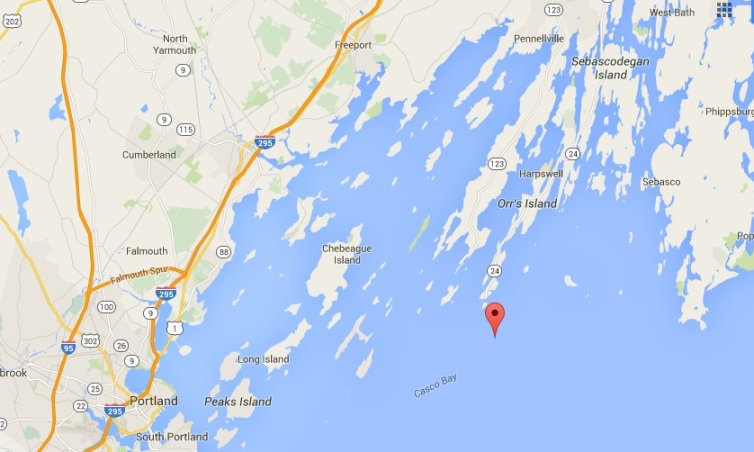 Gulf of Maine here

***************************************************************
October 28, 2016. We got a tip from Fred that there was a previously unknown Dolphin For Sale at Mere Point, not far from where Thankful is moored. Her name is Playful Dolphin - she is our 225th Found Dolphin - click here to go there.
In recognition of Fred's efforts the Board has conveyed the DFI badge on Fred, and thanks him. Click here to check out the details of this award.
****************************************