September 30, 2013. This subject came up with Jerry Slaughter as he was restoring ROWDY, Marscot/O'Day #5. He was repairing the quarterberth panels and some of the framing underneath that had rotted - details are on ROWDY's page.. We encourage others to contribute their experiences and comments.
Below is Marscot/O'Day #12, Marionette's starboard quarterberth. We do have quarterberth cushions but after the first couple of years we rarely used them - only when there is an overnighter with more than 2 aboard.
The space in both quarterberths is used for storage of sails (4/5 bags - working jib, blade jib, 140 heavy jib, 170 light jib, spinnaker), rigging lines bag and docking lines bag, main sail cover and hatch covers, companionway door slides, fender board, whisker pole, auto pilot, tiller extension, sometimes the life jacket bag, the lifesling, the spare outboard motor, etc., etc.

The cushions make it harder to slide these things in and out of the space, but more important, the bottoms of the cushions get damp from condensation dripping down from the hull sides. Drying the cushions out by tipping them up on their sides is impossible without removing all the gear on top of them.

This not as big a problem in the V-berth as the cushions are smaller

click here to see more

This condition may be a New England summer phenomena - 60/70 degree water and 80/90 degree high humidity air but condensation is a real problem.
Below are the cushions for Marionette and Passage, Marscot/O'Day hull #10
Marionette's quarterberth cushion above, Passage's at right. The bottom of Passage's cushion has a waterproof material with tiny square impressions. Both cushions are 4" thick and tapered on the outside edge to conform to the hull shape as you go aft.

Dimensions are 27 1/2" at the head, 15" at the foot (top of cushion - optical illusion at left makes foot look bigger) and 6'4" long.

We don't have any experience to report with Passage's cushions, as, alas, she is still undergoing her resoration.
Passage is a 'standard' Marscot/O'Day fiberglass hull/deck/house/cockpit construction with an inboard whereas Marionette is a 'hybred' - a fiberglass hull but otherwise all wood with a watertight bulkhead that separates the rear of the quarterberths from the transom locker that houses an outboard well and fuel tanks. That bulkhead is about 18" aft of the end of the quarterberths. Passage is open down below all the way to the transom - presumably, so is ROWDY.
Below is a picture of Marionette's starboard quarterberth.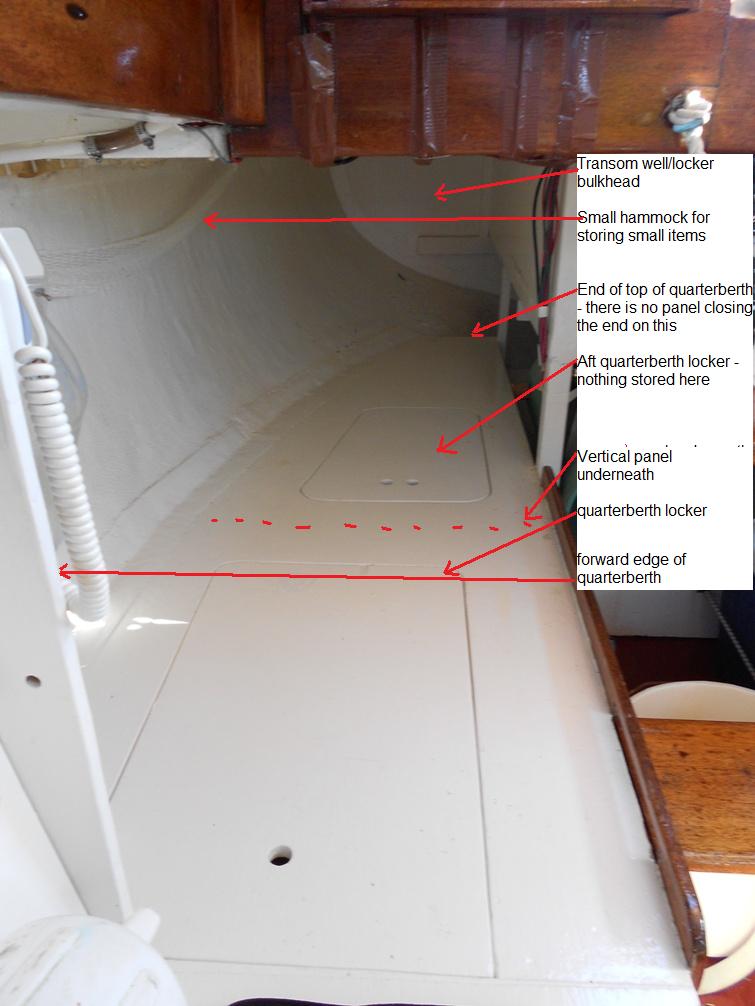 On Marionette, on both sides, there is a large locker under the forward part of the quarterberth with a vertical panel separating that locker from the aft locker located under the quarterberth aft.

On the starboard side this locker houses the battery, battery charger and cables, an electrical distribution board, and the depth sounder - click here to see this locker and more details.

In the port side large locker is the spare anchor and rode bag, and odds and ends. In both quarterberths the aft locker has no vertical panel at the aft end - it is open. On Passage, there is a panel closing off these locker aft lockers.

On Marionette's port side, this aft locker space under the quarterberth is used for a 10 gallon flexible fresh water tank.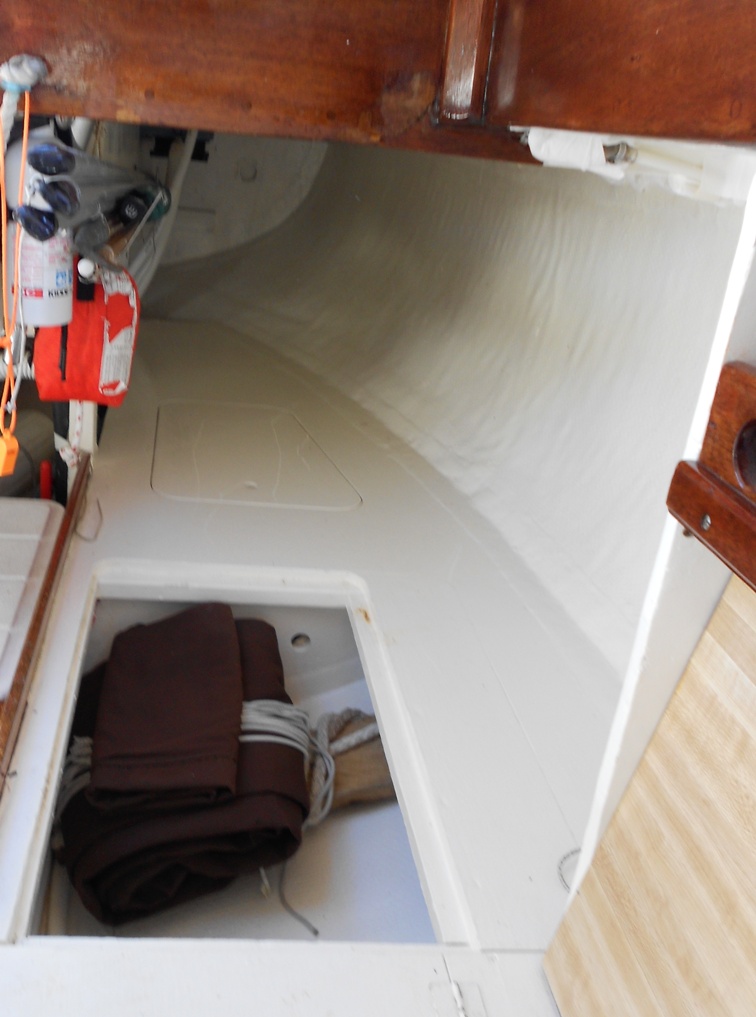 Marionette's port side quarterberth - boom tent fly and bosun's chair in large locker
Stay tuned