On this day 4 years ago, March 26, 2007, the home page for this website was put up on the web. Thanks to content provided by present and past owners, and others interested in Sparkman & Stephens Design #1497, we have nearly 2000 pages up on the website organized into the various Sections - Rosters by name and hull #, History, Technical and Stories. The Roster indexes by name and hull number are filling out with more than 250 boats identified of the 400 or so Dolphin 24's, New Zealand S&S and Falcon 24s, and Shaw 24s built. With the help of our DFIs - Dolphin (and DownUnder) Field Investigators- we someday may get them all. One of the most interesting sections is Stories which shares our personal experiences with these boats. Please keep them coming.
We have finally organized to get the Google Analytics software so we can analyze our website traffic. In a coming newsletter we will have a report, and will regularly update on the key variables. One thing we already know - all the search engines have 'bots' that visit every day multiple times - Google, Yahoo, Ask, Bing, etc., and they spend a lot of time on the site analyzing ...Segregating out these mechanical visitors and finding the real people visitors, and their interests, is an important step for us. Stay tuned.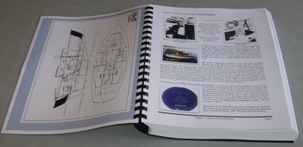 Newsletter # 7 announced our Dolphin24 website book on November 3, 2010. This 432 page tome was a driven by a lot of requests, particularly from those not Internet friendly, wanting to have a 'book'. We sold out the 60 books ordered, probably should have ordered a few more. One problem in having a lot of books around for several months was that the website is constantly being updated. The book cutoff date was October 25, 2010 and your webmaster did not want to 'flog' stale books. Thankfully, most of the books were shipped before Christmas. We gave 2 books as gifts - #1 to Miriam O'Day, George O'Day's widow, which one day, we hope, will end up in the Sparkman & Stephens collection at the Blunt Library/Mystic Seaport. Number 2 was given to John Shumaker, founder of Yankee Yachts. We have one book out on loan to Good Old Boat Magazine, and the other is our archive copy.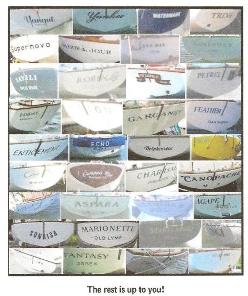 An interesting feature of the book was Chapter 11. Because of size limitations the book could not possibly contain all the website pages - in fact only about 20% of the pages up on the website were included - so Chapter 11 was conceived as way for book owners to customize their copy of the book by adding pages. Basically, one highlights and copies webpages that one would like and pastes them into a Word document. These can then be printed directly, in color, or manipulated/edited based on interest/skill level and then printed and inserted in Chapter 11, creating a personalized version of the book. Your webmaster's 'personal' book has 88 pages in its Chapter 11 - with its own index! I am aware of several different Chapter 11's having been developed. The picture at left is the last page of the book - the last words are 'The rest is up to you!" The Dolphin24.org Technical Assistance group stands by to provide help if necessary.
Some have expressed interest in the financial side of this publishing event. The short summary was we lost a little - revenue from sale of 56 books was $2754, costs to print/package/mail 60 books $2990; net loss $246. There were some minor additional learning curve costs but altogether, not bad. The biggest variable cost was printing - $2324 to print 60 books, including $76 for a proof copy - about $39/book. If we could have printed 100 books the per book price would have been about $10 less.
We received a lot of nice comments about the book. Click here to go to them http://dolphin24.org/newsletter_home.html
Its been a hard winter for many of us, and some have even had to deal with earthquakes and tsunamis. But now its time to start getting the boats ready. Let's get to work!
Ron Breault, webmaster
ps This and all previous newsletters can be viewed on the website. Go to the Home button and click Newsletter Archives http://dolphin24.org/newsletter_home.html. Pictures are generally excluded in direct email newsletters to reduce download time. Pictures are included, when indicated, on the version posted on the Website Archives.