Welcome to our new subscribers. We now have 112 on our mailing list. Our last newsletter was in December, '08 and a primary reason for this one is make sure I still know how to do it. You can view this newsletter, or any prior newsletter, by going to http://www.dolphin24.org/newsletter_home.html, or when on the web site, click the Home link at the upper left, and then Newsletter Archives.
As you read this you may click any underlined links to go to the subject underlined. To get back here click the back arrow on your browser.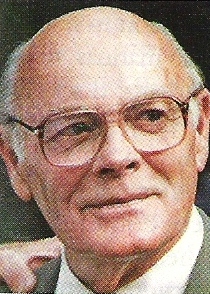 This summer of 2009 marks the 50th summer that the Dolphin 24 has been on the water. This date 3 years ago marks the passing away of Bill Shaw, a key player in the beginning of the Dolphin. His passing was a prime motivator for the development of this website. His page has been updated - click here to go there.
Our Rosters now have at least some information on over 200 Dolphin 24s, Mermaid 24s, the Shaw 24s, and the New Zealand built S&S 24s and Falcon 24s. Finding the remaining 150 or so will require the continuing support of our growing force of Dolphin Field Investigators (DFIs). We have them in several locations in the US including Alaska and Hawaii, and in Canada, France, the Netherlands, Croatia, Australia and New Zealand. There are 2 Rosters - by hull # and by name. Click here to check out the Roster Overview and the individual Rosters
With so much data on the website the dedicated search engine we have has been helpful to users, and also to your webmaster! If you have not tried it yet, check it out. It also has a direct link to Google's search engine if you want to continue your search outside the site. http://www.dolphin24.org/search.html. The website continues to be at the top of Google and Yahoo search engine results for Dolphin 24.
On February 2, 2009 we arrived - with our new Wikipedia listing. If you have not seen it click here to go there.
We have continuing reports that the For Sale section is working for both Buyers and Sellers. We need to keep it updated so if any of you have, or know of, a boat up there that has been sold, or know of a boat for sale, please let us know.
We are continuing to look for Rob Paige's Kiwi - Where are you? This boat has been to Hawaii and the South Pacific Islands. If you have any news about either Rob or Kiwi, please let us know.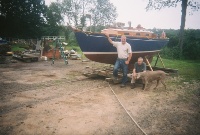 As many of you know a Mermaid 24 is a Dolphin 24 - in wood. We have been following the restoration of Kerry Lange's Kaloke, which was launched at her very special tidal yard in Stony Creek, Branford, CT on August 2. If you missed it, it's worth a visit. Click here to go to her launching.
If you have not already done so, putting http://www.dolphin24.org/whats_new.html in your browser's Favorite Places is a quick way to check out if there is anything new on the web site since your last visit.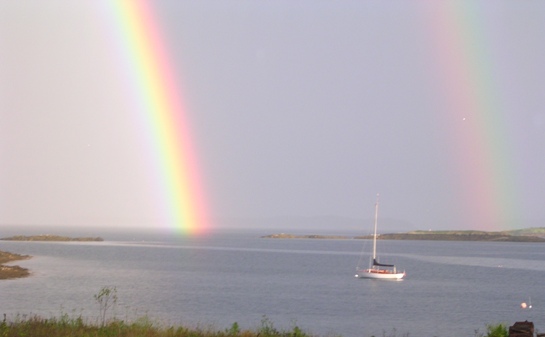 In August we have 'summer hours' so there was not much time to generate interesting content for this newsletter. In fact this newsletter is being issued from Weir Cove, Cape Rosier on Eggemoggin Reach in Maine. The above view out this same cottage window is of Marionette on her mooring at Weir Cove in 2008. (Sorry, could not resist sharing this one) For national security reasons the Admiral felt Marionette would be better guarding her homeport this year, but promises approval for a cruise back here in 2010.
Please let me know your comments and suggestions. Thanks for your continuing contributions to, and support of, the web site.
Ron Breault, webmaster (ronbreault@dolphin24.org)