September 1, 2020 - We got the following email from Joe Wilby
Ron,

With a heavy heart I am writing to tell you my current situation dictates that I part with my Dolphin, Ostara, hull #109.

The new owner, Trent Rogers, may contact you in the near future.

Thank you again for the great site and all the help the site has provided me

Best of luck

Joe Wilby

Click here for a larger image

FAIR WINDS JOE!

WELCOME ABOARD TRENT!

***********************

*************************************

************************
August 1, 2020 Senior DFI Steve Fruth brought this to out attention. Click the link below to go to the ad.
I saw this on Craig's list if you haven't seen it yet

https://ventura.craigslist.org/boa/d/ventura-yankee-dolphin-sailboat/7169122361.html

Yankee Dolphin Sailboat - $3000 (Ventura)

| | |
| --- | --- |
| | |
| | Stay Tuned |

*******************************************************************

October 14, 2016. Joe Wilby checking in as the new owner of Yankee #109. Below is his email and a couple of pictures. To find out about #109's prior life, click here.
Hello Ron,

I thought I had better check in with you since purchasing Terry Bullock's Yankee Dolphin # 109. I purchased the boat early in September and it is currently berthed in Ventura California.

I spent the last several weeks crawling through the spaces getting to know the boat and planning projects, however I did find time to go sailing a few times. I have enjoyed and appreciate the Dolphin site and the wealth of information you have collected from other owners. It's a real help with understanding the boat.

Thank you for the great service! Here a few pictures I have taken of #109.

Best regards,

Joe Wilby

PS: I plan on renaming the boat in the near future and I'll update your site when I decide on the name.

Welcome Aboard Joe!

***********************************************************
November 29, 2017. Staff thought we should check with Joe and find out what's happening - like maybe he took #109 to Hawaii? Here's his emails and photos (minor edits)
Hello Ron,

Well, to be honest, a cruise to Hawaii isn't in the cards for me, 15 years ago, sure. However, I'm having a great time here in the waters of Ventura CA with the offshore islands for my back yard!


The Dolphin keeps me busy, I have removed the oven, re-bedded the shroud anchors and continuing the work on the bright work, which is not one of my favorite activities! Having said that, I could not be much happier. This boat is just such a joy to sail. The boat is one of the most well managed designs to single hand that I've sailed and it has yet to bite me.

Here are pictures out around the islands this past summer.

I haven't picked a name for #109 yet but I'm leaning towards "Ostara", a Celtic maiden of spring.

Best to you, and thank you again for the web site.


Joe Wilby

P.S. If you get more interest in reprinting the Dolphin book, please keep me on the list.

Webmaster Note: We've got about 25 names on the list that want books, and it doesn't make economic sense to print less than 50-60. And, there have been so many additions, changes, etc on the website over the past 6+ years that an 'updated' edition would make more sense. Maybe, but no time, and no plans in the near future. BUT - IF ANYONE WOULD LIKE TO TURN IN THEIR COPY LET ME KNOW!! I KNOW SEVERAL PEOPLE WHO WOULD LIKE TO BUY IT!!! CONTACT RONBREAULT@CS.COM
Ok, first let's take a look at #109's sailing area and her islands - the Channel Islands off the southern Californian coast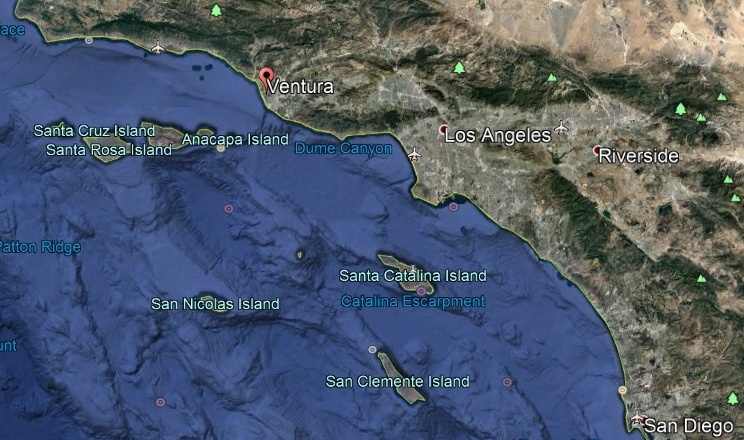 A Big Dolphin.......
All play and no work is no fun - here's the work -
I did not think I would ever use the oven so I removed it in favor of a sitting place and storage. It also allows for someone less than 6' in height to lay athwart ship to rest without handling the table. By the way, I also cut off about 5 inches from the table adding space for better passage in front of the "galley".

| | |
| --- | --- |
| The stove | The space |

Nothing is ever square or straight in a boat so the mock up (below left) was just to get the general idea of what I would end up with after removing the oven. The electrical box was there when I got everything out and it too was eliminated and the limited AC wiring replaced.

The cardboard mock up gave me what I needed to figure the dimensions of the parts but there is always need of a good block plane and a joiner plane to get things to fit. The shelf was eliminated as I found a better location for a small butane stove. The extra storage under the seat and behind the bench back is very welcome!

Next project time will be to remove several through hulls and look after the centerboard, which I don't use! These will have to wait until it time to haul out again.

Hopes this helps. Thanks for the interest.


Joe Wilby, 109
Webmaster Note: we have included this project in our Technical Section/Interiors - click here to go there
***********************************
August 2, 2019. Joe is working on getting a DFI badge and sent in the following email
Ron,


Hull # 161 is missing in the roster but has been located. It is offered for sale in Anaheim CA. It is presently listed on Craigslist asking $3500, Here are a few pictures from the ad. (Webmaster Note - Nope, we had it - staff failed to record the hull #....Click here for the link )

Also, my boat, hull number 109 now has a name! I've named her Ostara, home port Ventura CA

.Best regards,


Joe Wilby