April 18, 2020 - DFI Steve Fruth, (http://www.dolphin24.org/158-melia.html ) advised us of this updated Craigslist ad
https://orangecounty.craigslist.org/boa/7100455323.html
*************************
August 2, 2019 - Joe Wilby, Ostara, Yankee #109 brought this Craigslist ad to our attention.
Craigslist Ad
https://orangecounty.craigslist.org/boa/d/anaheim-25-yankee-dolphin-and-blue/6937269439.html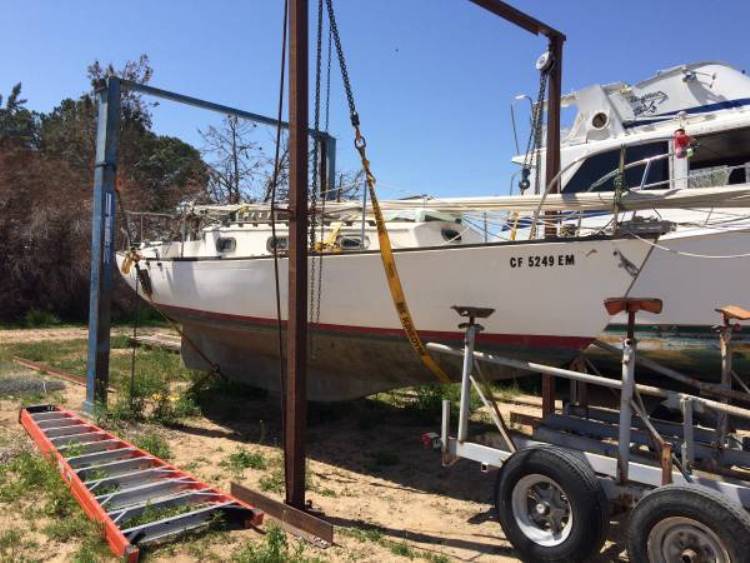 March 9, 2019. This is complicated - hang on. Despite 'unfavorable' weather conditions in much of the country Rick Kennedy, Boethius, Yankee #149 has been working. Click here for a report on his March 3-5 cruise from San Diego up to Oceanside, California and back.
And, in true DFI fashion he spied a possibly previously unfound Dolphin docked across the street from the Oceanside Harbor Office. She's looking in tough shape
Your webmaster spoke with Ted, the Harbormaster.. Their protocol prevents providing information to 3rd parties. The boat has been impounded. I asked that he contact me, if possible, if there is any news he could share. Any readers with info on this boat please contact the webmaster - RonBreault@cs.com

This may be a 'newly found dolphin' and if so, our 233rd. We have provisionally added her to our list - Number of Dolphins Found. Here's a couple more pictures - click on them for larger images.

Stay Tuned
****************************
March 27, 2019 Chris Toomey checked in on March 26 and we had the following exchange of emails with your webmaster (consolidations/minor edits)
Ron.


I just saw a March 9 post from Rick (Kennedy/Boethius) regarding his discovery of #161 in Oceanside, California. Recognized her right away from the pics I got. Have not "met" her in person yet. No name on the boat. Visiting out of state but will be back by mid June to officialy take possesion.

Until then she is on the hard in my friend's salvage yard. Will get more pics and info to everyone when I return. Right Nameplate photo


Thanks, Chris

************************

Hi Chris - Welcome aboard!! Pending those photos #161 appears to be a newly found Dolphin

http://dolphin24.org/number_of_dolphins_found.html

Does she have a name? Where is she?


Ron
Continuing, with minor edits........
Chris

There's a story here. It turns out we had #161 in our 'off line' database. A guy named Rik Thomas (not your Rick Kennedy/Boethius) who lives in Oceanside contacted me Aug 1, 2009 indicating he found #161 and had contacted the owner who agreed to sell to him. Rik sent me pictures including a nameplate photo (below) I agreed to keep 'mum' until the deal was done and he contacted me - I never heard from him again!!! - so I did not post on the website database but kept the emails.

Click here

for a larger image of photo above right

I've included some of his emails below (consolidated)


From: Rik Thomas
To: ronbreault@dolphin24.org
Sent: Sat, Aug 1, 2009 1:29 am
Subject: Hull #161

Hi Ron,

Great site! At age 50 I find myself recently divorced and desperately needing something to occupy my free time so I have decided to pursue a life long desire to learn to sail and acquire my own boat. Long story/ short........I have been looking at this particular boat sitting on a trailer at a mini storage where I'm renting a unit. The registration on the boat expired in 1994 and from talking with the lot manager the owner has kept her stored there for at least 8 years and lives out of state.

A copy of the registration reflected "Yankee" and "24" and after taking some pictures of her and Googling "Yankee 24" up popped your site. She is indeed a Yankee Dolphin 24, manufactured around 1969-1970. I contacted the owner and he's agreed to sell her to me. From talking with him the boat has had an incredible history. Once I wrap up the purchase and talk with him more I will share pictures and her history with you. She needs some serious restoration and climbing onto her to take a peek inside there is stagnant water and cobwebs within.

I'll share this one pic with you and keep you posted..... Take care

Rik Thomas


*************************

From: Rik Thomas
To: ronbreault@cs.com
Sent: Mon, Aug 3, 2009 10:54 am
Subject: Re: [Fwd: Re: Hull #161]


Hi Ron,

I live in Oceanside California. The Dolphin is sitting on a trailer on a mini storage lot about 40 miles inland from me. There is no name on the stern. I've included more pics to give you an idea of her present state. It will be a daunting endeavor to get her back in the water but in spite of her appearance she really is a beautiful boat. It's great to share this with someone who understands this feeling of joy and insanity!! I'd prefer we keep this between us until I've finalized the purchase.....

Thanks Ron. Take care,

Rik Thomas
Follow up from Chris
Thanks for that info Ron!


I found 2 Rik Thomases...both about the right age and both from Oceanside...perhaps one in the same. The old windvane on the stern supports the idea of a boat with an interesting history but at this point you have more "provenance" than I.


The guy I got if from is a Southern California scrapper who works with different marinas Santa Barbara to San Diego to clear out old, unclaimed boats. This girl was in the water when he got her. I will keep digging.????


Communicated with the other Rick (Boethius). Good man! Offered up a joint Catalina trip some time in the future. Nice gesture!


More to come...Regards


Chris
Webmaster note. We will stand by for Chris to get back to us, and have updated our List of Found Dolphins - Whew......And, these 2 pics of #161 just in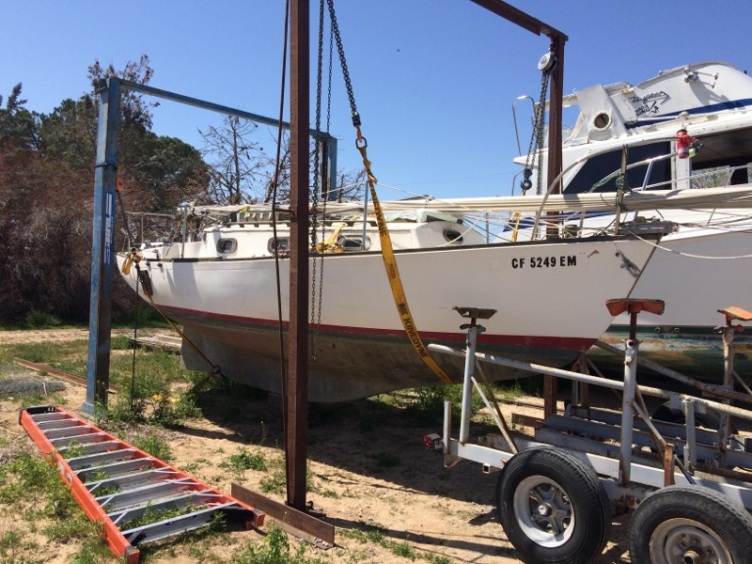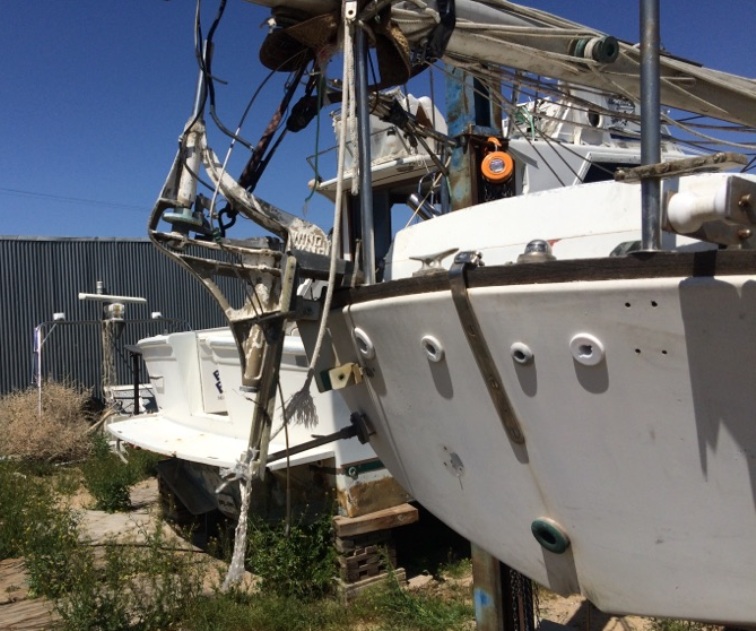 Standing by