April 13, 2012. One of our owners, Marcia Green, Timesweep, posed an interesting question about replacement hoses for the cockpit drains on her Yankee #214. Here is her email.
Hi!

I am having trouble with the cockpit hose on my '72 Yankee Dolphin. The original hose split so I replaced it with some hose I found on the boat which lasted for about 8 years and then it split...it looked much like a hose one uses to clean a swimming pool. I'm forwarding a photo of the original hose with the hope that someone might recognize it and suggest where I might locate a replacement.

Thanks,
Marcia Green
"Timesweep" Hull 214
Your webmaster responded:
Hi Marcia
I hope all is well with you and Timesweep. This is a very interesting topic and I will do a 'Technical page" on it as soon as I get a chance. I have heavy duty reinforced rubber (synthetic?) exhaust hose for my cockpit drains - they appear fine, are over 25 years old. They connect to always open thru hull fittings, not sea cocks, which worries me when I think about it (Thanks - now I'll think about it again!) I worry about the intergrity of the thru hulls, which look fine, and the place where the ss hose clamps are - are they weakened by time and clamp pressure?





Anyway, here is an interesting link to a Wooden Boat Forum discussion that is right on target - http://forum.woodenboat.com/archive/index.php/t-84101.html
and the picture I thought made me most comfortable. I am scared of the spiral flexible tube type hose. A tip, warm the heavy rubber hose in hot water, make the bend(s) you need and cool in cold water with bends in place - not easy but easier than bending cold. There are probably more info links on this product but here's one http://www.teleflexmarine.com/products/hose/sanitation/series250/

More later

Ron

ps I know of a couple of Dolphins that sunk due to this hose problem!!
As we get more imput and info we'll ad it here. Here is an interesting article on this subject by guru Don Casey - he wrote the book! This is the direct link http://www.boatus.com/boattech/mhos.htm
Marine Hose
Hoses and Boats: Quality Is the Key to Longevity If you doubt that a hose is a vital part of your boat, consider what happens when one bursts. Even a slight leak at a hose connecting to a through-hull can quickly sink a boat. A burst engine hose can destroy thousands of dollars worth of machinery (and, depending on the hose, it can also sink the boat). Fires and explosions have been traced to faulty hoses. There are also hoses in the head, galley, air conditioner, and appliances that are relied on to deliver the same level of performance that you expect in your home. Unlike the plumbing system in your home, however, these hoses are subjected to an extremely corrosive environment, as well as pounding and vibration, which is why hoses on a boat tend to be flexible and formulated to provide the best long-term performance and resistance to fluids and aging. You don't use just any hose on a boat, which is why BoatUS offers a wide variety of the best quality marine hose available for every marine installation. Hose must be installed correctly and securely. Use good, correctly sized (for the hose ID) fittings, crimped-on ferrules or 100% stainless steel clamps (double if possible, but not overlapping or beyond barb ends), and proper thread sealant on NPT threads. Hose must be protected from damage, such as crushing, puncture, abrasion, kinking, and excess heat, by careful routing, support, and abrasion shielding (straight through fittings, grommets, and/or conduit sleeving). Finally, you should periodically inspect your hoses for leaks, damage, and deterioration.

Raw Water "Pick-Up" Intake These hoses are connected to a hole in your boat's hull below the waterline (via a seacock) which should be routinely inspected, tested, and secured when the boat is not in operation. It delivers raw (outside) water for the engine cooling, sanitation, air conditioning, and livewell systems. Use only hose recommended for "below waterline" connections, and preferably one constructed with a hard spiral helix to prevent kinking and collapse under suction should the raw water screen become clogged. A breach in the hose can flood or sink your boat, so use the best hose possible. A two-ply heavy-wall rubber raw water pickup hose with wire helix reinforcement (essentially a small heavy wall exhaust hose) is the best (see Illustrations 5 and 6, below). Extra heavy-duty smooth vinyl hose with a hard PVC helix like our white sanitation hose (see Illustration 1, below) may also be used except where heat is a factor.

Engine Coolant These rubber hoses circulate engine coolant water, and must be resistant to kinking, heat, antifreeze, ozone, etc. A heavy wall, two-ply hose (like our raw water intake Illustrations 5 and 6, below) is best, but a good heater hose (see Illustration 3, below) may also be used.

Drainage For cockpit, sinks, showers, and other drains, use a flexible hose that will not kink or abrade in its routing. Again, the heavy wall rubber marine intake hose (Illustrations 5 and 6, below) is best, and is recommended for cockpit drains that must handle heavy rainfall even when you're not on board. Any of our other water hoses may also be used, depending on the application and installation.

Potable Water These hoses must be made of FDA-approved compounds for drinking water. Pressurized systems must be reinforced to withstand dockside and/or water pump pressure, (usually 20-60 PSI). The exceptions are the water tank fill and vent hoses where we recommend the white extra-heavy-duty sanitation/water hose (Illustration 1, below) and hot water lines (140ûF), where we recommend a reinforced rubber hose (see Illustration 3, below).

Bilge These hoses connect the bilge pump to an overboard fitting. Corrugated (inside and out) polyethylene hose with molded cuffs (see Illustration 2, below) is commonly used due to its flexibility, price, and bilge resistance. However, it is vulnerable to abrasion, and the internal corrugations reduce water discharge flow. You may choose to use a hose with a smooth interior, abrasion-resistant cover and good (anti-kink) flexibility. Our rubber or vinyl hoses (with helix) are excellent alternatives. We recommend hose like that shown in Illustrations 1, 2, 5, or 6, below.

Sanitation This hose must handle sewage from your head to your holding tank, pumpout, vent duck fittings, and discharge through-hull fitting (where legal). Its failure or odor permeation is very unpleasant, so choose and install your hose carefully. It should be labeled "Sanitation", and be made of smooth (inside and out), heavy wall, flexible, odor-resistant construction and formulation. Our rubber and vinyl sanitation hoses are the best available, but certain common sense limitations apply to each for odor-free performance. Good installations are short and self- draining (no kinks, loops, or dips), with tight connections. Overtight fittings and clamping can damage hose ends, causing leaks and odors. Sewage allowed to sit in the hose develops acids and gas that shorten its odor-free life. This is especially the case with white vinyl extra heavy-duty sanitation hose (see Illustration 1, below), where petroleum-based lubricants, excessive heat softening, and fluids containing alcohol, petrochemicals, or solvents can damage the hose and shorten its "odor-free" life. This is a good and cost-effective sanitation hose, but for maximum "odor-free" performance and a long and/or non-self-draining installation, we recommend our premium sanitation hose (Illustration 4, below). Its heavy wall, two-ply with wire helix construction is more forgiving, flexible, installation-friendly, and odor-resistant.

*******************************
January 25, 2017. We had a couple of interesting 'incident reports' involving Craig Burkhead's 1967 Yanke, Aviva that we include here. They probably won't help with our sleepless nights issues but .......
DFI's are always working - we got the following email from DFI Scott Henry, Amaya, (http://www.dolphin24.org/Amaya.html) who keeps his Dolphin in the same marina as Aviva.
This matter is of high interest to owners of 40-50+ year old Dolphins.....
Hi Ron

If you have contact info for Aviva (Fortman slip E24), they need to go check their boat, it is lying very low in the water. The cockpit is full of water (up to the CB pennant hole, so some has gotten into the boat).


I asked the Harbormaster to contact them but I thought I would try multiple paths...

-- Scott
Dolphin staff sprang into action from 3000 miles away, and located contact information for Craig Burkhead, Aviva's owner, and forwarded Scott's email to Craig.
Hi Craig
I hope this reaches you. Its 4:30AM East Coast time and I just picked up this email from Scott Henry - Amaya http://www.dolphin24.org/95.html
Ron
Craig and your webmaster exchanged the following resulting emails (reorganized and edited)
All is well. I just re-read the initial email and it brought back fears of her sinking a couple of years ago, and leapt in the car from work to head to the marina without another thought. Due to severe storms we've recently experienced in northern California, both cockpit drains had some detritus covering the drains and perhaps ten centimeters of rainwater had accumulated in the cockpit, plus some water in the cabin, which I pumped most of it out. I'll get the rest during the weekend.

Craig
More on Aviva's sinking from Craig
I hired a salvage diver, who attached inflatable bags around midsection and aft, and inflated with compressed air. Took several hours to raise, mostly due to difficulty in getting a strap under the keel in the soft marina berth mud. Maybe six of water above the deck.

The boat was converted to electric drive, so Torqueedo trolling and main propulsion motors, plus batteries, SSB/VHF radio, instrumentation, all shot.

The root cause was the starboard cockpit drain. The plastic hose had become brittle over the years and I didn't inspect closely enough. The cause was confirmed by the diver when she was raised. All he had to do was put a slight finger pressure on the hose, and a stream of water sprayed out. No pressure, no stream.

I have been neglecting her since she sank, saving up some money for a more complete rehabilitation. Hopefully this coming year, but we shall see.

The salvage diver (Delta Divers) recorded the 'Raising of the Dolphin' and we have some youtube video - 3.5 hours of 1 picture every 60 seconds. Battery gave out otherwise I would have had more - but it shows the process.

Click here to see it

Thanks again for the interest and concern, always appreciated!

--Craig

Postscript - follow up on timing - with Scott's and your email, I was at the marina within the hour, driving as fast as my Prius would permit. En route, I called the harbormaster, who checked on the boat, and we talked for awhile when we returned to the harbor office. I've always had exceptional service working with the team at Fortman Marina (I have been there maybe 15 years).

re: Scott -- much thanks again for noticing the water in the cockpit before this became 'raise the Aviva, part two'. *very* appreciated.
Here's a couple of pictures from the video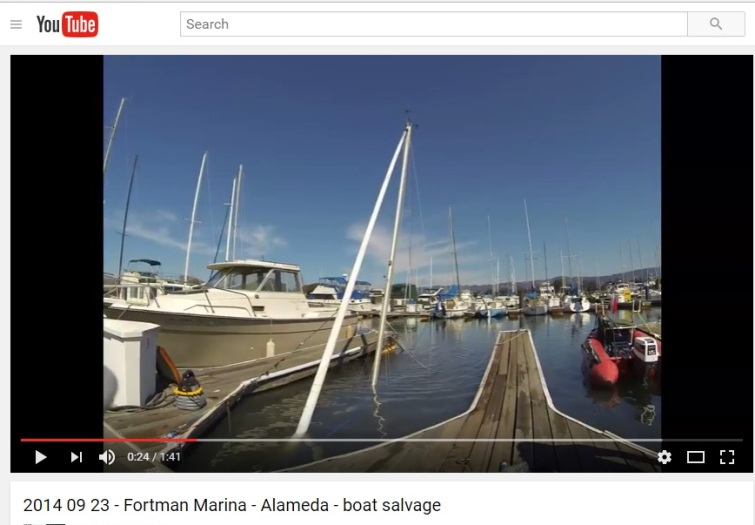 Moral to this story - check your hoses!!
Thanks Craig for sharing
And thanks Scott for the heads up
We wrap up this segment with an email just in from the guy who started it - DFI Scott Henry
Hi Craig,

I'm glad that I went the extra mile. I asked the harbormaster's office to contact you that your boat was riding low in the water, apparently they didn't. I had the same thing happen to me after the first big rain this season. Since I explicitly asked the liveaboard near Amaya to look out for her, he cleared the drains when he saw it.

The electric bilge pump kept the water level down as best it could. The standard location for the bilge pump seems to be well
forward in the flat bilge, so there was still a lot for me to pump out manually when I got there. The cocpit drain hoses on Amaya are that black rubber exhaust hose. They are in good shape, the P.O. must have replaced them not too long before I bought her. Webmaster Note Marionette's cockpit drain hoses are the same - heavy black rubber exhaust hoses that clamp over the thru hull fitting - I check the hoses regularly - they seem fine - I worry about the thru hulls as I have never removed the hoses from the thru hull fittings. I have removed the ss hose clamps but I can't get the hoses off the fittings - they seem 'bonded'. The base of the fitting in the hull seems ok but I wonder about how the 'metal' tube part I can't see is holding up.......

Last summer I had to replace one of the cocpit drain fittings. A lot more water would have gotten in the boat if I hadn't fixed it... I'll try to head over there Saturday.

Scott

**************************