May 24, 2017 - We got the following emails (consolidated) and photo from David. This has also been included in our Technical Section/Trailers.
Ron,

It is with great sadness that I report the loss of Dolphin, Yankee #193.

We were driving her to the lake to launch her for the year when the trailer started to oscillate, pulling us into the ditch. She flew from the trailer, landing in a field 20 feet from the trailer, with a 3-foot crack in her hull below the waterline, a broken rudder, and splinteredcabinetry.

We were going at fairly low speed (~35mph) on a straight, flat, but slightly rutted highway when it suddenly started swinging in rapidly increasing oscillations.

One of the guys here who moves boats professionally said that that can be a sign of insufficient tongue weight, but it was good when we left home. We live at the bottom of a very steep hill, and it's *possible* that something shifted going up, but we'll never know.

The tongue of the trailer was sheered off and still connected to the hitch by the time everything came to a halt.

She will never sail again, and we are devastated, but at least my son and I were unhurt.

Wishing you fair winds and following seas.

...David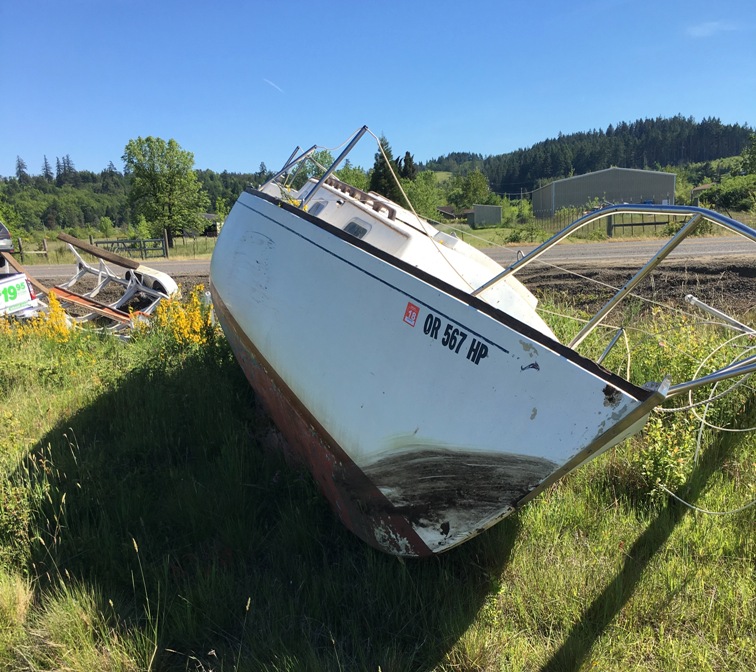 RIP DOLPHIN
Fair Winds David
****************************************
***********************************************************
This is DOLPHIN's story.
March 2. 2009. David checked in today to announce his purchase of # 193 from an owner in Florence, OR. She has been out of the water for several years. We first found out about this boat when someone told us she was for sale on NWadpage.com. That ad is below. The pictures came from the listing will start with them. David's email is below.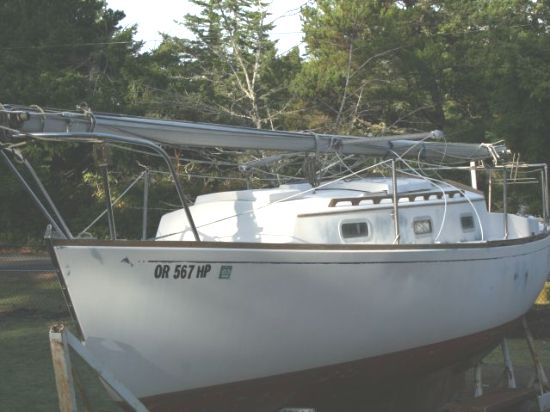 | | |
| --- | --- |
| | |
March 2, 2009

Ron,

We live in Eugene, Oregon, and we picked up #193 from a Craigslist posting last month. She was in Florence, Oregon, and the previous owner has had her out of the water for several years. I believe he's had her for a long time (~20 years?).

She was somewhat unimaginatively named "Dolphin", and we're looking to rechristen her when we think of a suitable name, and have time to move down the fix-up list to painting :-)

We'll be sailing/mooring her at Fern Ridge reservoir (assuming we can get a slip next week when they come up), at least for this first year. Hope to take her up to the Gulf Islands or the San Juans in the future for some cruising.

At this point, I'm trying to figure out what needs to be done. A couple of pieces of the exterior teak are cracked or missing, so I'm working on making replacements for them, and all the exterior teak is in need of sanding and oiling. She had some moisture in her, too, so we're drying her out and cleaning mould off some of the cabin drawers etc. There will probably need to be some refinishing there, too. Can't see the centerboard on the trailer, so I'm hoping it doesn't fall into the lake when we launch her.

The wiring is disconnected at various places and the fuse panel has no fuses in it, so I'm trying to figure out what's supposed to go where, what rating the panel fuses are supposed to be, etc. One of the connectors that's supposed to connect the mast lights to the electrical system at the base of the mast is broken, so I have to figure out where to find replacements. This is my first foray into marine electrics, so I'm still trying to get my bearings.

The motor is a 9.8 or 9.9 electric start Mercury of some sort (haven't been able to figure out the model yet), and I have yet to figure out whether it even works. (The previous owner said "It worked the last time I used it.) There's a blower system in the stern locker that is (presumably) supposed to bring in fresh air and blow out exhaust. No idea if that works, either.

The sails (genoa, storm jib, main and spinnaker) all appear to be original. We'll have to wait for it to stop raining here to get a good idea what shape they're really in.

We'll send pix once we get her untarped... It's pretty wet at this time of year in Eugene, and we're still trying to get the cabin fully dried out from the condensation.

I've been looking around the forums and will continue to do so. Thanks for maintaining such a useful site!

V/R,

David Etherington
Here is the text from the ad
1970 Yankee Yachts Dolphin 24
24' SAILBOAT, FIBERGLASS HULL
1950 LB. LEADED KEEL, STORM JIB, GENOA AND SPINNAKER
10 HP. MURCURY ELECTRIC START MOTOR
TEAK INTERIOR, SLEEPS 4
TWO AXLE TRAILER.
ASKING PRICE $6500
*******************
February 28, 2013. We are filling in a bit of #193's history. She was once Jeff and Janice Tompkins' Balanceo, Yankee #193, San Diego, California/Medford, Oregon. Click here to go there.
***************************
December 12, 2016. Its been a while since we heard from David so staff sent sent him a follow up - What's up with Dolphin? David's reply:
We've been sailing her at Fern Ridge, just outside Eugene, for several years. We've been gradually rewiring her, and wishing we had either the time/courage, or the funds, to get her repainted (Clarifying Note "time/courage" is for doing it ourselves, while "funds" is to have someone with a clue do it :-)

At the moment she's on the hard for the winter. We're trying to figure out where we're taking on water. Suspect it's somewhere in the portside hull-deck joint, since it seems to happen when my son is sailing her, and he likes to wash the windows when the wind picks up.

Also still trying to find a replacement for the non-standard 5" starboard skene chock which was missing when we got her. It appears that every other size imaginable is readily available but not the mate for our portside chock. Webmaster Note: Had the same problem - several years later finally found the one I needed at a used parts marine store. Meantime, I used a closed chock.....

Merry Christmas (or midwinter festival of your choice)!

...David
In our continuing interest to familiarize our readers with Dolphin sailing areas here is Fern Ridge Lake. It is a reservoir in Wilmette Valley built in 1942 by the US Army Corps of Engineers who built a dam on the Long Tom River. https://en.wikipedia.org/wiki/Fern_Ridge_Reservoir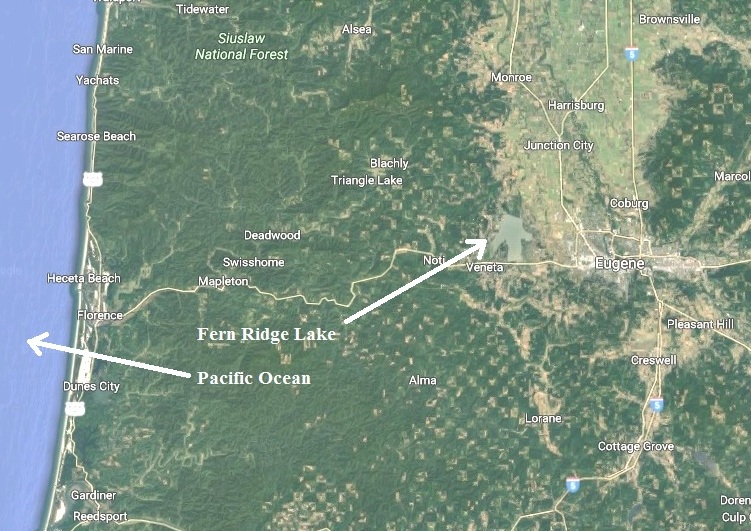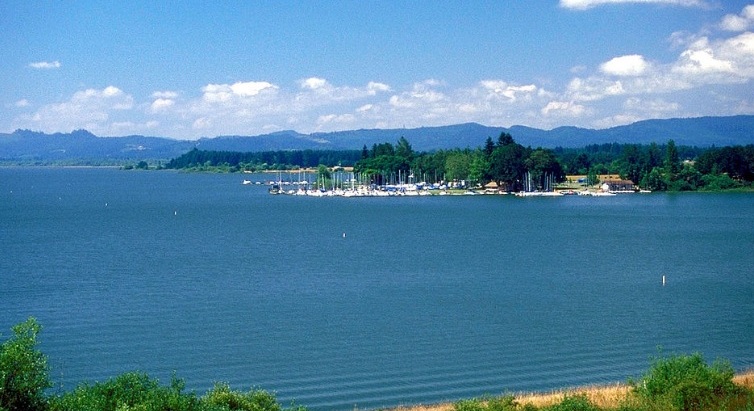 Merry Christmas, David!
***********************************************************