September 12, 2019. Micah Long checking in as the new owner of Yankee #107, Fin, formerly Kiwi and Fanny
Hi Ron!

I have been meaning to send you an update about S/V Fin! I am the proud new owner. She is my first boat and my dad is the one who checked in as the previous owner of S/V Promise (Click to go there) a while back, another ocean passage veteran. Fin has a fresh new coat of bottom paint and got her keel back in salt water for the first time in a long while in Channel Islands Harbor.

My dad and I were able to sail her for the first time together.Ty sold the boat in great shape and I plan to continue to make improvements on the details and make updates so I can use her as much as I can. When sitting on the boat in the water her offshore experience as Kiwi was obvious based on the cockpit scuppers, deck fittings for harness jack lines, rigging led to the cockpit, externally rigged chain plates, etc.

A thorough survey of the boat inside and out showed little evidence of the wear and tear one might expect after an extensive South Pacific tour. I'm certain I couldn't have chosen a better boat and I'm thrilled to be a part of the Dolphin community!

The attached photos show a visit to Mt. Shasta on the tow down from Oregon and the first day that Fin was dropped in the water under my ownership.

Thank you for maintaining this community!

Micah Long

A keeper!!

Guess who - a new Dolphin owner?

WELCOME ABOARD MICAH!!!

************************************

**********************************

************************************************

************************************
This is the history we had on Yankee #107 up to this point. She has quite a history (clicking will take you back in time)
September 1, 2019 We got the following sighting report from DFI Steve Fruth (Melia, Yankee #158). Our earlier efforts to contact Ty for an update failed. Maybe she has been sold? The Channel islands Harbor is north of Los Angeles on the California coast.
Ron

I saw this boat in Channel Islands Harbor - She's a South Pacific vet!

Steve

**********************************
April 24, 2019 The following ad was posted on Craigslist (minor edit) Craigslist - link updated - lots of great pics
1967 Yankee Dolphin 24 Sailboat - $6000 (Central Point/Oregon)

condition: excellent

Classic Sparkman Stephens design. Hull number 107. She was designed in the 60's to be an mini-ocean racer. This Dolphin is arguably the most famous of its class. It has sailed to Hawaii, The Marquesas, Tahiti and back to the west coast by a former owner. Comes with a double axle trailer and a fantastic mast raising system. Check out the fleet at Dolphin 24 .org. She is ready to sail. Email for more details.
https://medford.craigslist.org/boa/d/central-point-yankee-dolphin-24-sailboat/6843100725.html
More photos on Craigslist website
*********************************************
November 3, 2013. Ty Katibah checked in as the new owner of Yankee #107. Formerly, she was Fanny, owned by Deb and Greg Davis and homeported at Flathead Lake, Somers, Montana
Hi Ron,

I wanted to introduce myself and let you know that I am the new and very proud owner of Hull #107. I purchased Fanny, (formerly Kiwi) from Deb and Greg Davis in Somers Montana. She is now back on the west coast in southern Oregon. Thanks for providing a place for dolphin lovers to learn about there history, share stories and exchange information.

Ty Katibah
This is a blue water boat with a past worth reading about. Before she was Fanny she was Charlie Nogel's Kiwi and sailed the South Pacific- click here to go to Fanny and start checking out her story. We'll reserve a place here for Ty's picture of Fin in her new home but in the meantime we'll use one of Fanny with the Rocky Mountains in the background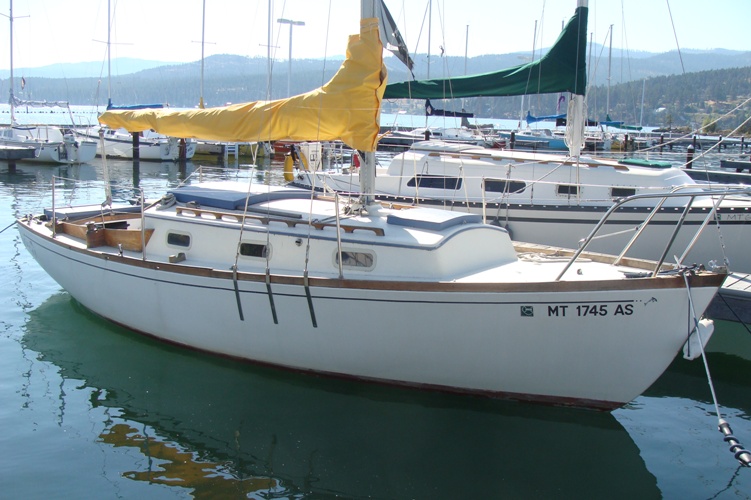 ******************************
November 19, 2013. Your webmaster and Ty have exchanged emails on various topics. He has decided on a new name for #107 and is looking to find a stern pulpit for her. Here is his email, consolidated/edited
Hi Ron

Is there an existing stern pulpit out there designed for a Dolphin or possibly one for another boat (something like a Catalina 22 or 25) that could be retrofitted on a dolphin?


Webmaster reply: I don't have any info about retrofitting stern pulpits on to Dolphins from other, similar boats. As you probably know many of the Dolphin 24s did not have them. You might sketch out your transom footprint and try a marine consignment/used parts store, get lucky and find something. Look around the website for ideas if you decide to go with a new one - there some pretty sophisticated ones here http://www.dolphin24.org/ladders.html

Thanks. I also see a lot of stern pulpits on Dolphins so maybe I'll try contacting some of those owners (via the Forum) to see where they found them. I live in Jacksonville, Oregon about 3 hours from Brookings which is the southern most town on the Oregon coast.

Also I have decided to change the name of "Fanny" to "Fin" for the obvious reasons and also to acknowledge our connection to Finisterre.

Cheers,
ty
Webmaster Note - November 21, 2013: Ty's decision, and reason, for changing #107's name to Fin prompted staff to check out what had happened to Finisterre - and we found out on the Sparkman & Stephens Italian website. She's alive and well sailing in the Adriatic. We updated Finisterre's page - click here for that story - and told Ty. Here is his reply;
Hi Ron,

Thanks for the update. Finesterre and Carlton Mitchell were my very first sailing idols. When I was a teenager I remember thumbing through my Dad's "Sports Illustrated" magazine and found an article about Finesterre's success in the Newport/Bermuda Races. Later articles in National Geographic and one of Carlton's books "Isles of the Caribbee's." closed the deal. I was hooked, and have been, ever since.

I am glad to hear that Finesterre is still out there. I was not able to confirm that before now.

Thanks again,

ty

*************************************
March 5, 2014. We got the following update from Ty
Hi Ron,
Fin has been undergoing a minor refit and things are going pretty well. I was inspecting the rudder shaft recently and noticed some corrosion powder and minor pitting on the shaft just above the fittings where the shaft enters the hull. I am assuming the shaft is bronze? If so the seal fittings may be bronze or brass? Do you have any information about this seal set up. I didn't want to put a wrench on it until I had a bit of information. I am concerned about leakage here and would like to take preventative measures before I launch this spring. Any information would be greatly appreciated.

Thanks, Ty

Webmaster Note: This is the kind of email our legal dept gets nervous about....Here is our reply.

Ideally, all these components are high quality (naval) bronze and have galvanic protection. However, sometimes they are not. And there are seals, and there are seals.... Before I put a wrench to anything I would do some reading (Gooch Search on Bronze shafts, prop shaft seals and galvanic corrosion), then I'd find out who is the local 'expert' and get your system checked out.

*******************************