April 11, 2011. A rainy day meant no yard or boat work so your webmaster decided to track down a boat we had on our Roster but about which we had very little information. Several phone calls were fruitless, but then I got lucky, and I ended up talking to Sam Fiske himself, now 88 years young, and who is now living in Florida. This is what he told us.
He had the boat for several years in the early 1970's racing her out of the Ram Island YC, Noank, CT and in Off Soundings Club regattas. He believes he is the 2nd owner buying her from Alex Leonhardt at Noroton YC in Darien, CT, and also an Off Soundings Club member. Originally, she had a white hull but Sam painted her black - but he did not change her name. (We have rumors of still another Dolphin that sailed in this area named Dauphine Noir...) Dauphine's sail # was 4529 and she had a Palmer 6hp inboard. Sam sailed her down to the Chesapeake Bay area and raced her there, eventually selling her to someone who kept her on the Severn River, and reportedly used her very little.
Sam is Internet friendly and promises pictures and more information - stay tuned
*******************************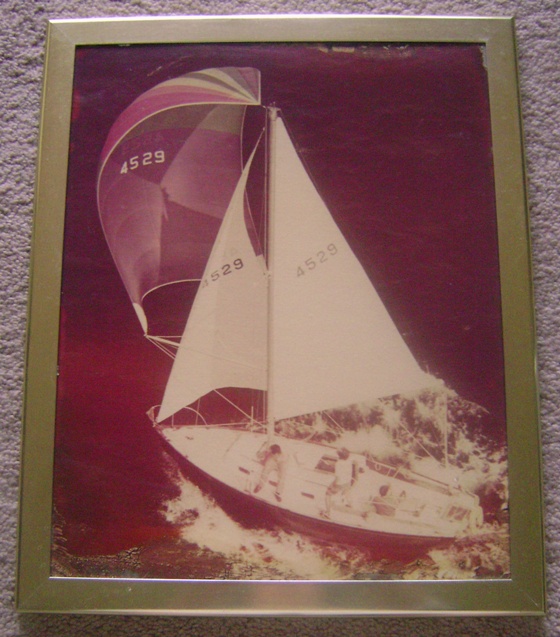 April 20, 2011. Sam sent in the beautiful aerial photo above and also called in with more info about Dauphine. Her hull # was 23 and that she was built by O' Day. Back up and more info is on the way via snail mail - stay tuned..
********************
May 7, 2011 We received the the following circa 1980 postcard from Sam and Sally Fiske. Dauphine in this picture is somewhere on eastern shore of the Chesapeake. They advise that previous owner Alex Leonhardt has passed from us, and that Dauphine was not her original name. We are still looking for her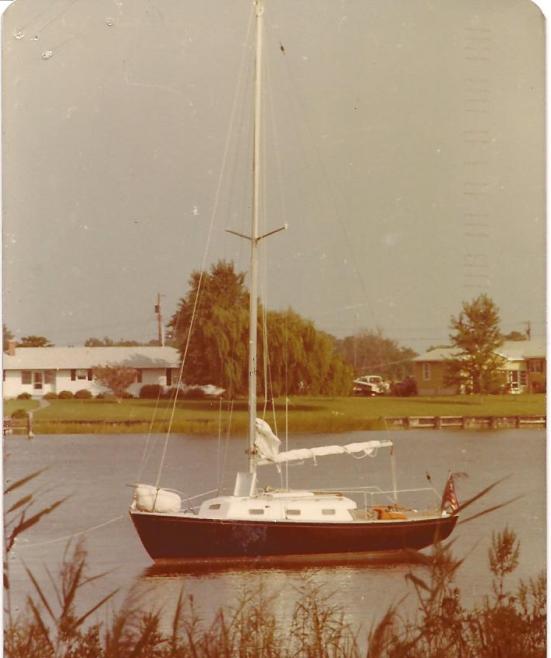 Postcard of your Dolphin - GOOD IDEA!!!!
March 31, 2012. Sam checked in with the following tidbit
Ron

I did change the name to Dauphine and paint her black to annoy my boss at EB (Electric Boat) as his boat was named Black Dolphin also a Dolphin.

Cheers - Sam
Sam touches on a very interesting subject. Electric Boat in New London, Connecticut is where nuclear submarines were, and are built today. This is where Nautilus, the 1st nuclear sub was built. This company on the east shore of the Thames River was a very busy place in those days - and was also a focus of Dolphin 24 competition. Wally Strang was Sam's boss and he raced Black Dolphin, L#219, a boat previously owned by Roy Berg, chief engineer at Lunn Laminates, the company that built 25 Dolphins.
Andy Anderson worked at Electric Boat and raced Tigress, Marscot/O'Day #20. Stan Secora worked there in the US Navy's Inspector of Ships office - he raced JATO, Marscot/O'Day hull #7. Dick Steinhilber worked at EB, and with son Mark raced Rascal. A Commander Larkin, a submarine officer from Great Britain assigned to the US Navy submarine base just up the river from EB, raced Her Ladyship, a green Lunn built Dolphin. There were probably others - we'll work on getting this list complete.
Your webmaster was reminded of this matter when a friend got him an invitation to Electric Boat (now also known by its corporate name, General Dynamics - but to us 'locals' its Electric Boat) to witness the commissioning of the USS Mississippi on March 5th, 2012. She is the latest of the Virginia Class attack submarines.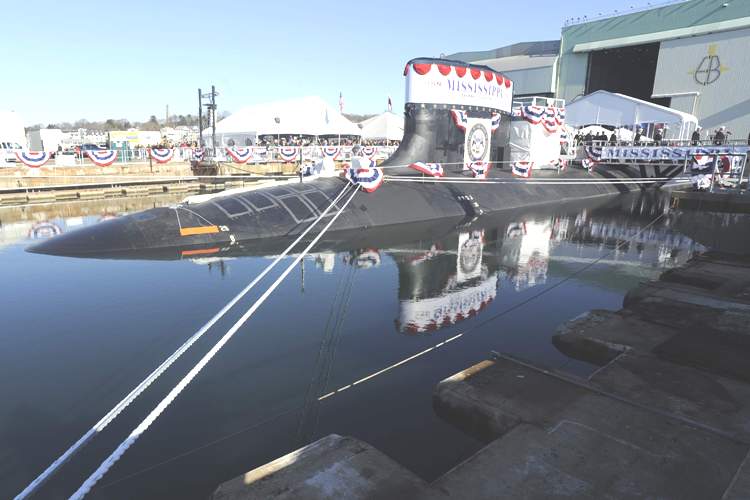 Commissioning at New London, March 5, 2012

*****************************************
April 14, 2012. Responding to your webmaster's relentless inquiries about Dolphins Sam sent in the following email (edited)
Ron,

I sailed Dauphine from Noank, CT to Round Bay on the Severn River, 5 miles up from Annapolis in Spring/Summer 1978. I think I sold her in 1980 and she was berthed in a slip across the river in a marina North of Sherwood Forest on the west side of the Severn. The name of the owner escapes me and though I lived in Round Bay for another 7 years, and was active on the water(racing), I never saw her out of her slip.

I never met Commander Larkin (Her Ladyship) as I was stationed in the British Admiralty from 1960 to 1963 and then on a Submarine Staff in San Diego

Sam

*********************************
September 20, 2012. The Dolphin24.org technical staff have been working on confirming the hull # of this boat. There has been a strong suspicion that is was #23. We spoke with Sam Fiske again (he is 90!) to check out his memory - still sharp as ever. The number on the main sail, 4529, was a racing number issued by NAYRU (North American Yacht Racing Union predessor organization to US Sailing). He added that the previous owner, Alex Leonhardt, sailed this boat out of Noroton Yacht Club in Darien, Connecticut.