April 17, 2012. While trying to track down more information about Her Ladyship, Dave Stewart's Lunn built Dolphin out on a mooring in the Thames River, New London, Connecticut, we found out there was another, previously unknown Dolphin out there belonging to a Jim Brooks. Both Dave and Jim were members of the Thames Yacht Club in the early 1970's. Investigative staff went to work and today we spoke to Jim.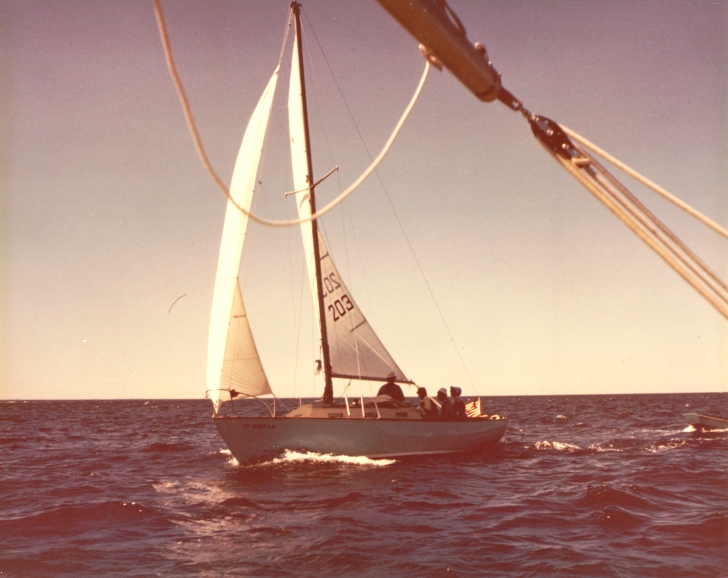 This picture arrived April 21
Jim, who now lives in Arizona, had Ceili (an Irish/Gallic name, pronounced with a Keili, meaning a gathering) for about 4 years in the early 1970's before selling her to buy a Tartan 27 (a familiar story). He bought the boat from someone who lived in New Britain (clue - one of two names in a department store name). She was an 'early' Dolphin, had a white hull with a Palmer inboard, and no lifelines. Jim painted her hull a light green!!!**** - like an aqua shade. He sold her to a young couple from New York who kept her somewhere in Rhode Island. He recalls them sailing east down Fishers Island Sound. Some years later he got a call from someone in New Britain, Connecticut who then had the boat. That person was asking about the Palmer, and eventually put an outboard on her.
**** We had a bit of a mystery here involving green Dolphins out on moorings in the Thames River in the same time period - early 1970's. So a quick call to Ed Smith (Wisp) was in order. The 'green' Dolphin he bought that was on a mooring in the Thames River was a dark green! and he has a vague recollection that her name was something like Her Ladyship! So, Ed did not buy this light green Dolphin. Whew...
Stay tuned
September 20, 2012. Our Technical staff has been reviewing hull numbers and has decided that Ceili, as suspected, is a Lunn built Dolphin, hull #L203. it was not unusual in Dolphin early days for owners to use their hull # as their sail number but staff looks for additional evidence. Here is an excerpted email from Mark Steinhilber who recalls racing against her in his Dad's Dolphin 24, Rascal
Ceili was most likely Lunn hull L203. Just look at her sail number, 203. I'm pretty sure I took that picture (!!!) from Rascal during a Thames Yacht Club race, either Bradbury or Chowder series. I recognize Rascal's boom and mainsheet hardware and remember sailing against Ceili in her seafoam green paint. A good chance she is L203.

*****************************