March 10, 2009. Following up on still another lead from Ed Purcell (Just Friends) your webmaser spoke with Ed Smith who provided the following details about WISP. He bought her in 1968?, picking her up at the Thames YC in New London where she was on a mooring. She has a green hull and a Palmer 8ph inboard. He stripped the top sides and painted her white. This boat is also distinctive as her mast had been destroyed in a boatyard fire and he replaced it with a Proctor tapered mast. Ed built up the interior which was very basic, adding a galley with stove and refrigerator, and a unique storage area for water jugs they used when cruising. He also installed a baby stay for the new mast and fabricated the clear fiberglass rear hatch.
The Smiths both raced and cruised this boat extensively with their family of 5. They sold her to the Holdridge's in 1974(?) (Enticement)
Ed has some old Polaroid photos which he will scan and send it. In the meantime we can use this photo I took of Enticement in 1999 at a slip on the Mystic River just north of the RR bridge on the west side.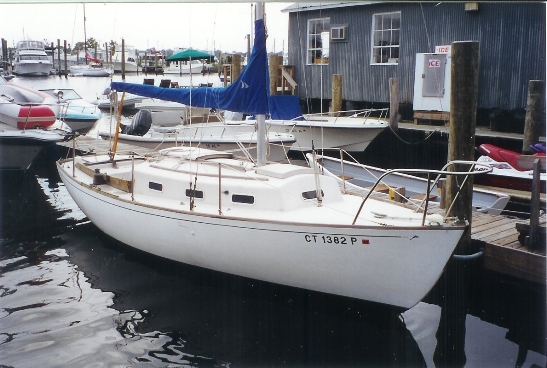 Stay tuned...
*************************
January 7, 2010. This boat has has not had any water pass under her keel since March 10, 2009 when this page was put up. But there has been movement. We found out that at some point after she became Enticement, she became Cynosure, for sale in Chesire, CT. Then, in September, 2009 she was rescued by Jim Oppy and brought to Guilderland, NY where she undergoing her restoration. And, fittingly, Jim has decided to re-name her WISP.
***********************
April 13, 2012. We have been working, on and off, for years on trying to find out about the green Dolphin that was on a mooring on the Thames River. Memories are not what they could be particularly about dates but we now think Dave Stewart's Her Ladyship, was that boat.
Stay tuned
April 17, 2012. We had a bit of a mystery involving green Dolphins out on moorings in the Thames River. We have just found out that Jim Brooks, Ceili, had a light green Dolphin on a mooring in the Thames River during the same period. So a quick call to Ed Smith was in order. The 'green' Dolphin he bought that was on a mooring in the Thames River was a dark green! and he has a vague recollection that her name was something like Her Ladyship. That's good enough for your webmaster - Her Ladyship became Wisp.
Ed promised to find and send in those pictures we talked about three years ago :-)
Stay tuned