January 23, 2016. We came across a Sailboats Listing ad for this boat, originally posted in Novenber, 2011, but still up. We'll try at reach Mark if the blizzard going on in the Northeast today lets us. Here's the ad - same pictures as the Craigslist ad of 2011 (below) which has expired, and same contact info. We had a report from Jerry Horan, #210 that this boat was still at Honokohua Harbor.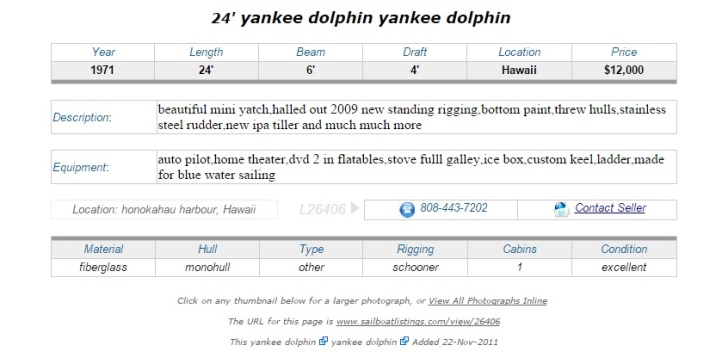 *******************************
December 4, 2011. We spoke to Mark Stachom today and we will talk again soon. He has had the boat for several years, having bought her from a lady who has single handed her back and forth to California. The boat has been converted from a centerboard to a fixed keel and 'beefed up' for blue water sailing - heavier standing rigging, a main hatch cover/sea hood, and a stainless steel rudder, among other changes. We will try and get in touch with the prior owner in coming days and get more of this fascinating story. Stay tuned.
There is an updated ad on Craigslist (11/29/2011) placing this boat at Honokohau Harbour, so that was good enough for our auditors to allow us to pronounce this boat as a Found Dolphin, our 187th. Here is the Craigslist link http://honolulu.craigslist.org/oah/boa/2727574257.html (ad expired)
Here is the updated ad (minor edits) - the price has been reduced.
24 ft Yankee Dolphin mini yacht - $12000 (honokohau harbour)
---
Date: 2011-11-29, 3:01PM HST
Reply to: sale-ejy3k-2727574257@craigslist.org]
---
1971 mini yacht, hauled out 2009 for paint, thru hulls ,standing rigging and much, much, more. has 4 sails,auto helm, dvd home theater system, solar 110 inverter, full galley, stainless rudder, ipa tiller, custom keel and much more. A blue water sailer. 808-443-7202
*******************************
On October 12, 2011, DFI Jonnie Walker, (Yankee #227) brought this boat to our attention. She was listed on Craigslist, Kona, Hawaii. Here is the link, http://honolulu.craigslist.org/big/boa/2618680314.html, and below, the ad and pictures. This might be a newly found Dolphin. Stay tuned.
Yankee Dolphin 24 ft - $13000 (kona)
Date: 2011-09-26, 10:02AM HST
Reply to: sale-ysqnh-2618680314@craigslist.org

beautiful 24 ft mini yacht sailboat, new rigging, bottom paint, top paint,awlgrip, thu hulls 2009, auto tiller pilot, home theater, dvd, 4 sails, ready for blue water sailing, stainless rudder, new ipa tiller and much more

(808) 443-7202


Location: Kona