December 20, 2021 - Doug Broughton checking in as the new owner of Alexanderie, Pacific Dolphin #270 (minor edits)
Let me give you a update on my boat. She is hull #270 and has the name Alexanderia. I bought from Will Jacoway in San Diego California and drove it from there to the ranch in Simonton Texas - 1539 miles one way. Drove like a dream being pulled with a Dodge 1/2 ton

Got it to the ranch - I really bought it sight unseen, and this is what I found, besides the 300 lbs of rat or squirrel droppings. It had been setup for storage pretty good - I know of 11years it sat. Somewhere in that time water got inside, about 10", and it rotted the caulking out of the floor - looked 1000x worst then was.

Anyway, I ripped the rot out, duplicated the parts cut out, treated the plywood and now I need to reglass, pick out some flooring to put down. The hull has no blisters, soft spots or impregnation anyplace I can find in the glass I think I got a steal - the only missing running rigging are main boom sheet blocks, and the rolling furling spinnaker needs to be restitched, paint, and an outboard.

it's going back in the water, probably Galveston Texas for now, then Omoa Honduras . A little about me - I'm 60 and a 7th issue USCG Merchant Marine Master so I know a little about boats. I have a place in Simonton Texas and in Omoa Honduras , Down there Belize and Yucatan are 1 to 2 day sails.

So that's the update

Doug

Thanks Doug and WELCOME ABOARD!!!
Postscript - Doug has also shared some Shaw 24 stuff which website staff is trying to digest - stay tuned....
Subject: Lost Shaw / dolphin 24 Molds

Hi

I acquired a Dolphin 24 1981 model.- about the mold for these boats I was reading one log that the molds were lost well. I know where they are, or were, - in Galveston Texas at the airport. They're made of concrete in shawl 24 , was built in Galveston in the late sixties and seventies top and bottom . Anyway I read the the molds ( Webmaster Note Yankee/Pacific?) were lost or destroyed and I thought you might like to know this information - talk to you later.

Webmaster Comment - Readers may want to check out these links as they relate to Shaw 24's built in Texas -

http://www.dolphin24.org/elation_shaw_24.html

and

http://www.dolphin24.org/history_Trina.html

The Pacific Dolphin/ex Yankee molds were reportedly 'junked' in the desert outside Los Angelus

Stay tuned

***************************************

*********************************************************************

This is the info we have on #270 up to this point in time
November 1, 2021 We got the following email from Will
Ron,

I am sorry to report that I am in the need to sell my sailboat. Here is the ebay listing. please help spread the work. I would love to pass this boat on to a dolphin 24 lover. I have truely been blessed with this boat. But, at last, it is time to let it go. The boat has been out of the water for several years but the sails have been stored inside my garage. I have both the original set of sails and a set of tan bark sails.

http://ebay.us/5XeafV?cmpnId=5338273189

*************************************

****************************************************************
Will checked in with the following pictures and a couple of emails (minor edit and consolidation by your Webmaster)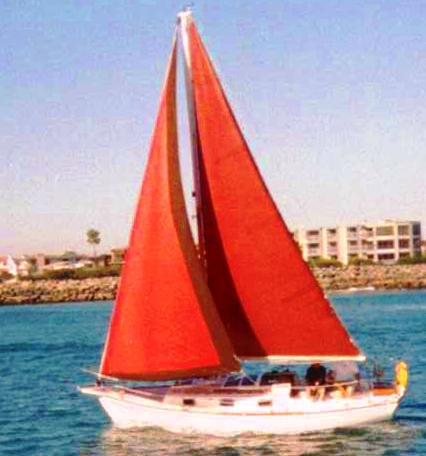 December, 17, 2007
Ron,

I would love to provide more about my boat and to be added to your roster. My boat name is "alexanderie." It is a Pacific Dolphin 24. I am not sure but I think it is hull #270. From some of local San iDego folks, I have been told that my boat was made for the owner of Pacific Dolphin, Inc. when they took over production. I am not sure if it was his personal boat, a demo or show boat. It has some very unique features: No centerboard, The mast is different (larger diameter), and a lot more wood detail work (inside and out). I am not sure how the performance is different from other Dolphins. My brother has sailed several times with Rick Kennedy and his Yankee Dolphin #149 Boethius.

I have changed the entire electrical, replaced the windows, changed the interior post layout, painted the mast, new sails(tan bark), added a bowsprite etc... I have painted the hull forest green, and changed the toerails since the the attached pictures were taken. I will send you more details and photos later.

I was reviewing your website and was wondering if you have the contact information for Stan Barnes. I am very curious about how to rig my Pacific Dolphin with a Mizzen sail.

Will
Webmaster Note: Stan Barnes is the former owner of Shamon, O'Day #25, and Will did get Shamon's mizzen mast!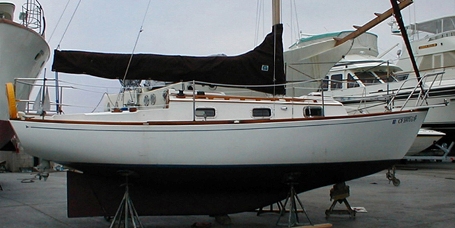 *********************************
August 26, 2013. We have pretty good evidence that Pacific Dolphin #270 is Beaufin in Port Townsend, Washington. We are working on finding out more about Alexanderie's hull number.
*******************