June 27, 2013. Virginia Bettencourt has checked in with her Beaufin, Pacific Dolphin #270. Your webmaster and Virginia had an exchange of emails, and we are standing by for pictures. This is our 211th found Dolphin. Here are her emails - minor edits
Hi Ron,

I thought you might like to know about my Dolphin and add her to your compilation. I purchased her in 1990 from her 3rd owner in San Pedro CA. Her name was Scorpion then, but to me she is Beaufin.

I think she may be unique in that she was redesigned by Sparkman and Stephens to be a cutter rig with a bowsprit making her actually 27 feet. Some of her original paperwork has been passed on to me including photos of her still resting in the cradle before being completely fitted out. Beaufin and I spent a few years in the California Delta and even made it to San Francisco and the Olympic Circle Sailing School. If you have ever seen the Moth Ball fleet out by the Benicia Bridge that is where Beaufin and I ran aground once on a sandbar, an experience that I later submitted to the editors of Latitude 38.

I am ashamed to say that life has gotten in the way of my relationship with Beaufin during the last 15 years and she has been sadly neglected. But I am determined to make amends and return her to her former glory. Right now she is sitting on her trailer in Fortuna, California, but later this month she'll be coming to the Pacific Northwest to Port Townsend where she will undergo the necessary work to restore her. She has saved my bacon on more than one occasion and this is the least I can do for her. Some day she will move on to a new owner and I want to make sure that she is at her best so they will appreciate her and maintain her for many years to come.

Thank you for your efforts to maintain the history of these wonderful boats.

Virginia Bettencourt
Webmaster Note: It took a while but on April 21, 2018 Virginia sent in a Beaufin photo. We'll insert it here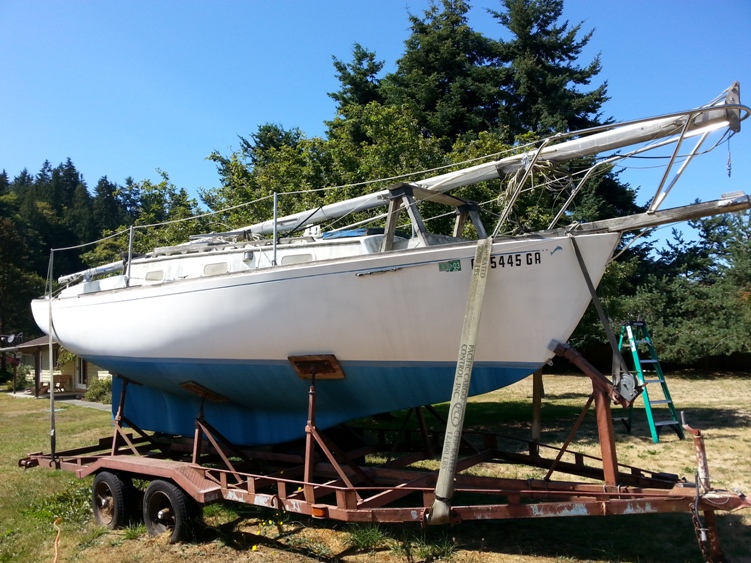 **************************
Back on on our chrono track - June 27, 2013
Good Morning Ron,

The stories on the website are fascinating, to hear how the boats weave in and out of peoples' lives (or maybe it is the other way around). Yes, I have pictures of Beaufin that I will try to send sometime soon. I found you just by doing a search for "Pacific Dolphin Sailboat". Not sure if I have a copy of the Letter to the Editor of Latitude 38 but I will look. I will also verify Beaufin's hull number when she gets here. I know it starts with a 2.

I love the comment by one of the owners that their boat looks longer than she does in the photo. People always miss guessed Beaufin's length thinking she was much longer than 24 ft. My first test sail on her, the day I bought her, was out of San Pedro heading for Catalina Island going 7+ knots! Quite exciting for some one who had never sailed on the ocean before. People at the marina told me she always beat their boats.

Will get back to you soon.

Virginia

Standing By
August 26, 2013. Beaufin is now in Port Townsend. Here is Virginia's update (emails consolidated and edited), including a confirmation that Beaufin is #270.
Hi Ron,

I've been meaning to give you an update on Beaufin. She has arrived in Port Townsend at the Boathaven Boatyard and when I checked on her this evening she is freshly power washed and new paint on her bottom! Lots of work still to do but so happy to see her looking not so neglected. She has already drawn the attention of other small boat owners and admirers. I have met some very nice and helpful people and I am loving being around boats again.

I promise I will send pics soon.

Virginia

ps When I was at the boat yard last weekend I asked a gentleman, who has a Shaw 24, to check the brass plate over the door to the v berth for me since I didn't have my glasses on and could not read it myself. He confirmed it is hull #270.
Webmaster Note - that Shaw 24 comment prompted a webmaster follow up. She is Aron Uchitelle's Compass Rose and we have her in our roster. Click here to go to her
************************************
April 22, 2018 - Responding to a webmaster plea Virginia sent in a short update and a Beaufin photo - posted at the top of this page.
Hi Ron

She is in storage for now. I did have a guy look at her while she was in Port Angeles but he wanted her for free including the trailer she sits on. Not happening!

Virginia

*****************************************
February 13, 2020. Responding to a bi-annual plea Virginia replied with a weather report and a Beaufin update (BTW - its raining again here in Connecticut as well!)
Hi Ron

Happy New Year and Happy Valentines Day!

Beaufin is at my home in Washington stored undercover for now. If it keeps raining she may be afloat!

Virginia

**********************************