The Sparkman & Stephens Association awards their Global Challenge Cup award each year for the best racing performance in the prior year by a nominated S&S designed yacht. Marionette, Marscot/O'Day #12 won this award in 2016 (she won this award in 2011, and finished 2nd to Dorade in 2009).
The presentation was made at the 2016 annual meeting in Lagos, Portugal. Marionette, sadly, did not attend but her caretaker, Ron Breault, did. Here is the story.
July 27, 2015. Marionette had another good Off Sounding Club Spring Series in June this year, finishing 1st in her class, winning both races in the 2 day series. In addition, she had the best combined time for both races in the entire 118 boat fleet. The first race was from Watch Hill, Rhode Island to Block Island - a shortened course was called because of very light wind. The 2nd race the following day was counterclockwise around Block Island in a good NE breeze - Marionette started with a reef, and her #2 heavy genoa. More on this regatta can be found by clicking here and scrolling down to the June 16, 2015 posting.
Then, a couple of days ago, we received the S&S Association invitation for submissions for the 2015 season trophy to be awarded in 2016. Marionette would feel bad if we did not submit her results. So we did - stay tuned - the winner of this Global Competition will be announced early next year. (Webmaster Note: It must be noted here that daughter Nicole's husband Bruce is currently crewing on Dorade at the Royal Yacht Squadron's Bicentenary International Regatta, Cowes, Isle of Wight, UK. Nicole is crewing on a Beneteau 40 racing in a different class. Normally they crew together as they did on Marionette for the 2015 OSC Spring Series, and on another 'race' up in Maine last August, Click here for that story.)
Marionette's combined, corrected for handicap, time for the 2 races was 6 hours, 39 minutes, 38 seconds. The 2nd best time was by Vitesse, a NY 32, another S&S design, sailing in the same class as Marionette - 6 hours, 45 minutes, 56 seconds. Below is a copy of the S&S Association submission.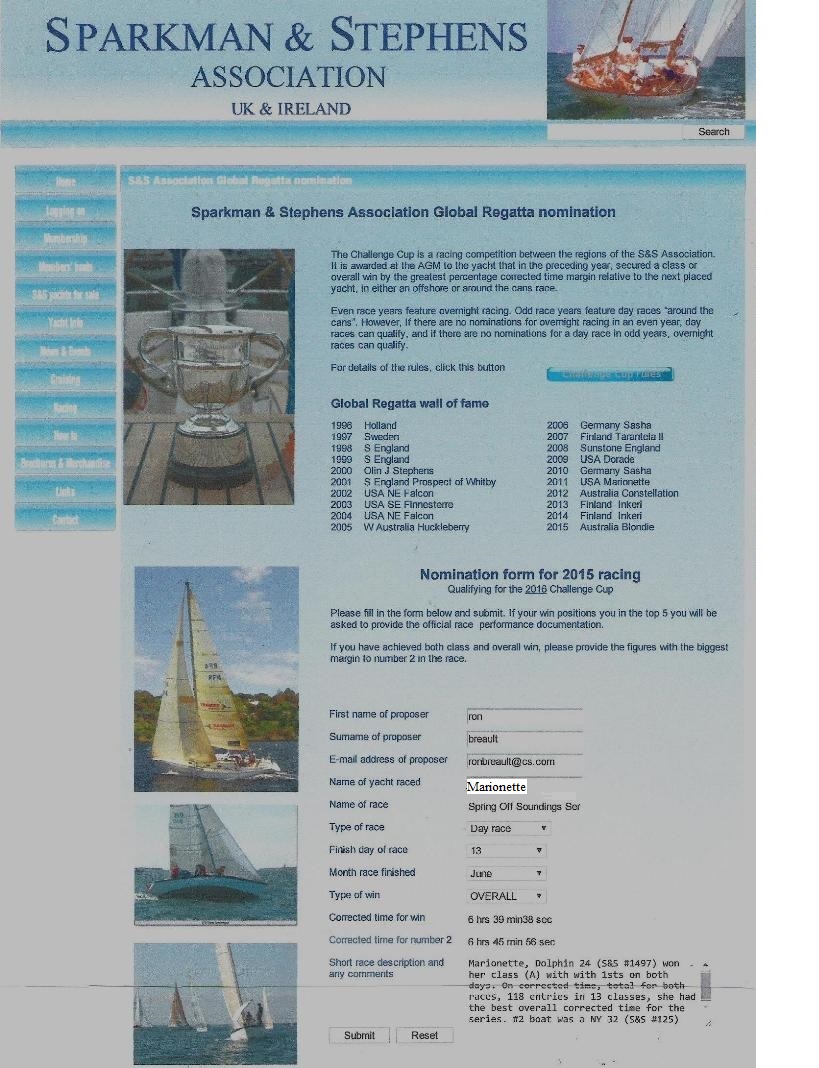 ***************************************
April 14, 2016. We received the following email announcing Marionette as the winner of the 2016 Challenge Cup award.
Subject: Global Regatta results for 2016

Dear racers,

The final results for the Global Regatta 2016, based on races sailed in 2015, are now ready.

1. Ron Breault in Marionette
2. Michiel de van der Schueren in America Jane Ii
3. Michiel de van der Schueren in America Jane II
4. Lukas B. Venema in Mallard

The presentation of the Challenge Cup will take place at the AGM in Lagos Portugal, May 20-22. It would be a pleasure if you all could be there.

The announcement to the membership will be later this week, but I wanted you to know before the publication.

It is a strong motivation and source of pride to see the S&S yachts still going strong. I thank you for your commitment and great example to us all.

Regards

Steen Riisberg

Webmaster S&S Association UK & Ireland

*********************************
May 25, 2016. The following is a copy of the article about the above appearing in the 2016 S&S Association yearbook.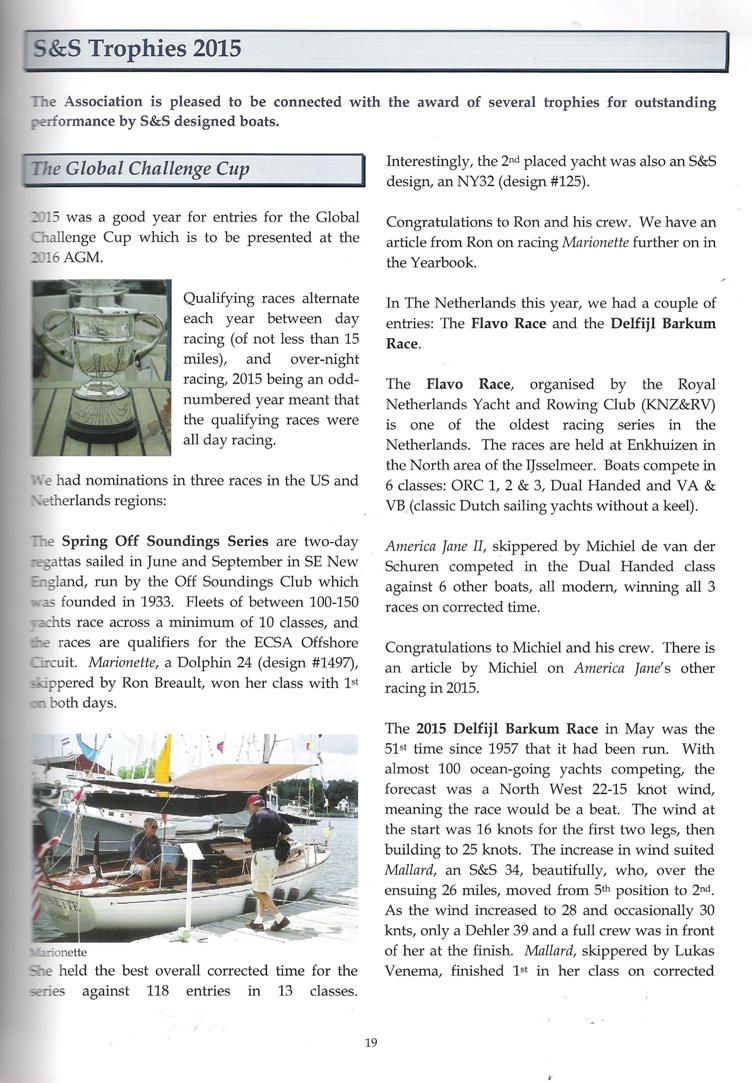 The picture above left is of author John Rousmaniere 'inspecting' Marionette in 2004 at the 75th S&S Anniversary held at Mystic Seaport
The reference in the above article about Marionette racing is here http://dolphin24.org/2016_yearbook_article.html
***************************************
May 31, 2016. Chapter 1 - Finally getting around to this report. Your webmaster, having a good friend in Switzerland who was ill and needed a visit, and combined with the need to more formally recognize Marionette's efforts in winning this award, decided to make a quick Atlantic crossing and accept the award. After a couple of days in the Lausanne area, I took an early evening flight on Saturday, May 21 from Geneva to Lisbon, rented a car and drove down to Lagos in the Algarve - about 3 hrs south of Lisbon, arriving about 12:30AM..... We'll start this chapter with a few pictures to get the setting right.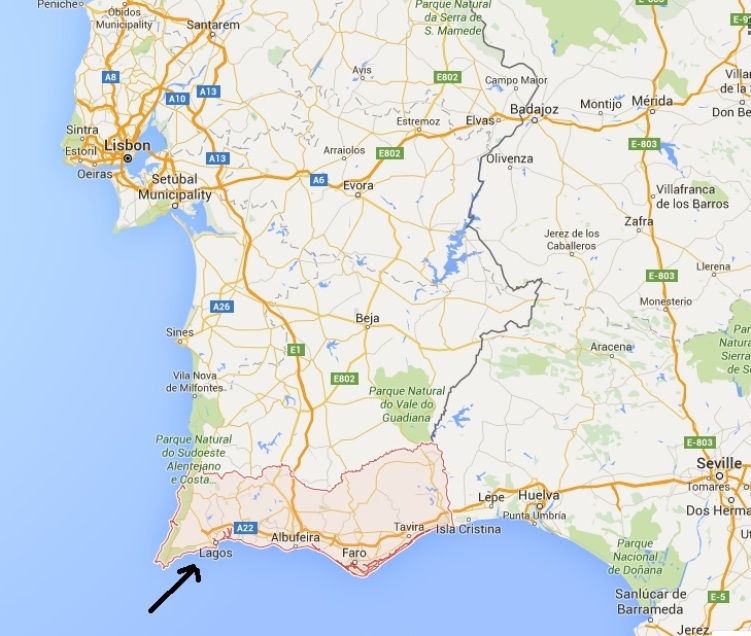 The Algarve above - click on the photos below for a larger image
The AGM Meeting Room - to be continued - big day tomorrow
June 2, 2016. Chapter 2 - Just received the following photos. There were about 50 people in attendance.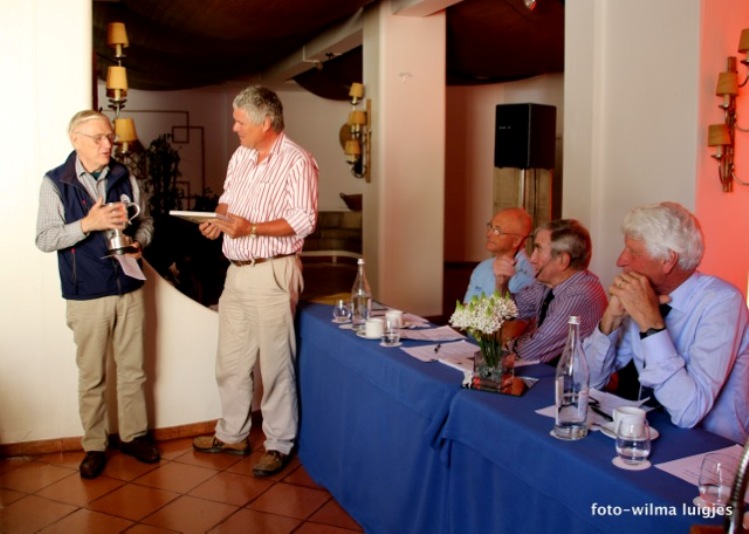 L /R - Ron Breault (Dolphin24.org webmaster), Derek Morland (Race Secretary), Clive Wilkinson (Secretary), David Olley (chair), Rob Snoeks (vice chair)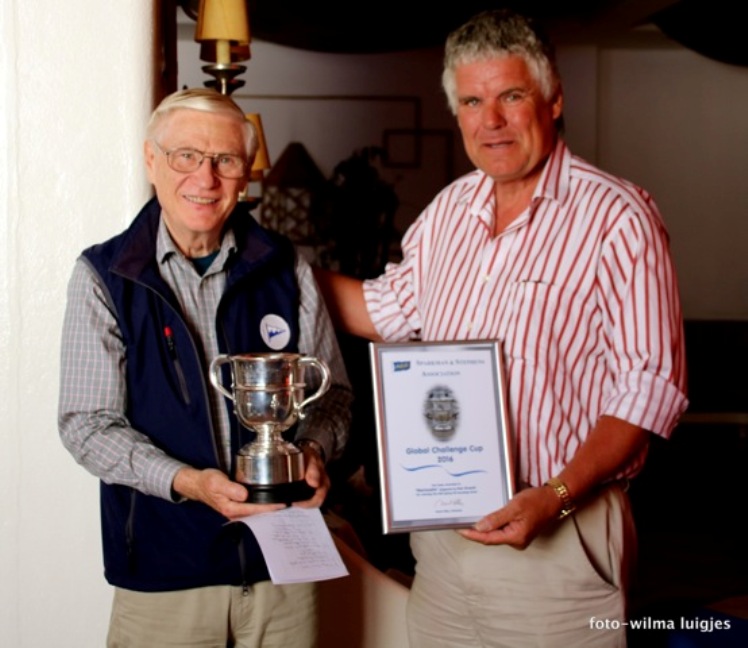 The Cup stays in Europe - the framed print is the keeper
Marionette was very pleased - she would have loved to make the trip with me....
******************************************
Postscript: Marionette won this award for the 3rd time in 2018. This is covered in our S&S Global Challenge Cup page - click here to go there.