March 29, 2011. David Rodgers advised us he bought Dorado from Eric St Mary and that he will be picking her up in Louisville and moving her to Eddyville in western Kentucky . He has a lot of work ahead of him - he has our collective moral support. And kudos to Dorado - she has been a very patient lady...Click here to go to Dorado's new page
****************************************
March 11, 2011. Eric St. Mary wants to move this boat and will sell her for $500.
Hi Ron,

It is still sitting waiting for a new owner. I'll take $500 for it if someone will come pick it up.

Thanks,

Eric

***************************

June 2, 2010 We got the following email from Eric updating his ad for Dorado
Could you please update the ad to reflect that I will have this vessel delivered in the lower 48 for $3000, which includes the price of the boat and the cradle that the boat can be restored in. The buyer will need to hire a boom truck to lift it off of a flat bed trailer.

Thanks, Eric

****************
November 9, 2009. We got the following email from Eric (minor edits):
Would you please place a for sale ad for Dorado?

I am back in school and don't have time to dedicate to this project. Along with the boat are the mast, boom, and full suit of sails. I only want what I paid for it, which was $1500. Buyer is responsible for transport, but I can help arrange it.

Thanks,
Eric St. Mary@gmail.com

****************************
April 21, 2008. We got the following message on the Forum, and a follow email with pictures of Dorado. This is a 'before' set of pictures. We need to give Eric our moral support in the coming months and many bravos to Dorado for waiting so long to be rescued.
I picked up #208, a US Yachts Dolphin, manufactured by Lunn Laminates, on Thursday in Florida and transported it to my home in Kentucky this weekend. It sat in a backyard for 12 years; so needless to say, it is in need of a refit. The only serious concern, that I've discovered, is in the interior where the hull to deck joint meets; the wood, sealant, or whatever was there, is no longer there, and there is a 1/4" gap around 20% of the joint. I'm thinking of filling it with epoxy and rebolting it, instead of pullng the deck.
Webmaster Note: Eric has been referred to the Technical/Repair section for a webmaster discussion of this subject with Halsey, owner of Elizabeth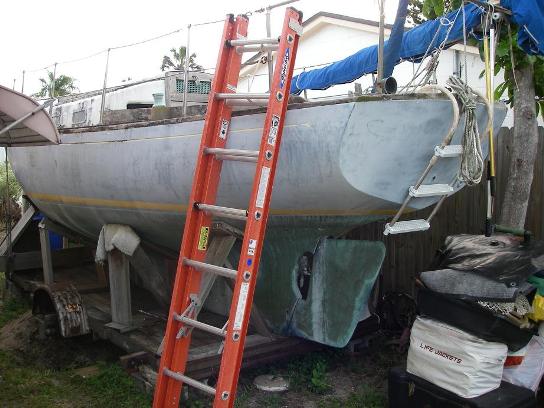 Hmmm - I have seen worse...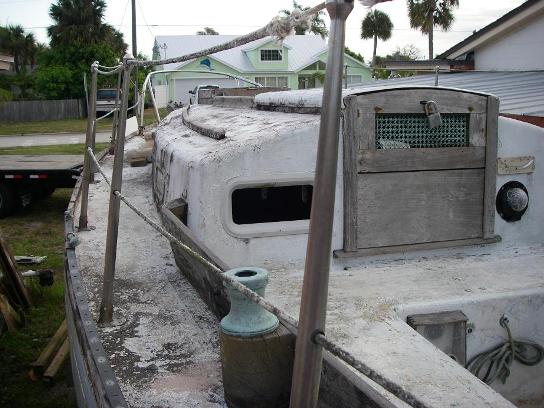 That #*!% Florida sun - maybe a professional sand blast job? I like the aft portlight.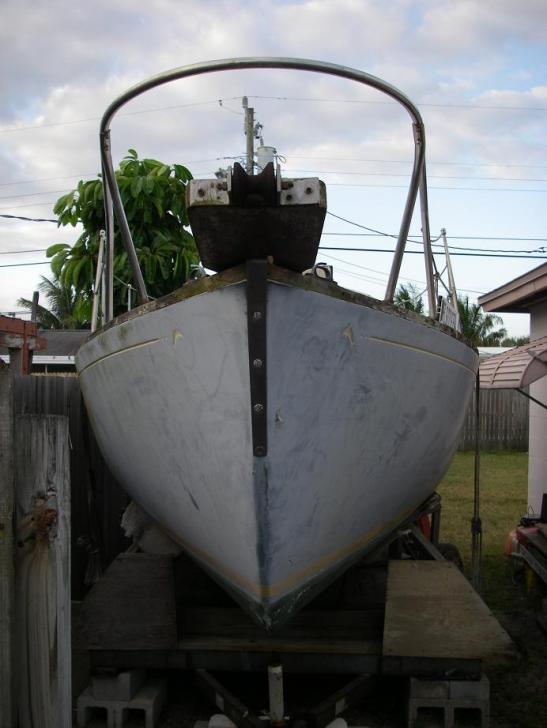 A serious stand on bowsprit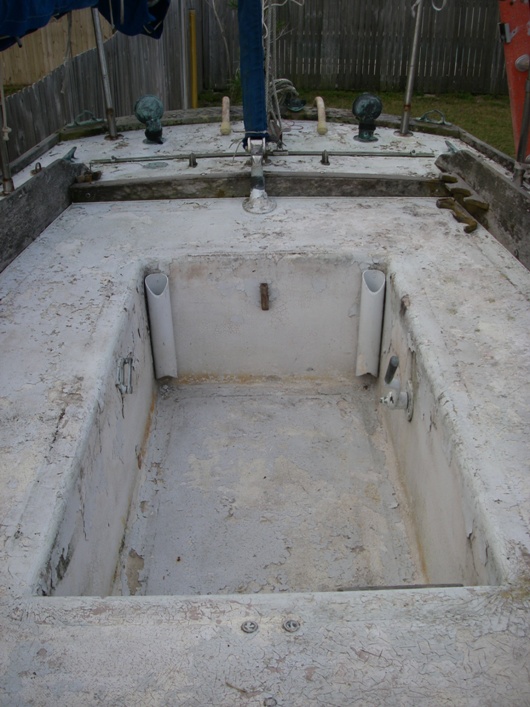 We better get that drink holder repair done soon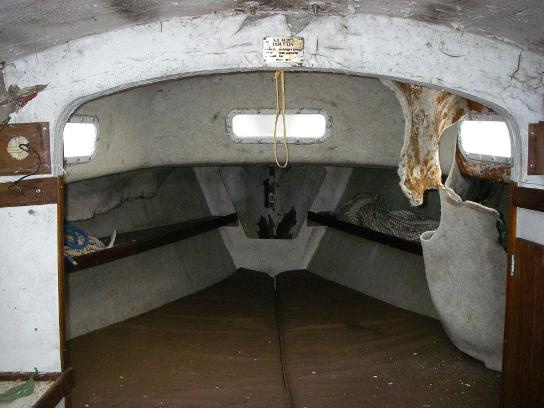 Might have to take a close look at the main beam, otherwise a piece of cake.. Note the nameplate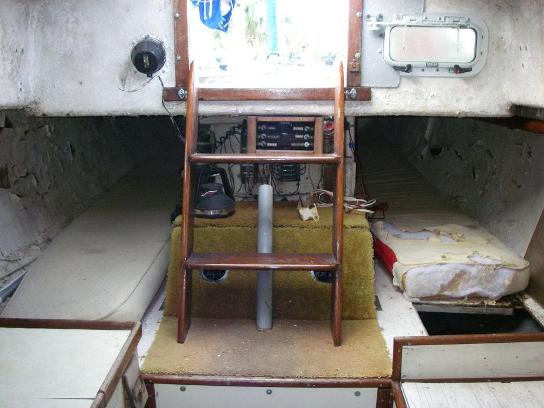 I think the rug has to go, maybe the port q berth cushion too
******************