March 29, 2011 David Rodgers advised us that he bought Dorado from Eric St Mary and that he will be picking her up in Louisville and moving her to Eddyville in western Kentucky . He has a lot of work ahead of him - he has our collective moral support. And kudos to Dorado - she has been a very patient lady....David will be sailing her on Lake Barkley in western Kentucky. We reserved a spot up here for picture(s) from David. Click here to go to Dorado's page for when she was with Eric St Mary.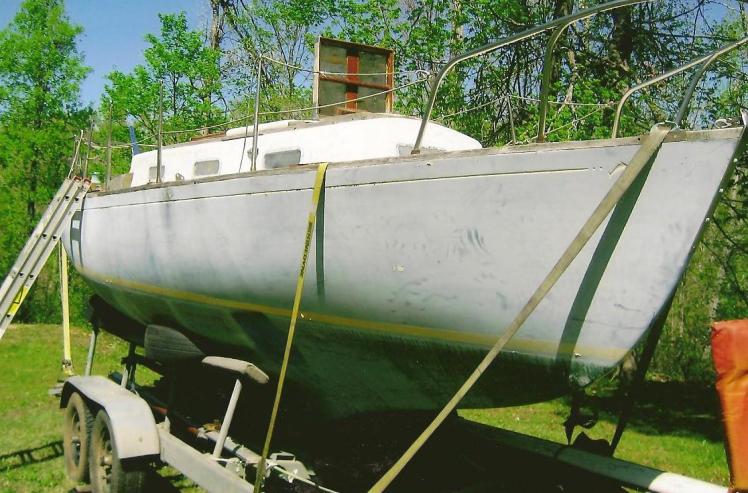 A 'Before" picture dated July 6, 2011 - this will have to do pending a finished Dorado
*****************************************************************
April 11, 2011. David sent in the following status report.
Hi Ron,

Well, DORADO finally made it to western KY last thursday night. Began clean up (ugh) sat. Have removed engine as well as most bad wood. Engine is stuck so don't know condition yet. Early times but will get pictures to you soon. Would really like a copy of your Dolphin book if one becomes available. Will stay in touch with details as work progresses.

Dave Rodgers
Webmaster Note: The Dolphin 24 website book is 'sold out'. Dave is #6 on a list of those interested if we have another printing. We need 25 minimun to keep the price at $50, and if we reach that goal, we probably will do an updated version. Please let me know if you want to get on the list - RonBreault@dolphin24.org
*************************************
September 2, 2012. David sent in a status report on Dorado, photos, and a story. The story is about Dorado's trailer ride from Louisville to Eddyville, Kentucky - about 200 miles. We have included it in our Stories Section. Click here to go to it.
Here's a few pictures that do a do a good job of showing what lies ahead, along with a couple of comments (minor edits) selected from his emails.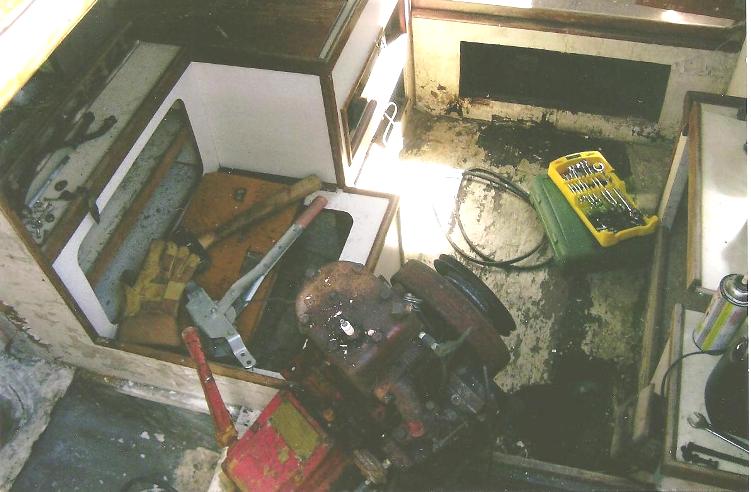 Have decided against using the old Palmer engine. It is frozen and has badly rusted areas on exterior. I put marvel mystery oil in cyl. and was able to get some movement but suspect cylinder is badly rusted. So engine is free to anyone wanting it for spares. It is in pretty bad shape. E mail me if interested
I am looking forward to getting the project started. They are indeed lovely boats. Will send additional pictures as survey and work progesses. Thanks again for your interest and your great website!

Dave Rodgers

*********************************
December 1, 2013. Its been a while since we heard what's going on with Dorado so we decided to check with Dave. We got the following up date.
Hi Ron

Good to hear from you. Am making slow progress on Dorado. She was in pretty bad condition. I have almost completed reworking the deck. Four to five hours and will be ready for paint. Interior cleaned up with bad wood removed and ready for rebuild. A local marina owner collects old marine engines and was happy to take the old Palmer off my hands.

Wiil make slow progress this winter as boat is outside. I love working on her and look forward to the day it all comes together. Have been keeping track of Jerry Slaughter & Rowdy through your website. His progress is an inspiration to an old rebuilder. Will stay in touch and send pictures as I get them. Great website!

Dave Rodgers
Stay Tuned
December 3, 2013. Many of us do not have a good idea of what sailing in western Kentucky is like. We asked Dave to share this experience with us. Lake Barkley, Dorado's home waters, and its sister lake over the mountain, Kentucky Lake, are part of the Tennessee Valley Authority system of rivers, dams and lakes. Here is a map and Dave's comments (consolidated and edited)
Click on the picture at lower left for a large scale, and clearer, view
Ron,

Lake Barkley [Cumberland] and Kentucky Lake [Tennessee] are both navigatable north flowing lakes/rivers. They are major commercial shipping arteries. The Tennessee River is part of the Tenn-Tom waterway south to the gulf ending at Mobile, Alabama.

Most of the bridges have 55' to 60' of clearance. The "Land Between the Lakes" used to be controlled by the TVA however is now part of the US Forestry and is a pristine un-developed recreational area. Both lakes allow the water level to fluctuate from spring/summer/fall and winter as the dams creating the lakes are used for flood control.

Kentucky Lake is by far the better sailing lake as it is wider and deeper. Both lakes have full service marina's with haul-out capabilities. There is a canal connecting the two lakes at Grand Rivers.

Both lakes are kept at the same level so there is very little current in the canal. Bridge clearance is around 60' depending on water level. Kentucky Lake lock/dam is presently being enlarged and much of the barge traffic to and from the Ohio and Mississippi rivers is being routed through the Lake Barkley lock so the commercial traffic on the canal can be pretty heavy at times. Fortunately the canal is only about one mile long.

I was introduced to the area in 1988 while bring my boat south from the Great Lakes to Florida, fell in love with it, and decided to spend retirement time here. So there you have it. Would recomend a visit as it is a beautiful area-----a gunkholers delight!

Dave
******************************