January 11, 2012. Jonnie Walker told us about these projects back in October 2010, and they are up on Madalyn Joy's page. But they needed to be here in the Technical Section as well. So here they are - emails excerpted
Hi Ron

just wanted to give you an update. Here are some pics of the new Formica for the dinette table.

And here's the stained glass for the galley doors. I shouldn't have created such an intricate pattern for the mermaids, but I think they came out good.

Here are a couple of pictures, before and after, of the v-berth. The final coat went on today....the major painting is done!!! The wood veneer was actually (I believe) a sticker of sorts that was put on under the original gelcoat or whatever they finished it with...it was not real wood, nor was it pretty! I painted right over it!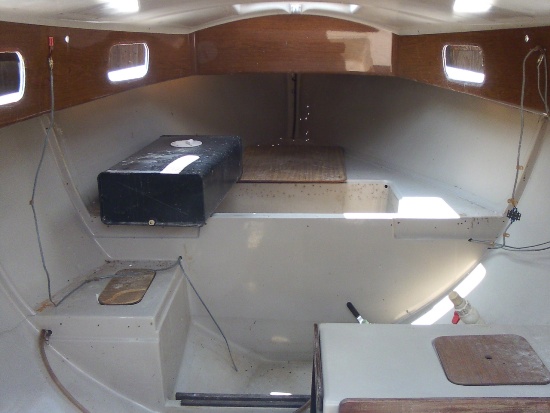 Before
After

Feather's teak veneer is pretty...this was 70's fake wood. I just sanded it with 220 on the orbital sander like the rest of the cabin. I gave it one coat of primer and two coats of paint. I used Prekote and Brightsides Urethane.

Trying to keep tabs on the $$ side - I've spent around $250 in sand paper, burned up one orbital sander, and burned up one shop vac...

jonnie