April 10, 2014. Giles Grimston advised us of an updated ad for Glass Spider. Here's the link, text, and one of several new pictures on the ad
24 ft fibreglass keeler S/S 24 (Sparkman & Stephens) LOA: 24 ft
Beam: 7'8"
Draft: 4'2"
30ft aluminium mast and boom
Displacement: cca 2200 kg
Headroom: 1.6m

Selling my boat due to moving overseas. Great performance and timeless looks. Location: Whangarei Riverside Marina (if not out). I can deliver to Auckland and further)

I've lived aboard for last year, so all is well maintained and ready to sail. Heaps of gear included (for living aboard and boating), tons of spares and tools.

Asking $5400
> Standing rigging 6mm new in 2012,
> hull paint – 2012 Toplac,
> Electrical circuits all new 2012, Windows replaced 2012, no leaks,
> sound GRP hull, Outboard in perfect condition. Anti-foul – should make it through summer
> Dinghy - inflatable (2007 Southern Pacific- normal wear, no repairs) with wooden oars. Can be stowed below decks. 15 HP Mariner 2004 outboard
> Mainsail new in 2011 (Dave Giddens) 3 reefs fully battened, flexible batten cars) Genoa, Jib #2 a #3, Spinnaker and pole, 4x winches
> 30L fuel capacity + 100L water (jerry cans)
> VHF – Solara Uniden + GME whip antenna; Ultra Battery (2012) and 10Ah spare battery Charger plus lead 30 W, 5W and 2x 1.8W Solar panels Power inverter 150W, Switchboard
> Automatic bilge pump (2012 Johnson), Whalegusher manual bilge pump (2015 warranty) in cockpit
> Hummingbird thruhull fishfinder
> Manual freshwater pump, Electric saltwater pump
> Jabsco loo (under forward berth)
> Swim ladder ; 2 white horseshoe buoys
< Manson plough + chain + warp; 50m Danforth + chain + warp 50m
> Fenders, Fire ex., Cooking gas stove, Coolbox, Kitchen utensils and cooking stuff, Infatable bed, Fishing gear
> 50 KN life jacket for children (Hutchwilco); 150 KN Automatic inflatable life jacket (Hutchwilco 9/2013) worth 130$; 150 KN Manual inflatable life jacket (new 4/2014) worth 100$; Harness and tether (jacklines rigged) worth 70$
>Tarpauline (over the boom)
> 12V compressor, 12 Vacuum, Cordless electric drill Tools, sealants, sand paper, fittings, blankets, emergency gear, beach stuff

**************************************
July 27, 2013. Well, Glass Spider is on the move again. Giles Grimston (ex Summer Wine) saw this ad on Trade Me. This is the link - lots of pictures http://www.trademe.co.nz/a.aspx?id=620054089 (expired)
1972 Sparkman &Stephens 24 Keeler, K1019
Asking price: $4,000 Or Near Offer - Listed: Sat 27 July, Listing #: 620054089
Length: 7.3 Metres (24 Feet),
Purchased January last year with a reliable 2004 15hp long shaft Mariner and new in 2011; Dave Giddens main sail. Has a Uniden Solara VHF, Ultra battery, switchboard and automatic Johnson bilge pump. Whale Gusher manual bilge pump installed in cockpit. Comes with 1,2 and 3 Genoas in usable condition and a spinnaker along with pole. Glass Spider was repainted with international Toplac in March 2012 and a Hummingbird thruhull depth sounder fitted. Mast lifted this year and all Stays replaced by Northland Spars and Rigging (5mm sides, 6mm fore and aft). LED anchor light fitted along with LED bulb in running light and new GME stainless whip antennae fitted at same time. Squabs are in good condition and a modern manual Jabsco loo without holding tank is fitted. Last lifted and cleaned 6 months ago. Windows replaced when boat repainted in 2012, new Ultra battery last manth charged by a five watt BP solar panel. Fitted with a stainless swim ladder and 2 white horseshoe lifebuoys. Comes with a Manson plough, chain and warp along with all the normal sheets etc to operate her. Glass Spider is a great well mannered boat and we love her looks and performance. All the time consuming things like the electricals and stays are all done. She has served us well to get back into sailing and we have cruised for up to a week with 2 young kids along with racing 2 handed in over 30knots of breeze no problem. Very fun and reliable boat that copes with whatever conditions we've had her in. Will negotiate to keep motor if required.

Reason for selling ...... am not allowed to run a two boat campaign as wife needs a new kitchen!

Click on the Trade Me link above for more pictures, and see more pictures below

********************************
Back on March 21, 2011 Paul and Lisa Parsonage checked in as the new owners of Glass Spider. Paul is back in the fleet as his parents were prior owners of Summer Haze. We'll start with Glass Spider's 'after' photo, just relaunched in Whangarei after getting her stunning new look.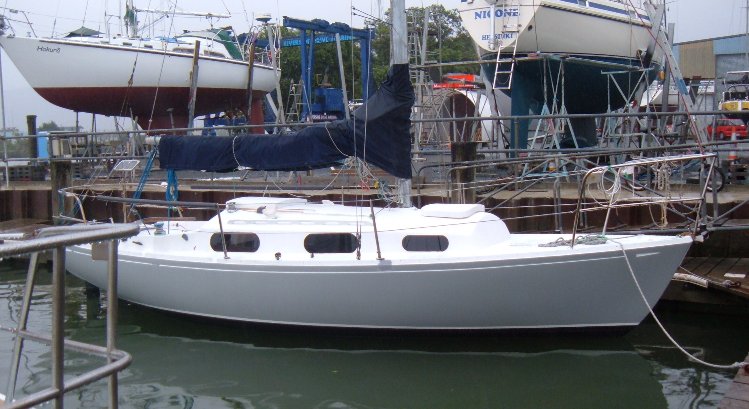 G'day Ron

Yes, we are the new owners of Glass Spider. Took her over in January, sailed up the coast to home in Whangarei and hauled her out for three weeks of hard work. Have attached a before and after photo for your site. More photos to come ........... promise!

Regards

Lisa and Paul

********************************
January 31, 2013. We have the following update from Paul regarding Glass Spider's adventures, and some information about his storm jib. This continues our 'technical project on NZ sails that in part got started with Paul's post on this subject in the Forum. Click here to go to that article in the NZ Technical Section. Paul's email follows with minor edits
G'day Ron

Sorry about delay, been blowing a solid easterly over our boat for the last couple of weeks so haven't been to boat until tonight. No pictures at this stage, but it happens that my storm jib that came with the boat is a brand new Dave Giddens and with my amateurish calculations approx 40 square foot! Measurements are as follows

Leach 3.85m (12' 7.5"), Luff 3.12m (10'3"), Foot 2.28m (7'6")

My parent's S&S Summer Haze had a baby stay like Giles (Grimston, Summer Wine), but mine never has, although the mast has been set up for it at the spreaders (suspected original alspars section).

We took Glass Spider up north to Whangaruru for 4 days over new year (photo to come scanner has just died!) and prior to that we (Lisa and I) did the 2 handed racing series with the Whangarei Cruising Club. We are contemplating moving Glass Spider down to Auckland for more professionally organised racing.

Whangerei Crusing Club keeps popping up as a place where our boats go so here's a "chart"

Quick blurb on racing Glass Spider

Raced 3 races, smallest and oldest keeler, had to retrain Lisa as I taught her to sail on 28 and 31ft racing multihulls and this leaning was a new novelty! Ended up coming 6th out of 17 but only 3 of us completed all the races, first time I've experienced 1 out of three being discarded! But boy did we have fun. First race, consistant 25 knots 1 reef and no 3 up, screaming along keeping up with a 32 ft long keeled cruiser. 2nd race, 30 knots consistant same set up, issues with keeping the kettle on the stove for cups of tea. No idea of speed but we were surfing down the waves seriously in need of a number 4 jib and should have put another reef in! 3rd race nice light one, 15-20 knots variable, full main and number 3, should have had number 2 jib up and gone for a dive and cleaned the hull. In conclusion, lots of fun, looking forward to two handing with kite and am currently trying to find a second hand number 4.

Paul

Standing by

************************************

**********************************************************************************
At this point we begin the history of Glass Spider as we know it. Lisa and Paul bought the boat from Kevin McCready who had her for about one year and kept her in Waitemata Harbor, Auckland. Kevin bought her from Sioban Hall who had her for a couple of years. Her name was Rapallo under another previous owner (Lou).
On December 27, 2011, Giles Grimston (Summer Wine) brought the following ad for Glass Spider to our attention. Here is the link http://www.trademe.co.nz/a.aspx?id=435256431. The ad had an interesting additional link to questions and answers about the boat http://www.trademe.co.nz/a.aspx?id=435256431#qna that no longer appears to be up. We posted comments from the previous owner, Lou, at the bottom of this page.
Sparkman and Stephens 24 (SS24) Falcon keeler


Solid safe full-keeler. Original SS24 pocket cruiser, more solid than the NZ Falcon.

Ideal first keel boat. Forgiving (ie very hard to tip up). Sailed solo Kawau to Auckland in 40 knot tailwinds recently.

Big pluses =
1. Brand new battened mainsail (three reefs, flexible batten cars) and new storm jib (worth $2771.04).
2. 3 year old Mercury Mariner 15 hp 2 stroke outboard
3. Big new extra Manson/Rocna type Supreme 15 lb anchor, 30 m of anchor chain, 50 metres of good quality stretchy anchor rode

New Whalegusher manual bilge pump (2015 w'ty)
New foresail spectra halyard
New 75 mm Harken blocks for spinnaker sheets
New spinnaker snapshackles
New epoxied wood 2x4 outboard transom bracket

2-speed winches (self-cleating Watski Wincher rubbers)
50 litre flexible water container plumbed to sink
Philips Solar Charger
Charts 532 and 5324
Marine Heads - Jabsco

Recut genoa , #2 and #3 headsails. (#3 near new) , Spinnaker

VHF radio, life jackets, lifebuoys, fenders, kitchen stuff, tools, fishing gear, dive belt, long boat hook, extra CQR anchor, sailing gloves

Won many races. Goes well against Reactor 25. Adjustable backstay

Free use of Hobson Bay mooring for a month

Receipts, log book, history files. Ready to sail away

Happy to negotiate on mooring, Honda 2HP fourstroke outboard, Parkercraft 2.6 m aluminium tender with anchor and oars, Musto HPX Ocean Drysuit SH1604 -small size, musto and other wet weather gear, handheld VHF, Iridium Satellite phone, Wichard 3 point safety harness, Burke automatic PFD with spray hood and crutch strap, Dubarry leather and goretex seaboots (size 11UK), Burke seaboots, Gill seaboots, sailing library
These photos, and more, are in the ad. Glass Spider is below - before and after her new topside paint job.
***********************
******************************
October 14, 2010. We received the following email (edited) from the new owner of Glass Spider, Kevin McCready.
Hi Ron

Thanks for a fabulous website.

I'm the new owner of Glass Spider which I bought from Siobhan Hall. She was lovely to deal with and very generous in all the equipment she left on board. Apparently it's an earlier "real" ss24 with the three windows and not the NZ modification known as a Falcon.

Kevn McCready

*************************************

******************************************
At this point we shift to the record we have from previous owner, Siobhan Hall. On February 4, 2008 we received the following emails from Siobhan and a picture of Glass Spider on her mooring. Af this date we had pictures of several Falcon 24's but no S&S 24s. This is our first. For more information on S&S 24s click here.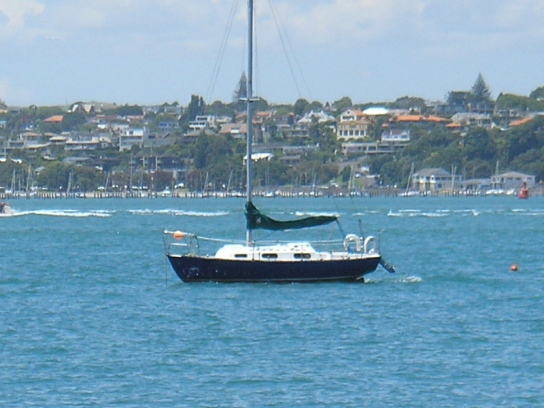 February 4, 2008
Hi

I have recently brought a SS24 in New Zealand, not knowing much about this boat have been looking on the web and come up with your site.

My boat is named Glass Spider and has the sail number 1019. She has the cut away in the transom for the outboard, and having read the site her found that she must be pre 73, something that I didn't know.

Previous owners have raced her with the now defunct SS owners association and there are several plaques on the bulkhead in the cabin to prove some success.

The boat, as she sits in the water today is rather sad in her appearance but hopefully with some paint and TLC this will improve when she is next taken out later this year. She has had the halyards brought back to the cockpit which makes short handed sailing much easier. I plan to install tiller pilot for next season which will make solo sailing easier as this is how she will be used mostly.

My crew not being of much use as he is a dog. We make an unusual team out there canine crew and female skipper, but that makes the sailing none the less enjoyable on this very forgiving little craft.

Faithfully, Siobhan Hall
*******************
February 28, 2008
Hi

Here is a picture of Glass Spider on her mooring in the beautiful Waitimata Harbour in Auckland New Zealand. As far as I know she has spent all her life in the Waitemata Harbour and sailing on the Hauraki Gulf

Cheers, Siobhan Hall
****************
January 3, 2009. We have been in touch with Siobhan regarding Natine and she replied with the following email and update on Glass Slipper
Hi Ron

I am sorry to say that I have no knowledge of Natine, but will ask around, not that I know many other SS 24 or Falcon owners.

I am happy to say that after a wet and difficult winter to do any work on my boat I am now getting some good use out my 'Glass Spider,' I am planning a trip or Great Barrier Island this year, its about 50 miles off shore and a biggie for me, I know that the boat will be fine as its been there many times before, she bares the plaques from races and cruises in the 80s and 90s with previous owners.

Over the winter months I replaced the toe rails and grab rails and next winter plan to paint all the top sides, she really need a generous lick of paint.

I was out yesterday with two friends and we had a very pleasant day on the harbour with a walk on a conservation island, unusually for me we ended up having to motor back to the mooring as the wind was right on the nose and rising.

It was nice to have a crew for a change although, being green, they were not of much use. I usually sail alone, hence I have just fitted a Simrad tiller pilot. the first time out, last weekend I sailed on Boxing Day and came back the following day. The tiller pilot was great, as long as the battery lasted, which I am sad to say wasn't very long, so that is the next project, up grading the power supply, probably with a larger solar panel.

While away on my Christmas trip some early owners of my boat recognised her, they owned her in the 70's, unfortunately I didn't get long enough to talk to them and find out any history. They recognised her by the cut out in the stern which drops the outboard lower to the water. This is an innovation that allows the tote tank to be out of sight below the deck line. But even with a long shaft out board I still an subject to a lot of cavitations if there is any swell, which is always where I sail.

My dog is becoming an accomplished crew, always in the wrong place at the wrong time, this makes for some interesting situations, but I wouldn't have it any other way.

Sorry for the ramble, its warm and humid today, overcast and reading 27C, hope this warms up your -10C a little.

Cheers, Siobhan (Glass Spider) :-)

*******************
November 22, 2009. While most of us are raking leaves and getting out our winter jackets, some of us are just getting launched. Siobhan sent in the following email and pictures of Glass Spider sporting her newly painted topsides.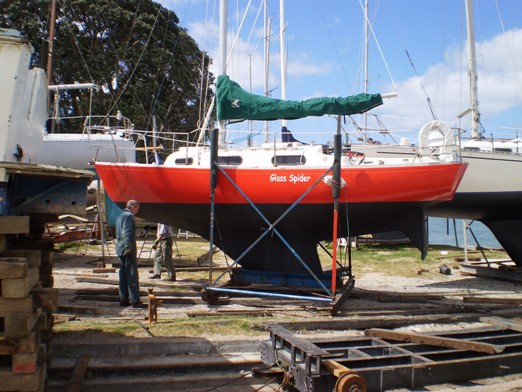 Newly painted topsides
Hello Ron

Well, Glass Spider is on her way back to the water in the attached pictures, she has had a change of livery over the winter months. I had intended painting the deck and cabin top but ran out of time. I fitted a new head while she was on the hard stand so weekends will be a little more comfortable for me this season. I still want to fit some sort of water tank and get new cooker with gimbals.

Other changes that I have made is fitting a sock over my spinnaker, hopefully this will enable me to use this sail single handed when the time comes. To make the sock I taught myself how to make net and knotted 10 meters of it, hopefully it will do the job.

Looking forward to the summer season down her in NZ while you up north have your winters.

Cheers, Siobhan Hall, Glass Spider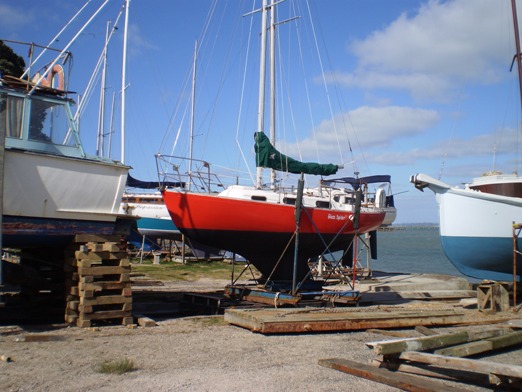 ********************
December 29, 2011. The questions and answers link on the TradeMe ad (see above) has a posting from a previous owner Lou (excerpted and edited)
Hi Kevin, I used to own this SS24 in the late 80s-early 90s. She was formerly named Rapallo. As you pointed out in your description, she is a Mk1, not a Falcon....Falcon's have a modified deckhead, designed by Ferris de Joux (less attractive, larger cockpit, less volume below, shorter boom). Has beaten Raven 26's on the water (elapsed time). Happy to assist with any info you'd like.

I renamed her when I did a major refit, ran all halyards to the cockpit, pulled the rig out to run halyards inside the mast & also conduited wiring for masthead light, fitted backstay adjuster, dumped the Murray side handle sheet winches & added halyard winches to cabin top & the list goes on. Reactors, Ravens, etc., have a waterline length advantage in moderate to fresh breezes. Whoever buys her will get a pretty bullet-proof boat. I sure got my share of value from her.

***********************************