May 9, 2014. Jay Westbrook has checked as the new owner of Charisma, Yankee #208. Below is his email (edited). Click here to go to Charisma's prior life.
Hi Ron,

I wanted to give you some good news. I just bought Charisma from Jeremy Covert this week, and we both just brought her up to Eugene to her new home. She will go into a slip tomorrow at Orchard Point Marina at Fern Ridge Reservoir.

I had rented a trailer here in Eugene, and Jeremy flew into town and drove down to Brookings with me. The Brookings boat yard loaded her onto my trailer, dropped the mast for us, and then the next day we had a beautiful drive up to Eugene.

Below are a couple of pictures from the trip.

Click on the photos for a larger view

My plan is to get to know Charisma on the lake this season. I will work, as I can, to get her (and myself) ready for some coastal cruising, with eventual plans to cruise the Columbia River Gorge, the San Juan Islands, and off the coast of Washington and Oregon. This is my first boat, but I am not looking to "start" with her and then "trade up." Only a trailerable boat works for me, and so I expect Charisma to be my companion for a very long time.

I hope to provide additional information as I go along, but wanted to get you this feedback right away. I know Jeremy plans to send you some updates as well. Jeremy and I had a great time together on our adventure, and I think we were both very pleased with the excursion.

All my best, from a proud Dolphin owner,

Jay Westbrook

Welcome aboard Jay
Yankee #208 has the distinction of being Yankee Yacht's cover boat for their 1971 brochure.Here is a very grainy, scanned photo copy of a copy of the brochure cover. Click here to see a copy of the full brochure. (Anybody have an original?)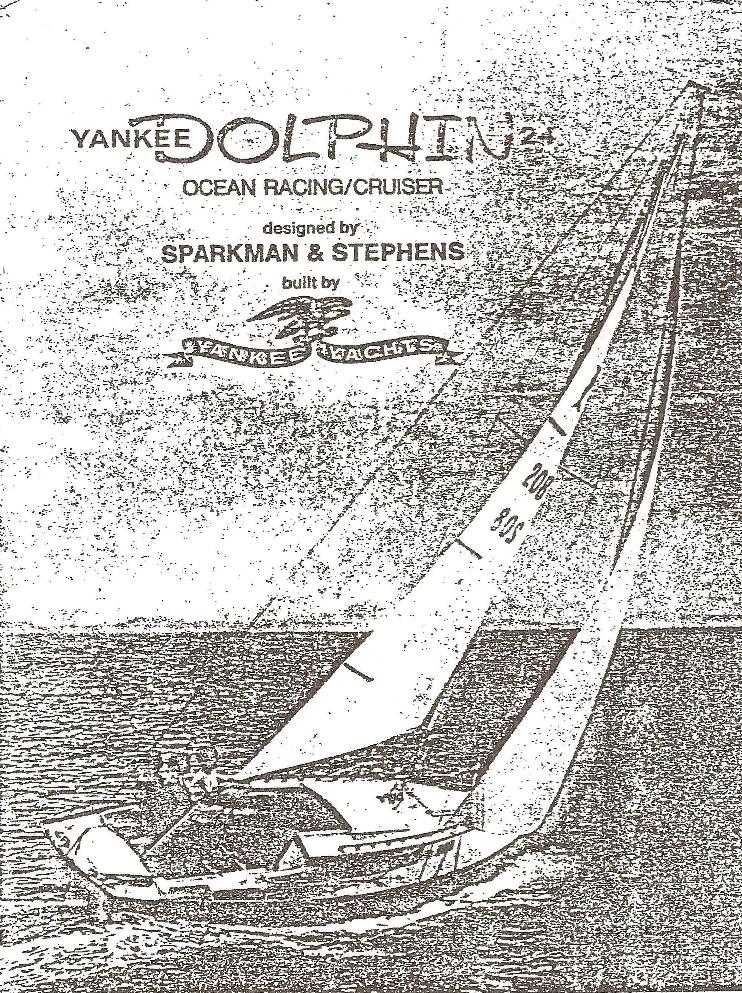 1971 Yankee Yachts Brochure Cover
**************
July 4, 2014. We have the following update (minor edits) from Jay and Charisma. Also a request for info - Dolphin24.org staff is working on this request but anyone with name history, or for that matter any history on Charisma, please contact the webmaster at ronbreault@dolphin24.org
Hi Ron,

Just an update to give you a current picture of Charisma in her summer slot here in Eugene, Oregon. I noticed from your Whats New page that there is a second Charisma in Vermont. Made me wonder if you received any feedback from Ken Thompson (former owner of my Charisma) about the name history of 208? Even if he just has a name and number of a former owner, that would be great. Any help in tracking more history would be greatly appreciated!

All my best, Jay Westbrook

*********************************
July 10, 2014. Jay has been trying to get some of the history of Charisma , and with the help of former owner ken Thompson, he was able to get in touch with Dr John Boye, another former owner. This lady has had a few aliases...
Hi Ron,

Just wanted to let you know I had a nice chat with Dr. Boye on the phone. He says that he had bought #208 from a family named "French" in California. The boat had been named "Sea Mist" at that time (1990s). Dr. Boye and his wife changed it to "Nauty Lady," and then based upon Ken's input, it became "Christine," and finally "Charisma" in 2004. Not sure if I will be able to find the French family, but will try when I have the time. Sounds like no one is too superstitious about changing names.I wonder if you know of any online resource for tracking boat registration history? Certainly not critical, but would be interesting to know.

Webmaster Note

:

Not that I know of but if you find one please let us know

Thanks again, Ron, for helping get me this far!

Jay
***************************************
July 16, 2015. We got the following update from Jay (minor edit).

Hi Ron - All is great here, and getting in as much sailing as possible this summer on Fern Ridge Reservoir. Still keeping Charisma on the lake for now, and not planning a coastal cruise till next year, but getting her ready step by step. A new mainsail and new Tohatsu 6 HP outboard was my big investment in the last offseason. New tires going on my tandem trailer today. One piece at a time…

Hope you are doing well also, and appreciate very much your dedication to keeping the Dolphin website available for all of us.

All my best, Jay

Webmaster Note: So, where is this Fern Ridge Reservoir? We thought some would ask. I did.

Wikipedia said it is about 4 1/2 miles long located about 40 miles inland from the Pacific coast, 12 miles west of Eugene, Oregon, and about 100 miles south of Portland.

Below is a picture of the lake looking at the Eugene YC with the mountains in the background.

Click on the above picture for a larger image
******************************
March 26, 2016. We got the following update from Jay
Hello Ron,

I am finally sending you a short update on my winter projects with Hull #208, formerly named Charisma.

Yes, the first news is that she now has a new name, and that name is "One Chance." She also has a brand new paint job and the new name on her transom (see photos).

Click here for a large image

Why the new name? Had I found that she had had the same name for a long time, or if I could have identified her original name, my sense of nostalgia would have led me to go with that name. But as you know, when I did my research and found out she had had several names in the last ten years, and that it was impossible to find the history further back, I chose to "go my own way."

"Chance" is a family name with meaning for me, and I also wanted a name that was not very common. "One Chance" has a multitude of layers in its meaning, including the fact that, for me, buying a Dolphin two years ago was an initial leap of faith.

It really was my "One Chance," and thankfully, I have never regretted it.

Webmaster Note: Click on all photos for a larger image

During this winter, she also received a new digital depth sounder, and a new stern railing. Slowly but surely, I am getting her ready for a cruise away from her home lake. She needs to be in open water, and I am committed to making that happen.

For now, she will be put into her marina slip on Fern Ridge Reservoir again very soon, perhaps this weekend.

Making use of the technical articles on the Dolphin website, I have been experimenting with methods to raise and lower the mast without defaulting to the convenient Mast tower at the marina. I want to be able to launch her myself at many ports without such a convenience. In short, I am practicing with a homemade gin pole. When I the kinks worked out of my system, I will try to post some pictures and procedures.

Thanks gain, Ron, for all of your hard work to keep the Dolphin owners connected.

All my best,

Jay

************************************
April 5, 2016. Jay has raised her mast and gave us a report with lots of pictures - and a couple of questions. Click here to go to the Technical Section/Mast raising and his report. Here's One Chance, ready to go.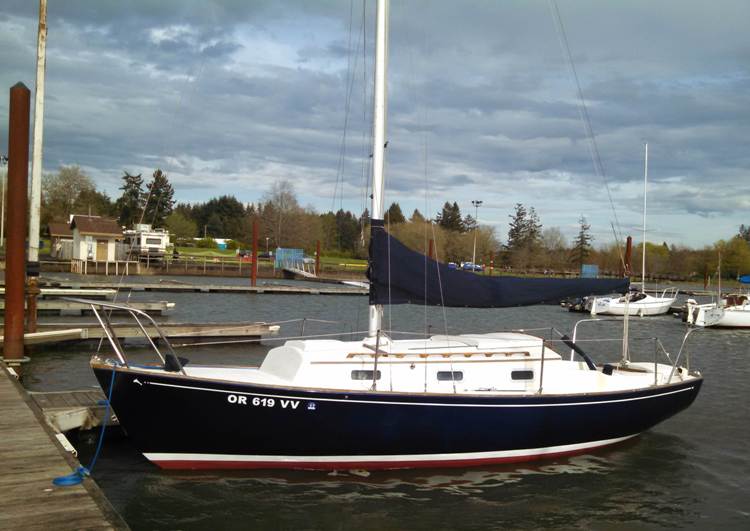 "One Chance now snug in her slip for the season"
December 16, 2017. We got the following update from Jay
Hi Ron,

So sorry for being incognito so long. I haven't forgotten you and the Dolphin 24 group!

Once Chance is in very good shape and getting better all the time. I still have not got her to the point of making a serious cruise, and given my work and travel schedule, not sure how realistic that might be in the short term. But in the meantime, I keep making improvements in her toward that end.

Sorry I don't have current pictures, but here is a short list of improvements One Chance has had in the last two years:

New toe rails

New topside paint

Refinished and oiled teak all around

New Blue Sea DC and AC panels (AC shore power is brand new)

New 50W solar panel and charge controller (panel fits on stern hatch cover)

New electric bilge pump y-ed in to system with manual pump

New LED running lights all around

New LED masthead light added

New LED steaming light

New lifelines

Additional improvements to her trailer, include keel guides

There is probably more that I cannot remember at the moment, but you can rest assured this is one Dolphin that is getting some loving attention. Before spring, I will also be running main and jib halyards to the cockpit with clutches and turning blocks (tired of going forward to raise and lower sails).

I am also working to improve my mast-raising (lowering) system, by adding "baby-stays" to support the mast laterally during lifting. I have lifted it just fine with a gin pole, but want to make the system more foolproof. I have the new stays fabricated, and am planning to do a "test lift" on her trailer in a couple months to see how it works. I will try to take pictures and forward to you. I want to good system that will allow me to raise that mast at any launch ramp, in any wind conditions, without worry.

Thanks again, Ron, for your hard work on behalf of all of us, and will try to be in touch more as time allows.

Jay


***************************************
February 22, 2020
Responding to a webmaster plea we got the following update from Jay (minor edit)
Hello Ron,

As usual, I have been negligent to stay in touch. Two years is too long. But One Chance is still receiving time and attention, and she continues to sail as much as possible between April and October on Fern Ridge Reservoir in Eugene, Oregon. I have sailed her now for six years (hard to believe), and am still very happy to have joined the family of Dolphin owners. I am most definitely one who made a good bet by investing time and energy in a Yankee Dolphin.

Lets start this report here -

Ok, lets go to work!

Looking forward to the sailing season in 2020. Last year, I did indeed follow through to run my control lines (halyard and jib) to the cockpit, and debuting that new system in 2019 was a grand success.

At the same time, I also deployed a new reefing system that is one-thousand times better than what I was doing before. Now, I can secure both forward and aft reef points quickly, also using my new turning blocks and line clutches that bring those lines to the cockpit.

This winter I also bit the bullet and had my rotting companionway sill replaced. Looking forward to less water in the cabin now!

I actually had someone standing in the cockpit to aid in the start of the lift (and to watch for any problems), but I actually did the entire lift "solo" from the winch. No additional hands were actually needed to lift or to stabilize. The second improvement to my lift system was the use of an electric winch attached to the rear bumper of my tow vehicle. I am including pictures that show you the winch cable that goes forward from the gin pole, well beyond the bow of the boat and trailer (Sorry I didn't take a picture of the winch on the pickup truck, but this part is straight forward).

I positioned my tow vehicle far enough forward so that there would be no issue with the winch cable interfering with the bow pulpit during the lift. I was able to stand at the back of my pickup and use the electric which to pull that mast up with perfect control. It was dynamite!

.The second issue was that I had not yet developed a method to provide lateral security for the mast during the lift. The day I did that first lift, it was calm, so wind was not an issue, but I wanted a system that I could use if necessary, even with less than ideal conditions.

I have also included some photos of the new-and-improved lifting system. It includes the use of "baby stays" to keep the mast center-line during the whole lift, without the risk of swinging to one side or the other. The issue is to create an anchor point on each side at the exact position of the tabernacle pivot point. You cannot just use the masthead stays, since they anchor at the wrong point. The only way to use those masthead stays for stability is to "anchor them" at a point exactly in line with the tabernacle hinge. (If you draw an imaginary line through the tabernacle hinge that extends to each beam, that is the point "in space" where the stay must anchor.)

But how to do that when there is nothing there to attach that stay to?

Click on the above photos for a larger image

The solution is to create a triangle of "baby stays" that attach at two points on the deck, both of which then meet at a fastener attached to the masthead stay at the exact point that matches the height of our tabernacle hinge (from the deck). Attached are some photos to show it.

Sorry for the lack of a diagram. Using this system, I successfully lifted my mast without the need for "extra hands" on each side of the mast to provide stability. Each of the masthead stays were anchored to provide tension, and because the height of the pivot point of the baby stays matched the height of the tabernacle hinge, the stays remained taught during the whole life WITHOUT BINDING!

OK, that is my update. Let me know of there are any questions or comments.

Fair winds to all!

Jay

ps almost forgot this one

******************************************