January 22, 2018. Its that time of year again - if you haven't yet, get your membership set up at the Sparkman & Stephens Association. New members acting now get a free copy of the 2017 Yearbook (http://dolphin24.org/s_and_s_2017_yearbook.html), and get their copy of the 2018 book coming out this Spring.
Click here to go to their membership site http://www.sparkmanstephensuk.info/membership_fee.html
**********************************************
January 7, 2017. Your webmaster has offered to help the Sparkman & Stephens Association offer membership to readers of the Dolphin24.org website. Those of you that follow the website know I have been a member for several years - and that it has been a highly rewarding experience for me, and Marionette (http://dolphin24.org/restorations_marionette.html).
Members of this organization are owners of Sparkman & Stephens designed yachts - worldwide. They share their experiences, both cruising and racing, via their UK/ireland based website (http://www.sparkmanstephensuk.info/),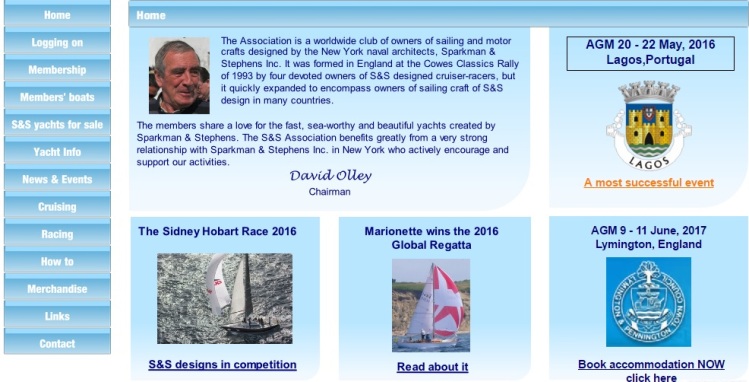 They publish an annual yearbook - a photo of the 2015 Yearbook cover is below, along with an article inside written by your webmaster. The yearbook has a listing of all members and their boats.

They also award trophies in several catagories to members - Marionette has won twice (in 2011 and 2016), their Global Challenge Cup - (right), a racing competition between the different Regions of the S&S Association.

And in 2008, Marionette finished 2nd to another US Member, DORADE, who won for her performance in the Castine-Camden Maine race, witnessed by Olin Stephens, 100 yrs old, who was on the Race Committee boat.
Click on the photos for a larger view of the 2015 Yearbook - click here to see article at right
Annual membership fee for US Members is $49, or $132 for a three year membership - if you pay by check and mail!
If you pay by Credit Card/Paypal, its 30 (£) Sterling, or 83 (£) Sterling for 3 years. This will automatically take care of currency conversion into UK (£) sterling where the S&S Treasurer's accounts are held and, given today's exchange rate, a lower US $ cost. Details of the membership application and fee can be found by going to the website page http://www.sparkmanstephensuk.info/membership_fee.html
The easiest payment option for US members is by PayPal, using the "Pay by credit card" buttons on this same screen, and fill in the online application form you will find there. http://www.sparkmanstephensuk.info/membership_fee.html
You don't need to have a PayPal account to pay for membership. If anyone would prefer to pay with a US $ check, download the application form (click here for the PDF form), fill it out, make your check payable to the S&S Association, enclose a photo if you wish, and mail the package to Michael France, Membership Secretary at the address below:
And Important - any new member joining early in this year will receive a copy of the 2016 yearbook immediately, and then be listed as a member in the 2017 issue which is due out in the Spring - two for the price of one!
Michael France
Membership Secretary
Sparkman & Stephens Association
11 Keats Close, South Wonston,
Winchester, SO21 3HF, United Kingdom
The S&S Association has a 4 page brochure they put out a couple of years ago. We have a link here so you can see it on line - click here - and it appears below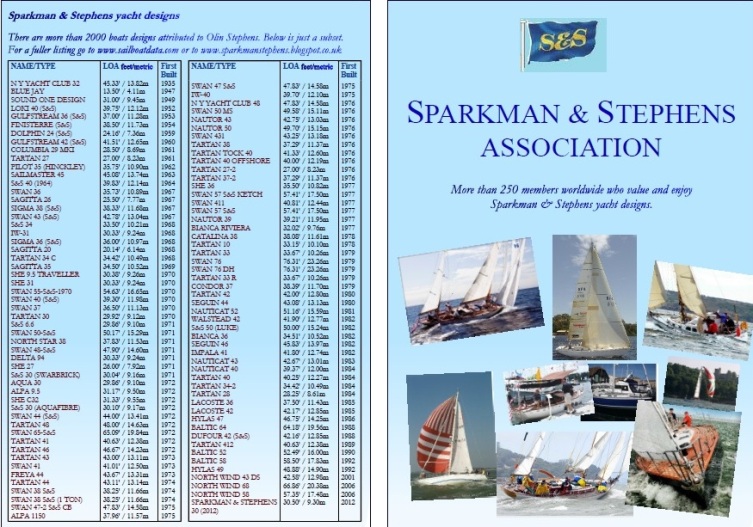 Pages 4 (left) and 1 (right) - Note Marionette photo center, 2004 at the S&S 75th Anniversary, Mystic Seaport
and
note the Roster, page 4 above left - the Dolphin 24 listed just below Finesterre, upper left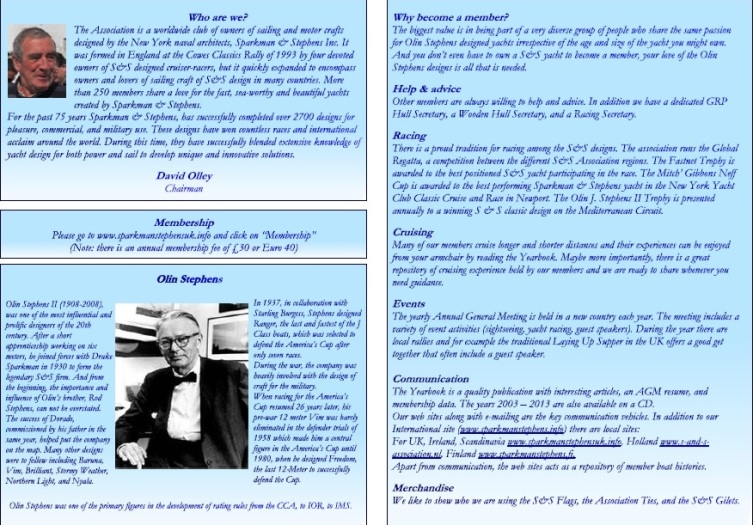 Questions? email me at RonBreault@cs.com
************************************