February 4, 2010 Responding to an inquiry from Mike Zint, (Grand Finale, Pacific Dolphin #300) S&S sent him the following informative email, plan list and small scale drawings - some of which also appear elsewhere in the Technical Section.
Subject: RE: Sparkman General Inquiry (Yacht Name: Grand Finale / Design Number: #1497)

Dear Mr. Zint,

Thank you for your email.

Attached please find small scale drawings for the Dolphin 24, Design No. 1497. Also attached is the plan list for your reference if you need to order plans. Cost is $80 for the first plan and $50 for each subsequent plan plus shipping. We accept Visa, Master card and Amex.

Please advise if you would proceed to order plans.

Best regards,

Josephine Ilagan

Design Department Administrative Assistant

Sparkman & Stephens

529 Fifth Avenue – New York, NY 10017

Tel: +1 212 661 1240

Fax: +1 212 661 1235
The plan list appears below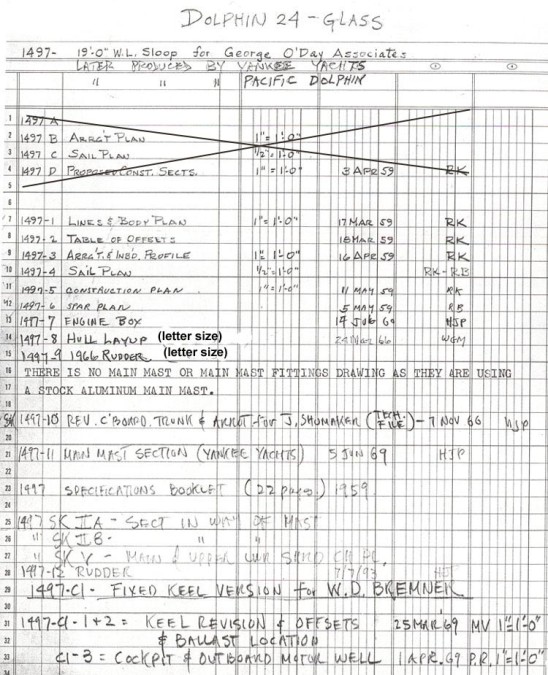 Click here for a larger image. Use the back arrow to get back to this page. Note at the bottom of the page 1497-C1 Fixed Keel Version for W.D. Bremner. This is the S&S24, later the Falcon 24, built in New Zealand. Also, Drawings 1497 - 8 (hull layup), 9 (Rudder), 10 (C'board Trunk and arrangements) and 11 (mast section) are all related to John Shumaker and the startup of Yankee Yachts in California..
That 22 page specifications booklet, Item #23, looks like one that should be on our book shelf!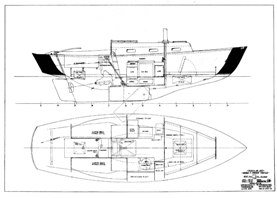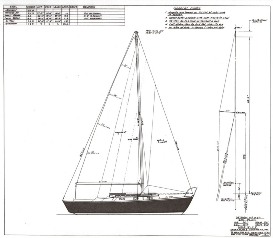 Both of these plans are located elsewhere in the Technical Section in larger versions. Click on the subtitle to go there. Click the back arrow on your browser to get back here.
******************