This project got started when Jerry Slaughter sent in a short email and couple of pictures on June 14, 2013 of the start of his rebuild of ROWDYs V-berth. Then on June 25 the anchor locker made its debut. On July 28 Jerry sent in some pictures of the finished anchor locker and the start of backing strips on the hull for mahogany sheathing strips. We decided this project now deserved a dedicated page in our Technical Section/Interiors.
Hi Ron,
Here is the V-berth of Rowdy with a couple of new structural parts installed.
Jerry
Panels resting against the hull sides have cutouts for hatches - Note water tank up forward
***********************************
June 25, 2013. Anchor Locker update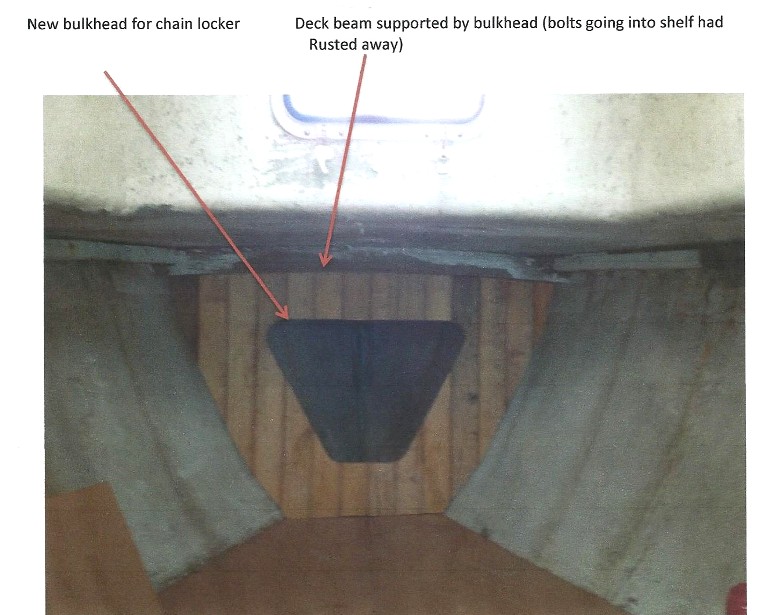 Hi Ron,
This is a bulkhead I built for the chain locker. It will also provide some support for the forward deck beam. There is a hatch door that will be fitted after some trim has been applied.
Jerry

**********************************************

July 27, 2013


Hi Ron,
I have been working on Rowdy's V berth. My plan was to build a chain locker and attach ceiling to warm up the space a bit. So far the bulkhead is in and attached and I've glued in some ribs for the ceiling strips. Today I screwed in a bunch of the strips but I've got to get some more mahogany next week and mill a bunch more strips. I've still got some engineering to do on the deck beams but I think those will be finished soon. Once the V berth is finished things should move along quickly.
Jerry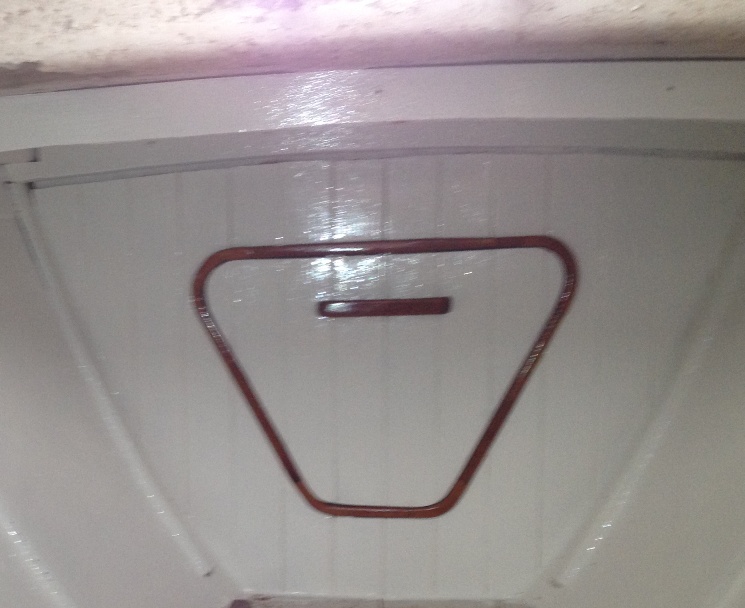 August 12, 2013 - A better picture, and another update.
Hi Ron

The work on the V berth seems to go on forever. The ceiling is in now and I can start looking at my cushions.

When I got the boat there were two new V berth cushions sealed up in plastic. I opened one today to check the fit, knowing they were going to need to be re-cut because of the lost space caused be the ceiling addition. They appear to be 10 inches too long and about 6 inches too wide. I'll lay them out tomorrow and take them to my upholstery guy.

Hopefully we can re-use the fabric.


I have been creeping up on the main cabin work on the port side.

There are some fairly extensive renovations required in that area, i.e. bulkheads, counter top, dish and food lockers, stove platform, and of course, trim for everything, then paint and varnish.

Here are a couple of pictures showing the V berth and, in the lower, you can see some of the main cabin.


Regards,

Jerry
November 17, 2013. A proper 'finished' v-berth picture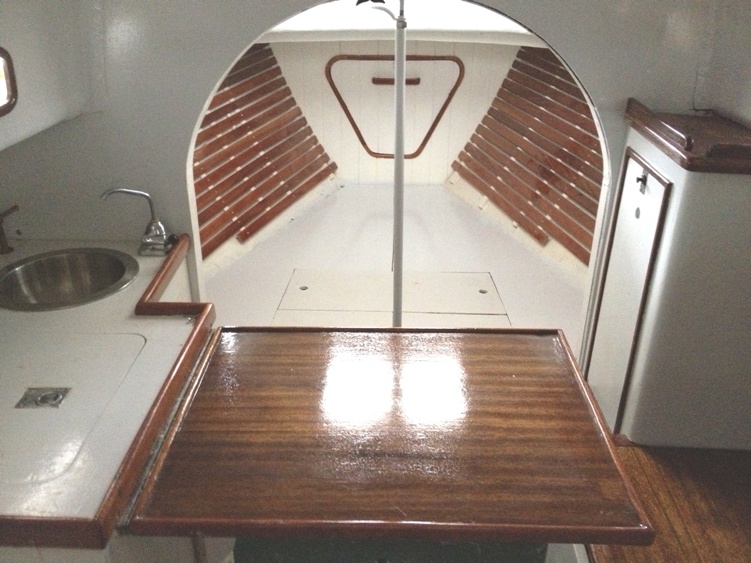 Nice
March 11, 2014. Finishing touches. Email excerpted from ROWDY's home page
The curtain is in!
I used an aluminum rod (3/8") and made a couple of wood end blocks to hold it up. The tie back has a couple of braided marline(nautical) loops to hook onto a brass cup hook that keeps the curtain out of the way during the day.
Click here to go back to ROWDY's page