February 17, 2010. Barry McGuire crewed on his father's Dolphin and sent in the following story and photos. This boat, O'Day hull # 20 had an outstanding race record owned and raced by several different skippers. To see the list go to Rosters, Hull # 20. She is now Darwin and unfortunately, has fallen on hard times. Barry's story will take us back to the good times.
The Story of Redheds
The story of Redheds starts with my dad, Roland McGuire. Roland was the youngest of seven children. The family lived in New London. As the story goes, when you're the youngest of seven, growing up in the Great Depression, you, early on, grow accustom to hand-me-downs. Dad's brother Tom was given a small Whale Boat class sailboat, by an aunt who wanted it out of her back yard. Tom had a very fair complexion and in the era before sun block he burned to a crisp when on the boat. So a boat became a hand-me-down.

Dad sailed the boat on Niantic Bay for a year or so. He then became a junior member of the relatively new Thames Yacht Club. It was at the TYC where dad was bitten by the racing bug. A few trophies still adorn our homes including the large silver bowl representing First place from the 1938 original Governor's Regatta.

I'm sure that all those who've heard the stories of the Hurricane of 1938 can imagine that small boats, like Whale Boats, left on the beach didn't fare very well. That was the end of the TYC Whale Boat class. So for dad, soon it was off to college, Dental School and then the Navy. Stationed at Westover Field he met a beautiful young first lieutenant by the name of Kathleen Walsh. Let's just say it was love at first site and fast forward to the early 60's. So now there were five little McGuires. Barry and Brian, the two sons and also there were three daughters, Mary Jo, Ann and Maureen. All the girls were and still are redheads.
So what do you do if you've been through the Depression, World War II, Dental School, established a respected Dental practice, and a busy family? Well where we're from, a guy either takes up golf or sailing. I'm glad dad didn't like golf.

The first Redheds was a double ended lap streak "life boat" rescued from a Cape Cod beach by a carpenter who built a deck and cuddy, installed an inboard engine and stepped a mast for a sloop rig. This boat was not very fast but had "great lines". In 1967 dad purchased an 18 foot Marshall Catboat and Red Heds II was now the family boat. (I've enclosed a photo of dad and his one and only first mate on Red Heds II).

Suddenly we had a "big" boat to race. The kids in the family had gone through the various classes of small boats, racing Wee Nips, Blue Jays and 110's. But with an Off Soundings rating of 12.6 the catboat was now the talk of the racing circuit. At our house quite a bit of new silverware and pewter appeared. Within in a year virtually all clubs instituted "minimum ratings". This was a serious challenge but we continued to race, cruise and have fun.

In 1973 the catboat was sold and dad purchased the Dolphin. What a great boat. The first year we kept the hull blue. In 1974 we painted her red. And of course she was Redheds. Whether racing, day sailing or cruising the Dolphin was terrific. Racing in our home waters of eastern Long Island Sound and Fisher's Island Sound Redheds was at her best. She was class winner multiple times in the TYC Governor's Regatta and Shennecosett Yacht Club's Pine Island Race. She took first, second or third in many other local regattas. One of the highlights was a first in class in the 1980 Ram Island Yacht Club "Around Fisher's Island Race". Another unforgettable moment was the 1976 Governor's Regatta. Redheds jumped out at the start and pulled a "horizon job" not just on her class but on the entire race fleet. In a fading breeze approaching an "up-river" finish she was caught by only one boat from a higher rated class. That one boat was called Ragtime, the prototype J 24. She was, of course, sailed by the Johnstones. And she was the only boat in the fleet to finish ahead of us on that day.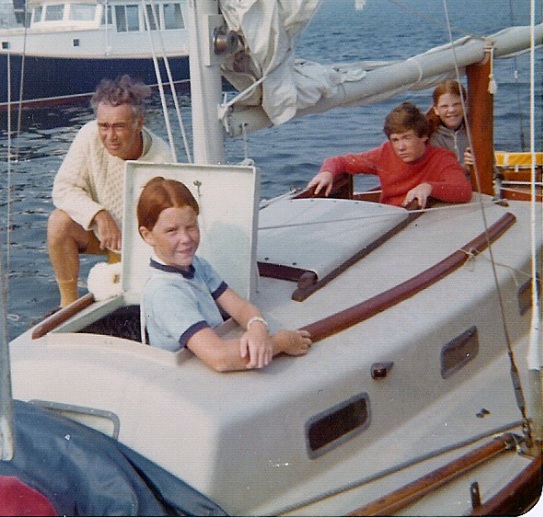 Red heads - a strong gene...
Family cruises were also memorable on Redheds. Long Island, Buzzard's Bay and Block Island provided top destinations for travel. In the late 70's dad let me borrow the boat for a week's cruise with my fiancé (now wife/first mate, Phyllis) and friends. From New London we sailed to Block Island then to Menemsha Cove then on to Vineyard Haven and then back down Vineyard Haven Sound to Newport under main, spinnaker and staysail (the most exhilarating moment: flying by Buzzard's Bay Light Tower).

After dad's passing in 1981, the boat was sold to Ed Pucell. Ed did an amazing job restoring her and bringing her into top racing form. His record with Just Friends speaks for itself. Our family took pride in seeing the continued accomplishments of a great boat with an outstanding skipper.

Looking back one can't overlook the fraternity of Dolphin sailors that developed over the late 60's and through the 70's. The racing competition was second to none but the camaraderie was even better.
For our boat, finding a crew was easy. After all we all loved being on the water. The one individual, dad could always rely on, was his nephew, Ron McGuire, a hard worker and devoted crewman. Ron was our foredeck man. He had honed that skill as my foredeck man on our International 110. I always thought if one could negotiate that tiny deck, all else is easy.

Now it is tough to see the abandoned state of this once proud boat. However, we all take comfort in remembering the overwhelming joy she brought to those who sailed her.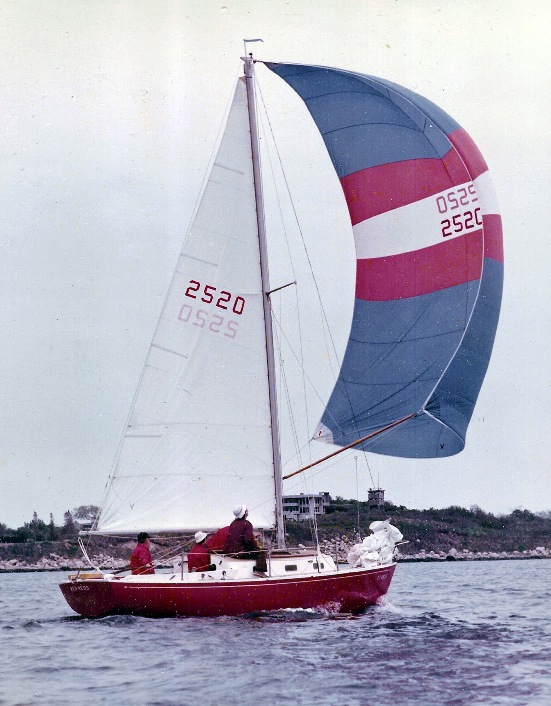 Thanks, Barry, for sharing this
*******************